Note from the mamas: We love our girl, Amy James, who blogs over at Our Everyday Dinners. We love her recipes, too. So much so that we decided to re-run some great Thanksgiving recipes she shared with Motherlode readers last year. These dishes are delicious for the holidays — or any day!
Cranberry Salsa
Amy says, "This salsa is a fabulous alternative to cranberry sauce. It's so fresh tasting! You can serve it with turkey, with chips as an appetizer, over a block of cream cheese for company, or give it as a hostess gift in jar tied with a pretty ribbon during the holidays."
12 oz fresh cranberries
large bunch fresh cilantro
5-6 large green onions, cut into 3 inch pieces
juice of 2 fresh limes
1/2-3/4 cup sugar
Directions: Add cranberries, lime juice, cilantro, green onions, and 1/2 cup sugar to the food processor and pulse until combined.  Taste salsa, and add more sugar and salt if necessary.
Salted Caramel Pecan Tart
Amy says,, "If you don't have a tart pan, you can bake the crust in a 9×13 pan and then just cut it into squares. Don't leave off the salt! It turns a delicious tart into something spectacular."
3 1/2 cups coarsely chopped pecans
2 cups all-purpose flour
2/3 cup powdered sugar
3/4 cup butter, cubed
1/2 cup firmly packed brown sugar
1/2 cup honey
2/3 cup butter
3 tablespoons whipping cream
1 teaspoon fleur de sel or coarse salt
Directions: In a food processor, pulse 3/4 cup butter, flour, and powdered sugar until it resembles coarse meal.  Pat mixture evenly into a lightly greased 11 inch tart pan with removable bottom.
Bake at 350° for 15-20 minutes or until edges are lightly browned. Cool on a wire rack 15 minutes or until completely cool.
Bring brown sugar, honey, 2/3 cup butter, and whipping cream to a boil in a saucepan over medium-high heat. Stir in pecans, and spoon hot filling into prepared crust.
Bake at 350° for 20 minutes or until golden and bubbly. Cool on a wire rack until completely cool.  Sprinkle with coarse salt.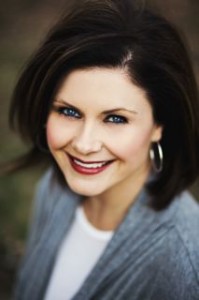 More About Amy, from her blog: It's taken many years for me to learn not just how to cook, but also what to cook.  I only cook meals I want to eat, and I don't cater too much to my kids' whining about what I've made (and trust me, they do).  What you'll see here is what we actually ate for dinner.  Every night after I cook, I snap a photo, then I eat.  Oh, and then I clean the kitchen and blog about dinner.   There are about 500 other things I do, too, in between all that, but that's basically how it goes. I hope my blog will inspire you to cook something healthy and delicious for your family! CLICK HERE to visit Amy's blog, Our Everyday Dinners.
If you forget something and need an ingredient on Thanksgiving Day, remember that Ozark Natural Foods will be open half the day!