Left: Sing Along Pro
We can't promise that you won't want to borrow this toy from your kid. The Sing Along Pro is a Bluetooth wireless karoke microphone and speaker that looks and feels like a microphone the pros would use. It connects to a smartphone, tablet or computer and works with all karaoke apps. (It's compatible with Apple or Android devices.)
It has a high-capacity battery that will keep your little superstars singing for up to five hours, and it can go anywhere because it's wireless. It has 5 built-in audio filters — high pitch, bass, volume, reverb and accompaniment. The Sing Along Pro has already taken off in popularity with kids, but we think it's a blast to use on a Girls' Night Out (or bunco party) with your mama friends! Available in black, pink and gold. Cost is $39.99. Click here for more info on the Sing Along Pro from Kindness & Joy Toys.
Right: Farm Hopper
If you've got a bouncy, high-energy toddler, you need a Farm Hopper in your house. It'll make them happy and wear them out at the same time.
These inflatable bouncy animals are brightly colored and have soft ears and/or horns that are perfect for gripping onto when your little one is bouncing. This toy has been a huge seller in Canada and is now taking the U.S. by storm, too. They're made of a BPA-free plastic, and the bouncing motion helps with core muscle development as well as coordination skills. Perfect for indoor or outdoor use. It comes with a pump, and is already gift-boxed! Happy bouncing!
Where to shop: Kindness & Joy Toys is located on the Fayetteville Square at 16 W. Center Street. (Or shop online anytime at the Kindness & Joy Toys website by clicking here.)
How to contact: Be sure to follow this store on Instagram and Facebook, where the owner, Lindsay, will keep you up-to-date with the latest toy arrivals, demonstration videos, toy trend news and more.
---
Left: Ozobots
These small robots can be programmed with an app or even by drawing colors on paper! It's an ultra-cool mashup of art and technology. Cost range is $56.99 to $99.99.
Right: Thames & Kosmos Science & Engineering Kits
Specially designed for the creatively curious kids, these science and engineering kits are a little like "super Legos." They're fun to play with while they challenge young minds. Cost range is $34.99 to $149.99, depending on the kit you choose.
Where to shop: The Curiosity Corner Gift Shop is located in the front lobby of the Scott Family Amazeum. (Location is 1009 Museum Way in Bentonville. Phone number is 479-696-9280.) Curiosity Corner is full of hundreds of unique toys and gifts designed to spark kids' interest in science, art, math, engineering and technology. We recommend shopping there the next time you make a family outing to the Amazeum. One parent can watch the kids play on the tree canopy or in the indoor water experience while the other parent gets some holiday shoppping done.
Another gift idea: Here's one more gift idea while you're at the Amazeum. Consider getting a gift membership for your family. It's one of those rare gifts that needs no batteries, won't ever break and keeps the fun going all year. Amazeum members get 10% off on purchases, discounts on special programs and camps, and special members-only events throughout the year. Click here for info on memberships.
Get social: Be sure to follow the Amazeum on Instagram and Facebook to stay up to date on events, camps, new exhibits and more Curiosity Corner fun!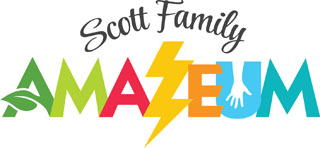 ---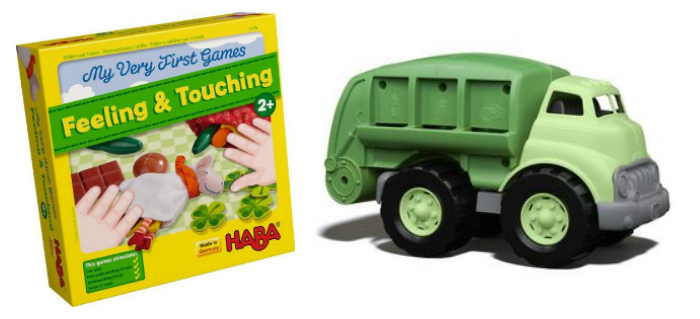 Left: My Very First Games "Feeling & Touching"
For the upcoming year, Terra Tots is focusing on the brand "Haba", and the store carries a variety of this brand's famous "Yellow Box Games." The one shown here, titled "Feeling & Touching," is great for toddlers. It's a game that stimulates sense of touch, differentiation between soft and sharp objects, and the toddler's first understanding of rules. Cost is $30.
Right: Green Toys Recycling Truck
Playing is children's work, and Terra Tots focuses on providing sustainable healthy games and toys that focus on education, sensory awareness, problem solving and battery-free fun. The store has carried the "Green Toys" brand for several years because these toys are made out of 100% recycled plastic with no BPA, Phthalates, or PVC. They are also made in America. This Green Toys Recycling Truck is tough and durable for fun in the sun or sandbox, as well as inside. This toy is the perfect example of "Green Toys" mission as a company, to teach kids through play that caring for the earth is everyone's responsibility. Cost is $32.
Where to shop: Terra Tots has a natural version of everything for baby, from birth to 2 years of age. The shop is known for sustainable and wooden toys, cloth diapers, organic clothes and a midwife-curated apothecary for moms and babies. You'll find Terra Tots downtown on the Fayetteville Square at 15 S. Block Avenue. For questions, call the shop at 479-587-8687, or visit the Terra Tots website by clicking here.
See more: Keep up with the latest product arrivals, announcements and sales by following Terra Tots on Facebook and Instagram.