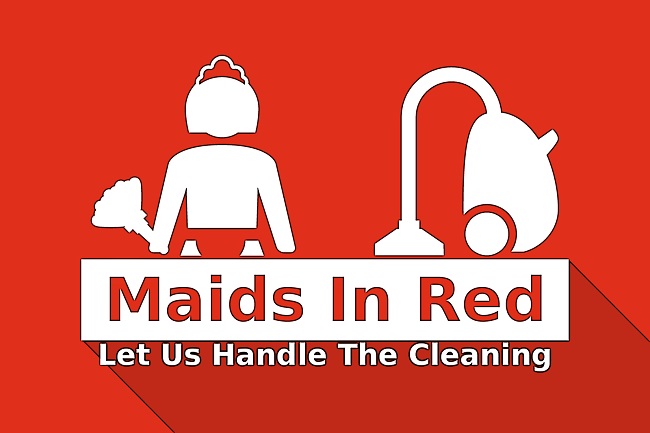 Here at nwaMotherlode, local mamas are always asking us for cleaning service recommendations.
Moms are busy, and in between work, taking care of kids, outside activities, committees and you fill in the blank, we need HELP with keeping our houses clean. Enter our newest website sponsor, Maids in Red. We like that Maids in Red has flat rates (plus add-on services) so you don't have to guess how much they'll charge.
They also offer an overall outline of everything they'll clean while they're at your house, so you know what you're getting.
We interviewed Andrew Flocks, the Maids in Red founder, about the company so all you mamas out there could learn more about this local, independent new cleaning service:
Q: What inspired you to launch Maids in Red in Northwest Arkansas?
I saw a way that I could use technology to improve the cleaning industry in the Northwest Arkansas area.  We offer online booking, online schedule management, online payment and you know what a cleaning will cost you before we come to your home.
Q: What inspired the "in red" part of the name?
The "In Red" part honest is simply paying homage to the Hogs.  I went to the UofA to get a degree in Economics and I am a Hogs fan through and through.
Q: Where do you find your cleaning people and are they background checked?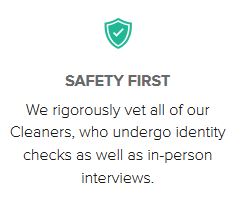 I find cleaners the same way many other folks find cleaners, I post ads looking for cleaners.  But from there I devote time to multiple interviews and test cleanings.  I look at their work history and I run background checks to make sure they are going to perform a premium cleaning.  I do what you would want to do if you had the time to devote to it.
Q: What would you say to a busy mom who's on the fence about whether to book Maids in Red?
The simple answer is they should book a clean, right now.  But the longer answer is all about time.  Make a list of things you want to be doing and who you want to be doing those things with, if cleaning is on that list great, want a job?  But likely, you want to spend time with your family and do things that enrich your life and theirs.  The act of cleaning does not enrich your life, having a clean home is enriching.  So let us do the work and we'll let you enjoy the pleasure of having a clean home.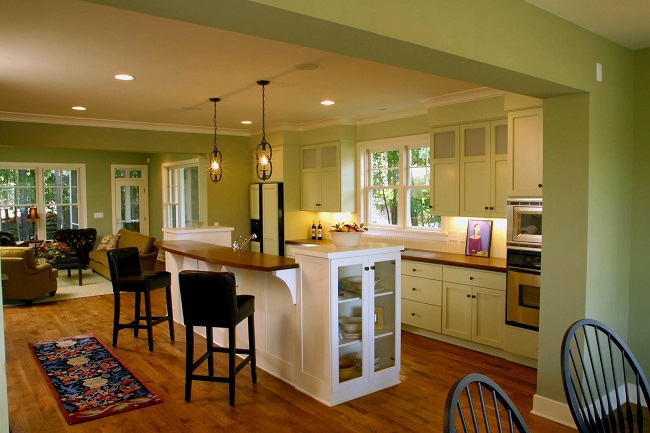 Q: Tell us about your flat rate service charges:
We use flat rate pricing for one reason, it is simple.  Most homes have similar needs as far as cleaning goes and you don't need to re-invent the wheel each time.  If a family has needs that are outside the norm they can let us know and we will figure things out.  I have found that 95%+ of homes out there fit easily into the flat rate pricing model.  We trust our customers to accurately let us know what their needs are and we haven't had any issues with this yet.
Q: And you offer extra "add-on" cleaning services, correct? What kinds of extra cleaning jobs can we request?
We have standard cleaning that covers most needs but we also offer extras that allow customers to get exactly what they need.  We offer a green cleaning option, oven clean outs, frig clean outs, extras to handle cleaning up pet hair, etc.  The biggest thing we see people use is our Deep Cleaning add on.  That just covers your bases for a good thorough cleaning if you haven't had your homed cleaned professionally in a while.  A deep cleaning will get your home ready for your boss to come over for dinner.
Q: What if we need someone to clean our house on a regular basis? Is there a discount?
If a customer wants to have us handle their cleaning on a regular basis we have two different discount levels.  If they are looking for a monthly cleaning they get a 15% discount to their total bill.  If they are looking for a weekly or a bi-weekly cleaning we offer a 30% discount.  The idea behind the discount is that will get to know your home and learn the ins and outs of it, allowing us to clean it much faster than normal.
Q: Can you explain what your 200% money-back guarantee involves?
The 200% money-back guarantee is something pretty special, I think.  If we clean your home and you are not happy enough with the work to share us with your friends and family then we will come back out and re-clean your home.  If you are still not satisfied with our work then we will refund your payment for the cleaning.

Q: We noticed you have move in/move out cleanings. That's awesome! How much extra does that cost?
We definitely offer move out cleanings.  A normal move out cleaning is going to cost an extra $60 and cover a cleaning that will take care of all the extra real estate that comes with an empty house.  If your house is particularly in need of a Deep Cleaning as well as a Move Out/Move In Cleaning then you may want to consider combining them to make sure every nook and cranny is polished.
Note from the mamas: We have an awesome GIVEAWAY starting on Monday, so stay tuned! Hint: The giveaway will make your abode feel squeaky clean. CLICK HERE to watch a testimonial from a local mom about Maids in Red. CLICK HERE to visit the Maids in Red website to book online or call Andrew at: