By Ambre Brewster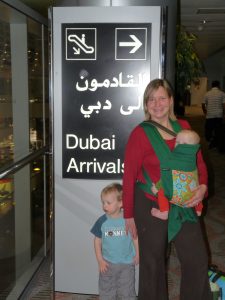 Got questions about traveling with little ones? I have answers!
I'm a mom to 3 little ones (4.5 years, almost 3 years, and 5 months) and we're always on the go. You can check out my blog for some of our adventures at  www.brewsterkids.blogspot.com. We travel by plane, train, and car locally, nationally, and internationally!
Owen's first car trip was when he was 4 days old and we moved from Lafayette, Louisiana to Fayetteville.  His first airplane trip was when he was 3.5 weeks old when we flew to Alabama so I could be in a friend's wedding, and the rest is history!
People ask, "How do you do it?"  and I tell them, "We just do it!  It's all our kids know!"
What's "normal" to them:
Loading up in the car and traveling for 9 (or more) hours
Carrying a big backpack through customs and having a strange man with a thick accent ask you questions about where you're going
Tip #1: Start them out early so they won't know the difference and they'll know what's expected of them.
It also helps both you and them adjust to traveling with a more active baby who grows into a strong-headed toddler who grows into an independent big kid. With each trip, you'll make slight adjustments to how you do things and what you bring so that there's no big shock to the system!
Tip #2: What I've learned from years of traveling with little ones is that you don't need as much stuff as you think you do. I'm famous for grabbing this and that as I walk through the house, lots of last minute stuff, and end up with a bag (or bags) full of junk we don't need that I end up schlepping through airports (while trying to juggle the kids and often doing it alone).
Stuff causes two main problems 1) unneeded, extra stuff to carry and 2) unneeded, extra stuff to lose. Save yourself the grief and pack one or two favorite things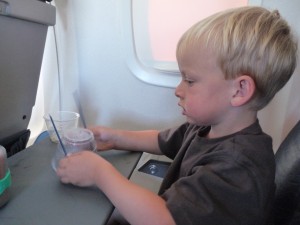 and then one or two special, new toys or books that the kids don't get to see/play with until your trip! Other than that, you'll be amazed at what will become toys or forms of entertainment along your journey.
Airplane cups are a favorite for my kids! They play with those cups for the whole trip (if it's a short one) and we never end up getting toys out of their bag. Hotels are full of "toys" from the "do not disturb" door hanger, to unplugged phones, to empty ice buckets, and a household favorite…. the luggage cart! See, no toys necessary!
Tip #3: Pack a fun, new snack (or a favorite treat) that you can pull out right before or during a meltdown to help buy you some time (and possibly prevent you from getting kicked off the plane).
Did you see the recent news story about the family traveling with 2 little ones getting kicked off the place because the 2 year old didn't want to buckle up? I've been there… well, I didn't get kicked off the plane, but they were probably close to pulling the plane over!
I've learned that most people are not helpful or sympathetic to you and your little ones, so go into your trip knowing this and then you'll be less disappointed in others and pleasantly surprised and very grateful when someone does offer to help.  That's why I have my SMALL bag of tricks handy at all times…. I don't want TSA called on us.
Tip #4: Be sure to bring proper forms of id for you and the kids. And if you're traveling with the kids without their other parent, you need to bring a notarized letter from the absent parent saying that you're allowed to take the kids on this adventure. This is especially important if you are crossing an international border with them…… you don't want to make a detour to the police station for kidnapping charges. It tends to put a damper on the fun.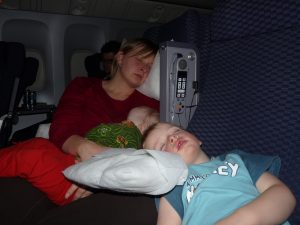 Tip #5: This one is especially important if you're traveling internationally: bring medicine; allergy, pain, cold, and anything else you can think of!
Addyson broke out in a HUGE rash while we were in Bahrain and we had NOTHING for her. We had to go to a drugstore and trust that what we were sold would work for her rash (and hope it didn't contain any weird "animal potions") and give her comfort for our 30-hour journey home.
Since that experience, I also bring our own soap from home to try to minimize exposure to foreign skin irritants.
Tip #6: Be willing to bend the rules a little bit! During the traveling part of our trip I take the approach that the kids are doing me a favor by sitting still in their car seat for 9 hours and so I need to thank them for this favor. I need to bend the rules a little to give back to them for their patience and I have found that doing this helps make our travels go so much more smoothly! Plus, we are on vacation… What Happens in Vegas Stays in Vegas!  Right?! Same rule applies here.
Tip #7: My main advice is this: Look at your trip as a fun adventure from beginning to end. Don't dread the travel or fear meltdowns along the way.
The unexpected WILL happen when you're traveling with unpredictable little ones. But whatever happens, embrace it and have fun. If you're stressed, nervous or fearful, the kids will sense it and feed off of that….they can smell fear!
More about Ambre: Our family recently purchased a RV and we are currently on the road with our three little ones. Feel free to follow me on our blog to find out about our latest adventure. Also, if you have any questions about traveling with little ones feel free to ask!  For now: sit back, relax, and enjoy the ride!!!