It was nearly impossible for our panel of judges to pick a favorite. Seriously ladies, it was just SO TOUGH. There were so many cute photos to choose from, and the judges changed their minds at least three times before finally settling on the snapshot that made them smile the most. And here it is…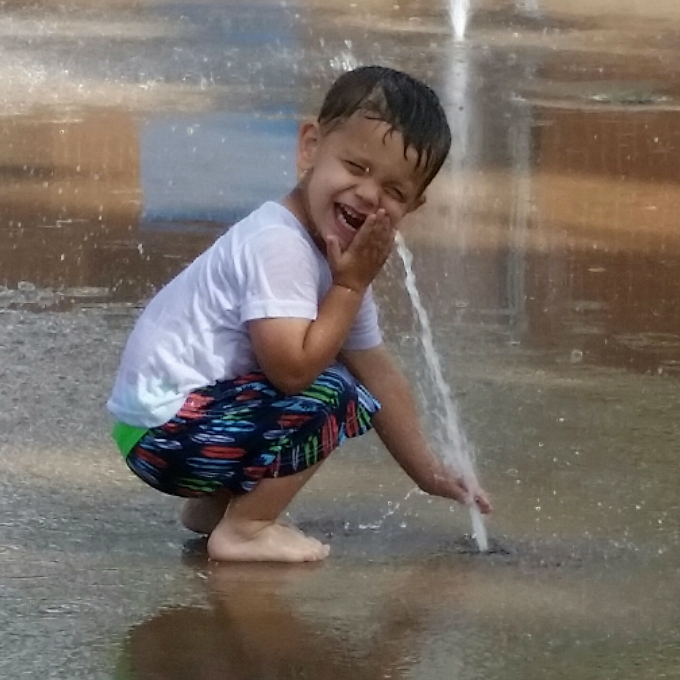 We think the judges picked a perfect photo that captures the essence of what summer fun is all about. We fell in love with the look on this sweet little boy's face. It's the perfect mixture of surprise and joy.
Congrats to local mom Tarah Ledbetter for winning this summer's Snapshot Contest, sponsored by Bedford Camera & Video. Tarah's little boy is named Jacob and he is 3 years old. He loves trains, dinosaurs and playing with his big sisters, Katelyn and Bailey.
This photo is lucky in more ways than one. Tarah told us that the shot above was taken while a Realtor was showing their family's home. The house sold that day which made it possible for them to move to Fort Smith. The Ledbetter family will be taking family pictures at their new home this weekend, so Tarah's prize for winning the contest — a huge print of her favorite photo on canvas, mounted and ready to hang on the wall — comes at a perfect time. (We hope you love it, Tarah! Happy housewarming!)
We'll be hosting another Snapshot Contest soon with more great prizes for the winner, so stay tuned for details. And thank you for allowing us to show off your incredible kid photos here on nwaMotherlode.com.