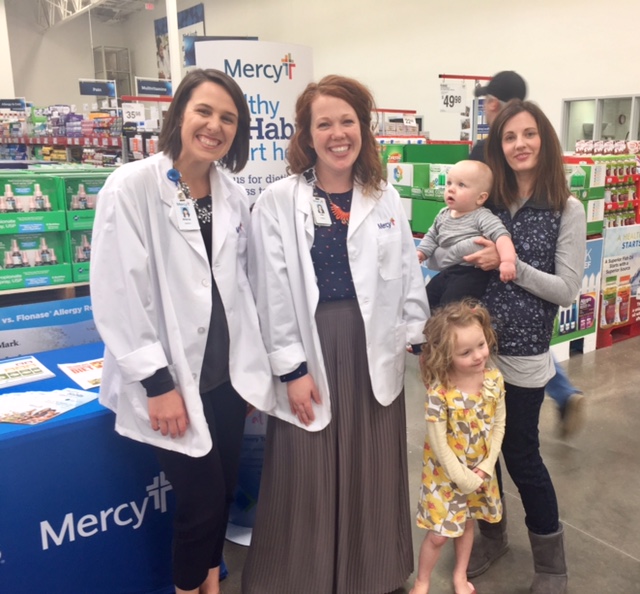 "Cereals can be a good option in the morning, just look for one with less than 10 grams of sugar per serving."
"Kids need a high 5 every day — 5 servings of fruits and vegetables — to be at their healthiest."
These are just a few of the great takeaways Gwen and I learned from dietitians during a tour last week at Sam's Club in Bentonville, focusing on healthy eating tips.
Sam's Club and Mercy have teamed up to help Northwest Arkansas club members choose the healthiest options as they grocery shop. Brianna Young and Julie Schwilling, registered dietitians from Mercy Hospital, lead the tours. They're not only super knowledgeable (dietitians have advanced degrees and are registered), but they're also very personable — and really work to make the tours relevant to their particular audience.
We laughed a LOT on the tour and had fun learning a few new recipes, how to read labels better (there are new changes coming to labels in 2018!) and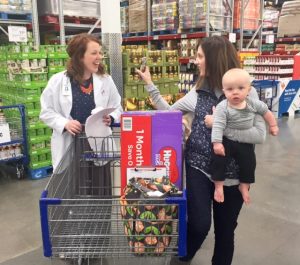 whether or not it makes us bad moms if we let our kids eat pizza after school. (Spoiler: We're not. But it's better to pair it with a salad or veggies.)
We also met a new friend, Courtney Gorden, pictured above and at right with two of her four kids. Courtney is studying to be a dietitian, so we invited her along on the tour.

These FREE tours will be every Tuesday at Sam's Club in Bentonville through mid-June and led by Mercy dietitians. If you're part of a homeschooling or mom's group, this would be a great outing for you. But it's perfectly fine if you want to bring a friend or two — or just join a tour on your own.

Keep in mind you do need to be Sam's Club members, though. There are currently spots available for tomorrow's tours if you want to email Brianna and Julie to get on the schedule. We promise you'll love them! ♥

Each tour lasts about 45 minutes and will have up to eight available reservations per tour. Sign up by reaching out to NWA_Dietitian@mercy.net or speak with the pharmacist at the Bentonville Sam's Club.
There are four types of tours you can choose from:
The Young Families tour. This one will help busy families and new moms choose healthy and quick ways to prepare foods. Moms with children of any age are welcome to attend — or  you don't have to be a mom at all!
The Mediterranean Diet Tour. This one shares with members how to identify moderate heart healthy fats, such as, avocados, nuts, nut butters, and oils.
The Performance Tour. This tour focuses on whole foods to boost athletic performance.
The Healthy Snacking Tour. Learn how to incorporate on-the-go foods into a healthy diet.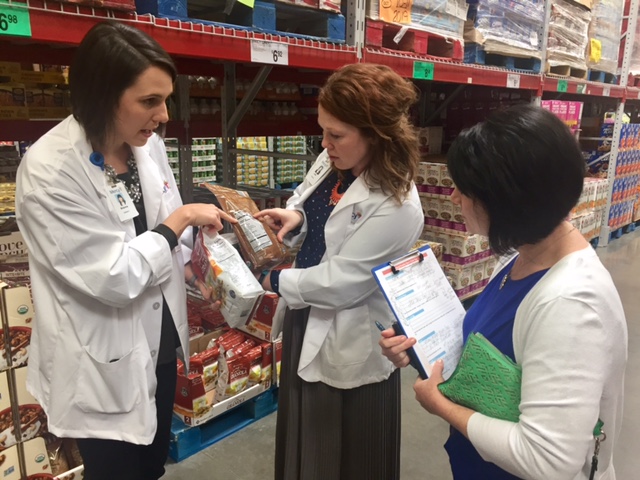 We had a few questions for dietitians Julie and Brianna:
What is the reaction so far among moms to the tours?
They have been receptive and appreciative to the advice we have given. A few have enjoyed the recipe modifications discussed, for example ways to include more fruits and vegetables into family favorite recipes.
A few have also expressed a greater sense of confidence in the healthy choices they are already providing to their families.
How does the tours help on a very practical level?
As a profession we encourage small sustainable lifestyle modifications, which these tours focus on. Through our conversations, we provide ideas and guidelines on how to meet current recommendations for specific age groups. For example, a recommendation is 5 servings of fruits and vegetables per day. During the tour we discuss portion sizes and ways to incorporate more fruits and vegetables throughout the day.
What are the top three questions you've been asked so far?
1.    What are the best cereal options?
2.    What are good dairy milk alternatives?
3.    What are the appropriate portion sizes for each food group?
Tell us a little about a dietitian's role:
Our goal is to empower people to make the best food choices for their health, realizing that everyone is different and will have different goals. We try to meet people where they are and work towards attainable goals.
Kudos to Sam's Club for recognizing that a great way to help people live healthier is to provide education to help them make better food selections while shopping!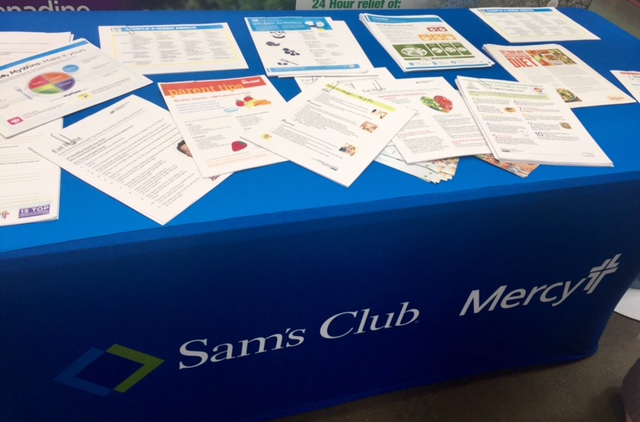 Save
Save