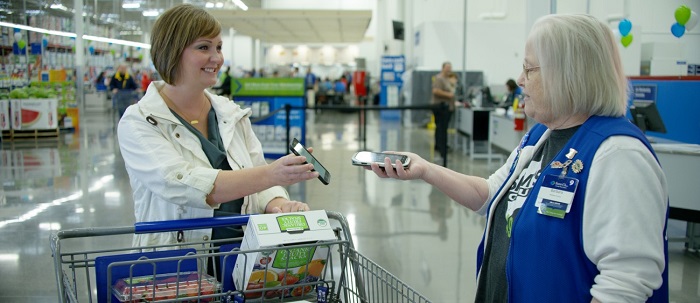 Don't you love it when technology makes your mama life easier? If you're all about skipping the checkout line, you should definitely check out the new Scan & Go app at Sam's Club.
You can literally bypass the register by using this app. Scan & Go is separate from the existing Sam's Club app, FYI. You can just download it for free from the Apple App Store or Google Play. It's free to all members and is available at all the Sam's Club locations across the country, including those in Bentonville and Fayetteville (and soon to be Springdale!).
Reasons for moms to love Scan & Go:
1. It's a time-saver. We are BUSY and that's no lie. So anything that helps us get in and out of the grocery store faster is what we're all about. Skipping the line at checkout is definitely a time-saver.
2. Kids got game. The Scan & Go app gives the kids a "game" to play while you shop. They can help you scan UPC codes on items as you cruise through the Club. Time.And.Meltdown.Saved. We'll call this a parenting WIN.
3.  It helps you track your spending. You can keep track of what you're spending while you shop, so you don't get surprised by the total at the end of the trip. That's one surprise we don't like.
4. You can pop back in and add a forgotten item. If you forgot something vital while shopping (like the eggs for your son's birthday cake! GAH!!), you can just run back in and grab it, then pay with the app. So much easier than standing in line again.
5. You can pay anywhere in the Club. If you're tired after all that shopping, you can sit down for a second, get a drink and pay with the app. You can pay anywhere in the store. Just show your e-receipt to the greeter when you're walking out the door.
Here's a short video showing you how the app works:
Click here to visit the Sam's Club website with more info on the Scan & Go app,  including frequently asked questions like what you should do if you decide you don't want an item, etc. (Hint: It's no biggie, you just put it back and delete if from the app!)
We also want to say a huge thank you to Sam's Club for being our 2017 NWA Mom Prom Queen sponsor! This sold-out event is a charity fundraiser and this year it will support the JDRF Family Camp for local families with kids living with Type 1 diabetes. Click here for more info.