Woo-hooo! Today is opening day of fireworks sales! Our friend and website sponsor Adam Keeley, owner of Pinnacle Fireworks, has been giving us a few video sneak peeks of some of his favorite fireworks in 2018. (Click HERE if you missed the last video of a really cool fountain called Lighthouse.)
Today's sneak peek video is of a fireworks fountain called "Maximum Overdrive." After watching the video, this one is definitely going on my must-have list because it would light up our entire cul-de-sac! Can't wait to see it in real life!
If your kids are already begging you to take them to the fireworks tent, Pinnacle Fireworks will be open TODAY (Thursday, June 28th) and will stay open through July 5th. The tent is located right off Interstate 49, and you can see it from the road. (Take Exit 70 — the Don Tyson Parkway exit — to get there. It's right beside a Walmart Neighborhood Market.)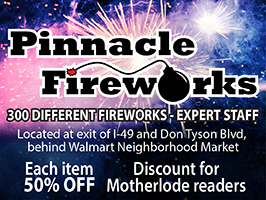 To see Adam's complete Top 10 List of Fireworks for 2018, click here to check out the Fireworks Shopping Guide for Parents. You can also follow the Pinnacle Fireworks Facebook page for more videos, special offers, updates and giveaways. (Speaking of giveaways, today is the last day to throw your name in the online hat to win a $150 Fireworks Shopping Spree at Pinnacle Fireworks. Click HERE to see the info on that fireworks shopping spree giveaway.)
Special discount: Each fireworks is priced half-off at this tent, but be sure to ask for the Motherlode Mamas discount and you will get an additional 10% discount, just for being a local mama! Our thanks to Adam and Todd Keeley of Pinnacle Fireworks for the special discount and the helpful tips for parents about what fireworks will give us the most bang for the buck!