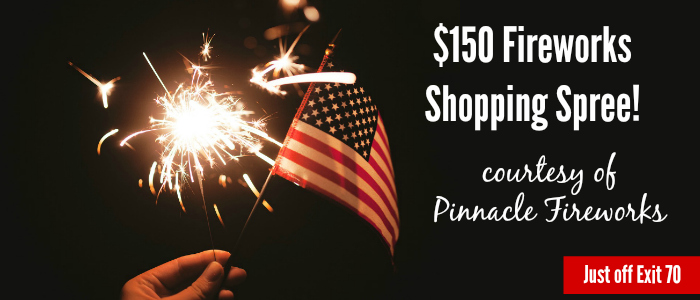 Happy Monday, mamas! We're doing another one of the most popular giveaways during the weeks leading up to July 4th — free fireworks! This week's winner will get a $150 shopping spree at Pinnacle Fireworks, which you'll notice when you're on Interstate I-49 passing the Don Tyson Parkway exit (which is exit 70).
Pinnacle Fireworks is the giant, 4,000-square foot tent you see from the road, next to the Walmart Neighborhood Market. (It's NOT the small fireworks tent located within the Walmart parking lot. It's the one on the lot next to and slightly behind the Neighborhood Market.) Pinnacle Fireworks is owned by local father-and-son team, Todd and Adam Keeley.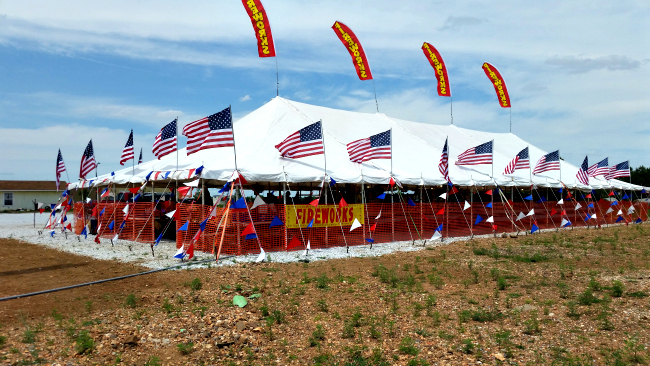 Regardless of whether or not you win this week's shopping spree for $150 worth of fireworks, Pinnacle Fireworks is offering ALL of our Motherlode readers a 10 percent discount on regularly-priced fireworks. Be sure to ask for the "Motherlode Mama Discount" when you check out. Shopping at Pinnacle Fireworks will begin on June 28, 2019. 
You'll probably see fireworks guru Adam Keeley there when you shop. He knows SO MUCH about these products, so be sure to ask for pointers if you want to try something new this year. Adam and his wife Gabrielle are parents to daughter, Reagan, and they've also served as foster parents for kids ranging in age from 3 to 17 years old.
Fireworks have been a BIG deal in the Keeley family for a long time. Adam and his dad, Todd, do several things throughout the year to stay on the leading edge of the fireworks industry, which helps them choose the best fireworks to keep in stock in their tent. Here are just a few examples:
They are members of the National Fireworks Association and attend the annual conference, trade show, and demos.
They're members of the Pyrotechnics Guild International and attend the annual conferences and demos.
They've completed the Pyrotechnic Shooter's course and Adam holds his Pyrotechnic Shooter license from the State of Arkansas.
The Keeleys attended 8 separate demos this Spring, watching and taking notes on more than 500 different fireworks. They saw another 300+ fireworks demonstrated last Fall at the National Fireworks Association conference in Wichita, KS, and Adam has watched more than 1,000 videos of fireworks from vendors around the country.
Adam is a member of the professional crew that does pyrotechnics for the Razorback football games.
And here's one more family photo of the Keeley crew working at the tent last summer:
As moms, we know how frustrating it can be to go to a fireworks tent and not really know which fireworks to choose. The packaging doesn't always explain what that firework will do once the fuse is lit. Which big fireworks are worth the price tag? Which ones are the most budget-friendly but are still fun for kids?
Since Adam LOVES all things fireworks, we asked him to put together a Top 10 list of his best fireworks recommendations for 2019. Just click HERE to see the Fireworks Shopping Guide for Parents, which will help you get the most "bang for your buck."
If you have kids who LOVE a bouncy house or Kona Ice, you may want to plan on visiting Pinnacle Fireworks on Saturday, June 29, 2019 because there will be two bouncy houses on site as well as a Kona Ice truck (with free Kona Ice for Pinnacle Fireworks customers)! The bouncy houses will also be there on July 4th.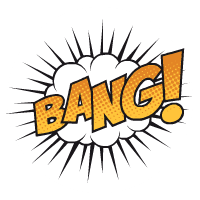 HOW TO ENTER: If you'd love to win the $150 Fireworks Shopping Spree from Pinnacle Fireworks, scroll down to the bottom of this post (and past the comments posted by other moms) until you see the words "Leave a Reply."
Then write a quick comment telling us about one of your favorite Fourth of July activities and/or memories. 

You can also email your answer to us at giveaways@nwaMotherlode.com.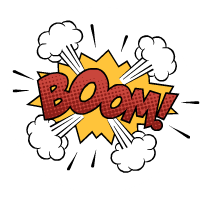 INCREASE YOUR ODDS OF WINNING: Help us spread the word about this giveaway by emailing your friends and family about the giveaway. We'll give you an extra chance to win for every person you tell. Just be sure to put giveaways@nwaMotherlode.com on the CC line of your note so we can give you proper credit.
Our newsletter subscribers get access to the good stuff, including exclusive giveaways (like this one), information about local events, local mom interviews, recipes and more.
The nwaMotherlode newsletter is delivered straight to your inbox so you don't miss anything awesome. CLICK HERE to sign up. We won't fill your inbox with info, no worries. We only send out newsletters when there's something in it for you.
BE SOCIAL: You can also earn extra chances to win by commenting on our Facebook page, following us on Twitter or following us on Instagram. If you do any of those, just mention it in your comment or email so we can give you proper credit.
We'll choose the winner (at random) on Friday! CLICK HERE to visit the Pinnacle Fireworks Facebook page for updates, special offers and more giveaways.