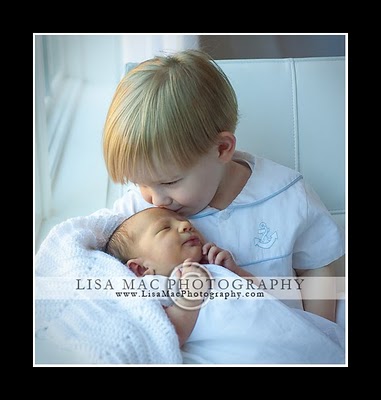 The winner of our very first snapshot photo contest was Kathleen Villar. She got the good news back in June. Click here to see the winning snapshot that she submitted of her son Joseph with his grandfather. We love that photo. Well, Kathleen was pregnant with her second baby when she got the good news about winning a free photo session with photographer Lisa Mac of Lisa Mac Photography. So she decided to wait and use her prize after the new baby was born.
Well, we've waited a long time to see these pictures, but the baby is finally here!! Lisa Mac photographed her when she was 11-days-old, and she actually captured one of Cora's first smiles!! Check it out: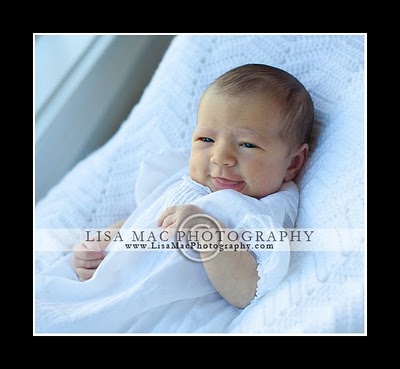 Big brother Joseph got in on the action, too. He has grown so much from the first few shots we saw of him,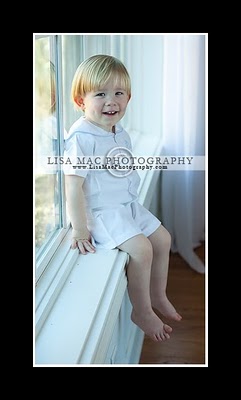 and he is such a cutie. Look at his blonde hair and sweet little sailor shirt.
The photo located at the top of this post is one of those that will forever melt a mama's heart. There is nothing quite like seeing your firstborn fall in love with his new sibling.
Congrats to Kathleen and her husband on Cora's safe arrival, and we really hope you enjoyed the free photo session you won along with the big wall print of your favorite shot. Great photographs are truly a lifetime treasure.
WANT A FREE PHOTO SESSION, TOO? Well, perhaps we can arrange that. We're beginning another snapshot photo contest… RIGHT NOW.
HOW TO ENTER: You may begin submitting your photos to gwen@nwaMotherlode.com. (Limit 5 photos per mama, per month.) We'll collect photos for our photo gallery until the end of April. Each month, a few finalists will be named. Then our judges will choose a grand prize winner in early May (just in time to shoot pictures on green grass in front of blooming flowers!) The winner will receive a free photo session and one free 16×20 wall print of her favorite photo from photographer Melinda Worthington of MJW Photography, who sponsors our photo gallery located at the bottom of this page. Melinda is another one of our favorite child photographers in NWA, and she is so much fun to be around. To see examples of Melinda's amazing photographs, click here.
A FEW TIPS: We can't accept any professional photos of your kids because those are copyrighted. So send us your favorite snapshots. The judges look for photos that have the biggest "emotional impact." So send us the ones that make you laugh or cry or say "Awwwwww." You know what we mean. Look back through the photos featured in our Picture Mama category. The ones that were selected as finalists will give you a good example of what gets the judges' attention.
Good luck! Can't wait to see your snapshots. Get your camera out and have some fun!