We recently started a new feature on nwaMotherlode.com called Pet Parenting. We're taking our questions (and yours!) to local pet behavior counselor, Denise Holmes, who owns a local private counseling business Ain't Misbehavin'. She's been training animals for 25 years and has heard it all! Try to stump Denise with one of your perturbing pet problems.
Here's the latest question: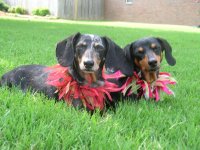 Q: "We've decided to adopt a dog from the animal shelter. What's the best way to introduce my 3-year-old daughter and 5-year-old son to our new family pet?"
A: I'd encourage you to involve your children in the adoption process.  First, visit the shelter alone (kids tend to want every dog they see).  Be sure to ask which animals are child friendly and only consider those.  Select two or three dogs that you like, visit with them privately (out of their kennels).  Check for things such as pain tolerance (pull the tail, poke his nose — gently, please), food/toy aggression, and restraint tolerance (give him a hug).  Once the candidates get past these, it's time to introduce the kids.
Let the kids meet each of the dogs you think might be appropriate and see who warms up to them.  Hopefully, one of them will stand out and that's YOUR dog.  Once home, be sure your pet has a secure place of his own and explain to the kids that this is "Rover's Room" and they have to respect his space.  I'd also involve the kids in his training and feeding so that the dog learns to respect them as part of the pack, and I'd start training as soon as possible.  Find a trainer who will work with you AND your children.  Even the youngest is old enough to give simple commands such as sit, or play a game like fetch.  These are important bonding exercises that will help everyone understand how to get along with one another.
Denise Holmes loves animals and considers it her life's work to help pets and their people live together in harmony. She trains pets through her business, Ain't Misbehavin' Pet Behavior Counseling. Denise also developed a product just for brand-new moms that's now available at retail outlets around NWA. It's a CD called My New Best Friend and features actual newborn baby sounds. It's designed to help introduce the family pet to a new baby.
*Special thanks to Fayetteville mom, Carolyn, for the picture of her adorable dachshunds, Weenie and Tootsie.