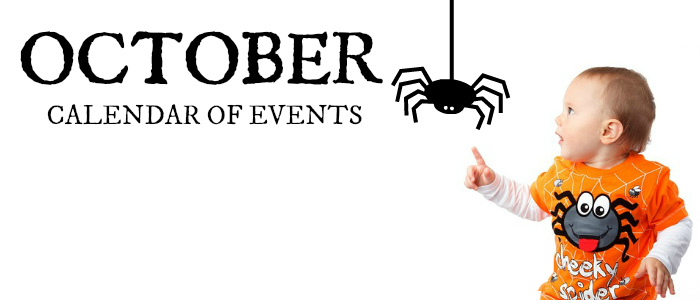 October is FULL of fun in Northwest Arkansas, especially since it means Halloween events and activities are happening all across the region. CLICK HERE for the big list of things to do in NWA this spooky, spectacular Halloween season!
Also, it's craft fair time! CLICK HERE to see the nwaMotherlode Fall Fun Guide, which also lists all the craft fair dates and places! Look for #5 on the Top 10 list. We also put together a printable version of the list for you with more details about each craft fair.
Hobbs Fall Festival
A ton of FREE and fun family-orientated events will take place at Hobbs State Park – Conservation Area Sunday October 1, 2017. Activities include a blacksmith demonstration, old-timey games, music, a tall tales teller, waivers and lace makers demonstrations, and many more. 
Date: Sunday, Oct. 1
Time: 1 p.m. – 4 p.m.
Location: Hobbs State Park
More info: Click here
First Thursday October
The last First Thursday of the season! Live music, food trucks, local art and vendors, and poetry reading.
Date: Thursday, Oct. 5
Time: 5 p.m. – 8:30 p.m.
Location: Fayetteville Town Center Plaza and Downtown Square.
More info: Click here
Mom and Daughter-Son cooking class
New Mom and Daughter-Son Class open on October 6th. Learn how to make great recipes while spending quality time with your child. Price per couple $55. Ages 4 and Up. Limited class size.
Date: Friday, Oct. 6
Time: 5:30 p.m. – 7 p.m.
Location: Young Chefs Academy of Rogers
More info: Click here
First Friday: Fall Fest
The Bentonville Square is transformed into a Fall Fest block party with live music & entertainment, outstanding food options and family friendly activities.
Date: Friday, Oct. 6
Time: 4:30 p.m. – 8 p.m.
Locations: Bentonville Square
More info: Click here
The Scott Family Amazeum hosts Tinkerfest
The Scott Family Amazeum hosts Northwest Arkansas' largest convening of makers, tinkerers, artists, innovators, and creatives at Tinkerfest. This one-day festival celebrates the maker mindset in all of us is included with paid admission or membership.
Date: Saturday, Oct. 7
Time: 9 a.m. – 4 p.m.
Location: Amazeum
More info: Click here
Free Recreational Roll and Ride, Community Picnic in Fayetteville
A free "Roll and Ride" along the Scull Creek Trail on Oct. 7 will encourage Northwest Arkansas residents of all ages, abilities and skill levels to enjoy a positive experience on the recreational trail. The ride will take place from 9-11 a.m., with free parking available at the Village at Scull Creek apartment complex, 2619 N. Quality Lane, Fayetteville. Hosted by Sources for Community Independent Living Services, the event will be inclusive of all in the community, offering opportunities to test ride various specialty bicycles, some designed specifically for individuals with disabilities. The Route 66 Tandem Bike Club will participate in the event, captaining their bicycles-built-for-two to allow individuals with visual impairments the experience riding a bike. The ride is open to all individuals whether on a bike or in a chair.
Date: Oct. 7
Time: 9-11 a.m.
Location: Scull Creek Trail
More info: Click here
2017 Arkansas Apple Festival
The Arkansas Apple Festival is held every year during the first weekend of October in Lincoln, Arkansas. It is guaranteed to provide a weekend of fun for the whole family, no matter how old you are.  These three days are bursting full of activities with contests for kids, musical entertainment, gospel singing, and much more. Youngsters are welcome in the special Kid's World. And yes, there will be an abundance of apple cider and free apple slices.
Date: Friday, Oct. 6 – Sunday, Oct. 8
Time: various depending on the day
Location: Lincoln City Square
More info: Click here
Golftoberfest
Golftoberfest is NWA's ORIGINAL Mini-Golf Tourney. Just like a regular golf tournament, Golftoberfest has a shotgun start, hole-in-one contest prizes, and even a goody bag for participants! Golftoberfest is a family-friendly event.
Date: Saturday, Oct. 7
Time: 10 a.m. – 2 p.m.
Location: Gator Golf
More info: Click here
Harry Potter and the Sorcerer's Stone Live in Concert
Fifteen years ago Harry Potter and the Sorcerer's Stone™ enchanted our screens and now it's returning, for the first time ever, with the music of a live symphony orchestra. Momentous scenes from the film play on a giant screen in high-definition while John Williams' unforgettable score is performed by members of the Symphony of Northwest Arkansas (SoNA). Experience the magic with the first installment of the Harry Potter™ Film Concert Series.
Date: Saturday, Oct. 7
Time: 7 p.m. – 9:30 p.m.
Location: Arkansas Music Pavilion
More info: Click here
Paw-casso Art Show
Black Apple Crossing has teamed up with the Springdale Animal Shelter to hold an event called the Paw-casso Art Show. The kitties and puppies of Springdale Animal Services have been hard at work creating 'meow'-sterpieces to help raise money for the shelter. Snag one of these awesome pieces of artwork for yourself at this family-friendly event which will include door prizes, raffles, and more.
Date: Sunday, Oct. 8
Time: 4 p.m.
Location: Black Apple Crossing, Springdale
More info: Click here
Botanical Garden of the Ozarks' Free 10th Birthday Party
The Botanical Garden of the Ozarks is turning 10 years old this October. The garden will be open for free from 4-8 p.m., with birthday celebrations from approximately 6-7:30, as a thank you to the Northwest Arkansas community for its support over the years. In addition to exploring the garden, guests can enjoy ice cream (while supplies last), gardening tips from the BGO horticulture team, a photo booth, balloon animals, music and more. BGO will also be offering 10% off new memberships all day. Come see how much the garden has grown over the years.
Date: Tuesday, Oct. 10
Time: 4-8 p.m.
Location: Botanical Garden of the Ozarks
More info: Click here
A Spooktacular Friday the 13th
Stop by Natural Grocers on this spooky Friday for some Halloween fun where they'll be in costume and ready to play. Look for gluten-free treats from some vendors, coloring contests, games, non-food goodies, a homemade (in-store) treat, face painting from 4:30-5:30, and an allergen-free Halloween goodie demo and sampling hosted by a Nutritional Health Coach at 4:30.

Date: Friday, Oct. 13
Time: 4 p.m. – 7 p.m.
Location: Natural Grocers, Fayetteville
Mor info: Click here
National Youth Science Day
Come join in the nation's largest annual science experiment. Developed by the University of Nebraska – Lincoln, the Incredible Wearables kit is a fun way for kids to build wearable fitness trackers. The 70 to 90-minute hands-on project is suitable for 4th to 12th graders.
Date: Saturday, Oct. 14
Time: 9 a.m. – 1 p.m.
Location Cross Church Student Building
Mor info: Click here
Fall Break Camp at Trike Theatre
In this Create-A-Play camp, students will write and perform an original play for family and friends in just three days during the fall break. Camp for students from K to 6th grade. 
Dates: Oct. 16-18
Time: 8am to 3pm
Location: Trike Theatre, Bentonville
More info: Click here
Fall Break Art and Chef Camp
Drop off at 9 a.m. at Imagine Studios and paint a pumpkin plate and a fall canvas. At 11 a.m, the group will walk over to Young Chefs Academy where kids will make their lunch and dessert. Pick up is from Young Chefs at 1 PM. This camp is during both Bentonville Schools and Rogers Schools fall break. $90 covers both art and cooking classes. Ages 5 & up.

Date: Oct. 17-20
Time: 9 a.m.
Location: Imagine Studios and Young Chefs Academy
More info: Click here
JC Movie Night: Captain Underpants 
#JCmovienight is back for Season 3. October's movie is a kid-favorite, Captain Underpants. This is a totally free movie screening in our auditorium. 
Date: Friday, Oct. 20
Time: 6:30 p.m. – 8:30 p.m.
Location: The Jones Center
More info: Click here
Movie Night – Ghostbusters (1984)
The last Movie Night of the season is going to be a good one! Showing the original 1984 version of Ghostbusters.
Date: Friday, Oct. 20
Time: 6:45 p.m. – 8:45 p.m.
Location: Downtown Rogers Farmer's Market
More info: Click here
Hurts Donuts Run
Hurts Donuts invites you to participate in the inaugural Hurts Donut Run series. This 5k running series is open to persons of all ages and abilities. Come to run (or walk) the course with your friends and family and enjoy a fun morning while celebrating Hurts Donuts! Hurts Donuts will be waiting at the finish line. Registration gets you a bib number, and a t-shirt! Freshly brewed coffee will also be served along with other refreshments. Run, walk or dance through the Hurts non-competitive course. Enter in the costume contest for a chance to win prizes.
Date: Sunday, Oct. 22
Time: 10 a.m. to 1 p.m.
Location: Walker Park, 15th St., Fayetteville
More info: Click here
Mommy & Me Make & Take
$8 = 4 simple DIY items that you can whip up in minutes PLUS everyone gets a free gift. Meet in the Private Dining Room. Everyone is welcome – children of all ages.
Date: Sunday, Oct. 22
Time: 2 p.m. – 4p.m.
Location: Houlihan's in Rogers
More info: Click here
Ozarktober Fest | Celebrating the Ozarks 4-day festival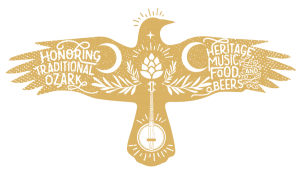 The Downtown Springdale Alliance invites you to be part of a brand-new celebration during one of the best times of year, nestled in one of the most special places in the country. The Ozarks region we call home is rich with culture, and Ozarktober Fest is a four-day series of events designed to highlight a sampling of wonderful traditions and emerging amenities that make this area unique. Staged in the core of Downtown Springdale, Ozarktober Fest features food, music and lore as well as the booming microbrewing industry that is just one more growing asset Northwest Arkansas and the Ozarks can claim—plus, one night will be all about Halloween family fun.
Dates: Oct. 26-29
Time: Varies
Location: Varies
More info: Click here
Treats at the Train Family Carnival
Treats at the Train will provide a fun, safe place for families to come Trick-or-Treat on the Train, enjoy carnival games and live music, and have lots of fun. There will also be a haunted train for the older and braver kids. Proceeds benefit the House of Hope Rescue Mission, helping us feed the hungry and help the homeless of Northwest Arkansas. Canned good donations for our food pantry will also be accepted. *The train will be stationary; this is not a train ride. Admission is $5.00 (Kids 2yrs and under are Free).
Date: Friday, Oct. 27
Time: 6:30 p.m. – 9:30 p.m.
Location: Arkansas Missouri Railroad
More info: Click here
Springdale Halloween Fest
Springdale Parks and Recreation, The Springdale Police Department, and The Downtown Springdale Alliance are joining together to bring the Springdale Halloween Fest to Downtown Springdale. Celebrate Halloween with friends and family for a fun free night in Downtown Springdale with the showing of the movie "Hotel Transylvania" to end the night. The night will consist of candy giveaways from the local downtown businesses, touch-a-truck, carnival games, a pumpkin drop, a pumpkin carving contests, and a costume parade (dogs too).
Date: Saturday, October 28th
Time: 4 p.m. – 7 p.m.
Location: Downtown Springdale
More info: Click here
Family Network Inc. Family Foto Fest
15th Annual Family Foto Fest. Get great, professional pictures and give back to the community. Your $150 contribution is tax-deductible and provides vital support for first time parents in NWA. Each 30-minute session comes with a CD of all your poses so that you can post to social media, print photos, or order calendars or cards. Sessions are available between 9 am and noon and 1 pm and 4 pm on Saturdays/Sundays, October 28/29 and November 4/5, at Fayetteville Mt. Sequoyah and Downtown Springdale. 
Date: Saturday/Sunday – October 28/29 and November 4/5
Time: Various depending on the day
Location: Mt. Sequoyah or Walter Turnbow Park
More info: Click here
Save