For more than 20 years now, we've known them as "Northwest Arkansas Pediatric Dental Center." But the well-known dental practice and nwaMotherlode.com sponsor is evolving into a new name that captures the essence of what they're all about: The Smile Shoppe. We love the cute new logo.
We asked Dr. Jeff Rhodes what inspired the clinic's new name and new look. Read below for his answer as well as news about the other changes taking place at the clinic — one of the only places in Northwest Arkansas committed to providing the kind of expertise you only get with board certified pediatric dentists. Also, be sure to scroll down and read about the new dental treatments (like enamel splotch removal) now available for tweens and teens.
Why did you decide to change the clinic's name?
We  wanted to better reflect our passion for helping children of all ages develop happy, beautiful smiles. Our goal is to provide compassionate specialty care to children from infancy to young adulthood. We're providing preventive dentistry and tooth colored fillings. We are also offering preventive, interceptive and comprehensive orthodontic treatment. We're performing laser gum and nerve treatments. Basically, we want people to know we're a one-stop resource providing everything a growing child needs to grow a happy, healthy smile.
Are there any other big changes happening at the clinic?
Last year Dr. Emily Fourmy, who completed her specialty training at UT-Memphis, joined our practice. She had been a dental assistant in our office before going to dental school and has been a great asset. She just completed the Board Certification process by the American Academy of Pediatric Dentistry.
Finally, we have had a nurse anesthetist helping us treat our most nervous patients in the office. This has allowed us to provide a less expensive but safe alternative to going to the hospital for completing dental procedures.
How does the new name fit the personality of your clinic?

Our intention is to create a unique, multi-location practice that only uses board eligible pediatric dentists. We're committed to developing a beautiful smile and a confident person to use it. Our approach is compassionate, comprehensive and holistic with a focus on training kids and parents how to be healthy. We're not about just cleanings and cavities, but smiles; inside and out.
Is this new, shorter name easier for your youngest patients to remember?
I hope so. Our old name was developed in 1990 when Northwest Arkansas was a much smaller place. We wanted to communicate that we were not just a local practice, but regional. We now not only see patients from our area, but also from Oklahoma, Kansas and Missouri as well.
In addition to young children, you also have lots of teen patients. What services do you provide for teens?
We really enjoy working with teenagers. They're no longer "kids," but they're not quite adults either. We focus on helping them develop the most confident smile we can. We offer teen-focused things like braces and Invisalign, as well as cosmetic procedures. Lately we've been performing enamel splotch removal and laser bleaching.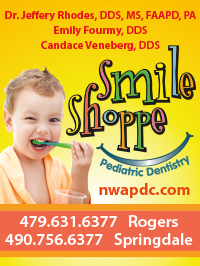 Will your phone number or location change?
We will use the same numbers we have always had: 479-756-6377 and 479-631-6377. We're updating our Springdale location at the Jones Tower at Northwest Medical Center.  And we hope to do some expansion at our Rogers location in the near future.
What is your favorite part of what you do at the Smile Shoppe?
Where would I start? It's very rewarding to help a child be as cavity-proof as possible. To get a hug from a nervous patient AFTER the filling is finished. To see a teenage girl enjoy her smile for the first time after the braces come off. To help a mom who's run out of options with a special needs child.
Probably the most rewarding thing for me is developing a relationship with a patient and their family. To see them grow up, guiding their growth and development, preventing or treating their cavities, straightening what's crooked and seeing them mature into happy, healthy young adults. For me, it's about the relationship.
The Smile Shoppe has locations in Rogers (5518 Walsh Lane) and in Springdale (601 W. Maple, Suite 214). For more info, call them at 479-756-6377 or at 479-631-6377. Or get more info by visiting their website by clicking HERE.