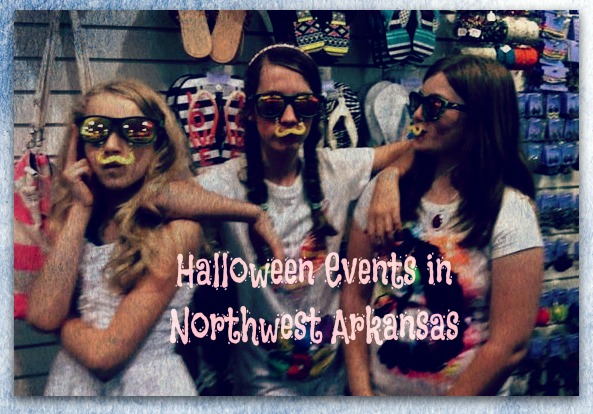 Fall Carnival at the Rodeo of the Ozarks
Pride of Texas will be bringing rides for all ages. Armbands will be available.
Date: Oct. 3-6
Time: 5 p.m.
Location: Parsons Stadium, Springdale
More info: Click here
Benton County Sheriff's Annual Haunted House
Free "Scare Free Zone" for the more timid. This is one of the best haunted houses in NWA! Do you dare to enter? $10 per person to support P.A.L.
Date: Oct. 4-31
Time: 7:30 p.m.
Location: Frisco Station Mall, corner of Dixieland and Walnut
More info: Click here
Harvest Moon Festival Boutique Show
This is a family event. Come celebrate the Harvest 10 am-5 pm with a Vendor Boutique Show, Pumpkins|Gourds|Mums, Food, Kid Zone & Museum displays highlighting the history of Happy Hollow Farm. Exhibits from local farming and environmental groups, Entertainment and Demonstrations. Free Admission. Happy Hollow Elementary School.
Date: Oct. 5
Time: 10 a.m. to 5 p.m.
Location: Happy Hollow Elementary, 2175 E. Peppervine Drive, Fayetteville
More info: Call 479-444-3085 or Click here
NWA Mercy Family YMCA Halloween Carnival/Thriller 5K (Carnival)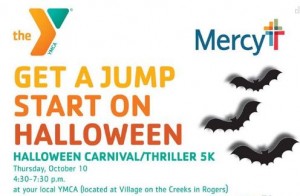 Halloween Carnival/Thriller 5K on Thursday, October 10 from 4:30-7:30pm. A Carnival for kids that includes carnival booths with candy prizes, Mad Scientist Shows (4:45 p.m., 5:30 p.m., 6:15 p.m. and 7:00 p.m.), bouncy houses, a pumpkin patch, coloring contest, and a costume parade. Family activities include a silent auction, costume shop, Thriller 5K/Family Fun Walk (6:00pm), and Zombie Zumba. Food Available for Purchase, $2 Child Watch (Ages 2 and under). Free Admission ($1 Individual Activity Tickets for Sale). $15 Unlimited Activity Wristband (Per child, food purchase not included).
Date: Oct. 10
Time: 4:30-7:30 PM
Location: NWA Mercy Family YMCA
More info: Click here
Teen Fright Night at the Crystal Bridges Museum
Attention all high school students! Save the date for Fright at the Museum—a spooky, fun-filled evening at Crystal Bridges! Come dressed up in costume as your favorite artist, artwork, or any Halloween theme, and win prizes while enjoying the Twentieth-Century Art Gallery and fun activities including mask-making, a haunted hallway, live music, fortune-telling, horror film, and a community art project! Hope to see you there!  Free admission. Fright Night at the Museum is organized by Crystal Bridges' Teen Council.
Date: Oct. 19
Time: 7-10 p.m.
Location: Eleven restaurant
More info: Click here
Zombie Walk
A great family event and alternative to Trick or Treating! Dress in your best Zombie or Zombie Hunter costume and come join the fun! This year's event will be held at Arvest Ballpark. Information will be announced, closer to the event. Please follow the Rogers Public Library Foundation on Facebook, Twitter and Pinterest. All proceeds will go towards new programs and services at the Rogers Public Library. For ticket information, please call our office at 479-621-1152 x 34 or email rplfoundation@rplfoundation.org
Date: Oct. 25
Time: 5-9 p.m.
Location: Arvest Ballpark
More info: Click here
Howl-O-Ween Spooktacular, Turpentine Creek Wildlife Refuge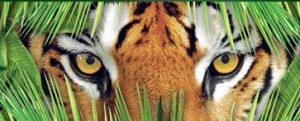 Halloween can be a hair-raising experience, especially when you throw over 100 big cats into the mix. TCWR's annual Halloween party is the only time you can view our cats in the dark of night. The main compound is open for the whole family to experience the night habits of our lions, tigers, cougars, bobcats, and more. Games, food, and a children's costume contest are all part of the one of a kind experience, and provides fun for all ages. The Spooktacular is the Saturday night before Halloween (Oct. 26th) from 7-9 PM.
Date: Oct. 26
Time:
Location: Turpentine Creek, Eureka Springs
More info: Click here
Mall-O-Ween, NWA Mall 
Trick or treating at mall stores and annual costume contest at Center Court. Free Halloween goody bag for children while supplies last. Contest will be for ages 0-12, with cash prizes awarded for creativity and originality to the top 3 in each age group. 
Ages 0-2 at 6:00pm
Ages 3-4 at 6:20pm
Ages 5-6 at 6:40pm
Ages 7-9 at 7:00pm
Ages 10-12 at 7:15pm
Date: Oct. 31
Time: 6-8 p.m.
Location: NWA Mall
12th annual Trick-or-Treat on the Square, Fayetteville
Square merchants will pass out candy from their doorsteps and Dog Party USA will host a costume contest for pets.

Date: Oct. 31
Time: 3-5 p.m.
Location: Fayetteville Square
More info: Click here
Goblin Parade, Rogers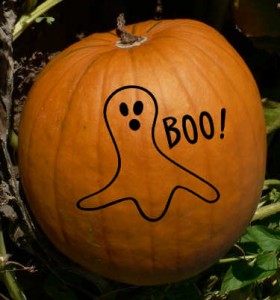 The annual Goblin Parade provides a safe, fun chance for children to trick o' treat with our downtown businesses. A parade of ghosts, princesses, chefs, firefighters, cowboys, etc. parade through downtown and are greeted by our many downtown shop owners. It's safe fun for the whole family! And did we mention there's candy? The Goblin Parade runs from 3:30-5:30 p.m. every Oct. 31 (Halloween … when else?). We line up in Frisco Park, at the corner of Poplar and First Streets.
Date: Oct. 31
Time: 3:30
Location: Downtown Rogers
More info: Click here
Downtown Trick or Treat, Siloam Springs
On October 31st, bring the family downtown to the best place for trick-or-treating! Downtown merchants welcome the community with candy, treats, and prizes from 3:30-5:30pm. We welcome crowds of three to four thousand or more to this annual event!
Date: Oct. 31
Time: 3:30-5:30 PM
Location: Downtown Siloam Springs
More info: Click here
Non-Halloween related events:
Bricks 4 Kidz has a variety of events coming up in October. This new business introduces kids to principles of science, technology, engineering and math through hands-on activities. Kids learn while simply playing and being creative. The classes are lab-focused and the theme-based classes are designed by engineers and architects. They have a variety of classes and even birthday parties. Here are some specific upcoming events:
Halloween Fun Night: Oct. 25 6-9 p.m.
Field day for our Home School Kidz: Oct. 9 and 23rd.
MineCraft Class: Oct. 19, 20 and 26th from 3-6 p.m.
More info: Click here
First Thursday Fayetteville
Fayetteville's Downtown Square transforms into a hub of live music, artists, performers and children's activities for one evening each month. There will be an outdoor walk and charity beer garden for visitors to enjoy. It's family-friendly fun and free to the public!
Date: Oct. 3
Time: 5 p.m.
Location: Fayetteville Square
More info: Click here
Bentonville First Friday, Oktoberfest
One of our most popular First Fridays, this event includes traditional music and foods inspired by the Bavarian-based Oktoberfest. Included in the event is the PepsiCo Mug Root Biergarten, the brat-eating contest and the Community Chicken Dance.
Date: Oct. 4
Time: Lunch/5 p.m.
Location: Bentonville Square
More info: Click Here
Bentonville First Friday Flicks
Watch the movie Hotel Transylvania
Date: Oct. 4
Time: 7:30 p.m.
Location: Lawrence Plaza
More info: Click here
Havenwood Havenride: Cycle to End the Cycle
50, 25, 6 mile, and family friendly rides. All proceeds benefit programs and resources for single parents and their children at Havenwood.
Date: October 12
Location: Starting at Lewis & Clark in Rogers, 2530 Pinnacle Hills Parkway
More info: Click here
Pea Ridge Mule Jump
Date: Oct. 12
Time: 9 a.m.
Location: Pea Ridge High School
More info: Click here
War Eagle Mill Fall Craft Fair
Professional craftsmen and women offer original, handmade work such as country decorative items, folk art, watercolor and oil painting, pottery, stoneware, wreaths, potpourris, dried arrangements, quilts, miniatures, country clothing, wearable art, candles, homemade soaps, country furnishings, antique broken china jewelry, white oak baskets, bird houses and feeders, collectables and much more. These juried participants come from across the United States.
Date: Oct. 17-20
Time: Varies
Location: War Eagle Mill, 11045 War Eagle Road, Rogers
More info: Click here
Bella Vista Arts & Crafts Festival
Since 1969, the Bella Vista Arts and Crafts festival has been steadily growing in size and reputation. The Festival is sponsored by the Village Art Club – a nonprofit organization that uses the profits from this endeavor to sponsor arts scholarships and the local arts club. The show offers: free admission, free parking, and shuttles to transport visitors from parking area to Festival. Special vendor parking and RV space with dry camping for vendors. There is a wide variety of food to appease any appetite for any meal.
Date: Oct. 17-19
Time: 8 a.m. to 5 p.m.
Location: 1991 Forest Hills Blvd., Bella Vista Close to intersection of Hwy 279 & Hwy 340
More info: Click here
Okotoberfest, Rogers
A whole day of food, music and fun for the family. Enjoy the sounds of the Oom-pah-pah bands and Hammerschlagen, the scents of bratwurst and pretzels.
Date: Oct. 19
Location: Frisco Park, 200 S. First Street
More info: Click here
Beauty and the Beast
Date: Oct. 18
Time:
Location: Walton Arts Center
More info: Click here
The Wonder Bread Years
Date: Oct. 24
Time:
Location: Walton Arts Center
More info: Click here