We bet that, like us, many of you made New Year's resolutions to get your finances in order this year.
But there are only a few days left in January and we haven't quite started yet.
This giveaway can help!

If you don't know where to start, financial planner Chris Haas of Freedom 5:one Ministries can help you start to navigate any and all of these money issues you may have: setting up a budget; paying down debt; saving for the kids' college fund; starting a retirement fund; and drafting a will.
You can win four, one-hour sessions with Chris in this giveaway.
You don't have to be in debt to sign up for this giveaway, but he can help deal if you are. Chris is a professional all the way and will keep your information confidential. We did a giveaway with Chris a few years ago and the winner, Lynette Duncan, had this to say about her experience:
"My husband, Peter, and I read Larry Burkett's books when we first married, so we knew the importance of living on a budget and the benefits of using an "envelope system".  More recently, we read Dave Ramsey's books, and these reinforced concepts for us.  However, we knew there were gaps in our financial planning.
We needed a lot of hand-holding and prodding to take care of things like life insurance and wills. One thing that held us back was lack of know-how.  Chris gave us information that we needed and answered questions for us until we knew what we needed to do and how to do it.  Meeting with Chris provided the catalyst and accountability to get things done.
The best thing about meeting with Chris was that it was personalized advice.  He met us where we were and helped us move forward.  That's not something we could find in a book or a seminar."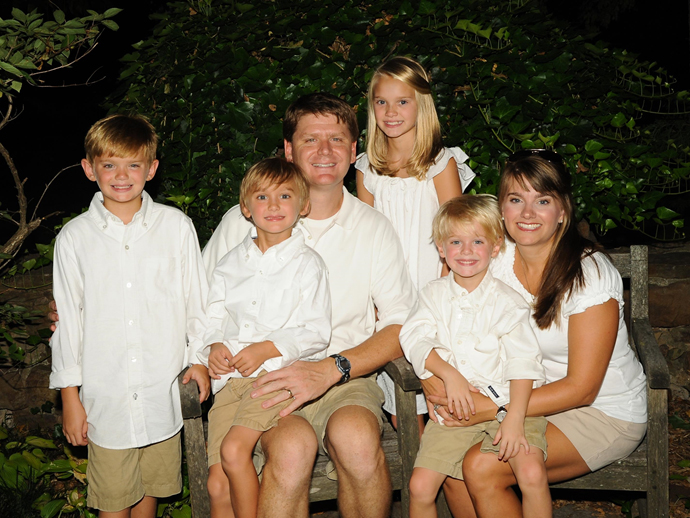 ABOUT CHRIS HAAS: Chris is the founder and President of Freedom 5:one Ministries. He's passionate about helping people achieve financial health and has coached hundreds of people to create financial plans to help families experience financial freedom.
Chris is a graduate of the UA in Finance, received a Master's degree from Dallas Theological Seminary, and is a member of Northside Rotary. He worked as a financial advisor with Clement Financial prior to starting the non-profit organization. Freedom 5:one is a member of the Fayetteville Chamber of Commerce. 
Chris and his wife Tiffany (who has the awesome local business Spaces of Grace Interior Decorating & Design) have four children and live in Fayetteville. You can reach Chris at Freedom5one[at]yahoo[dot]com or learn more at www.Freedom5one.com
HOW TO ENTER: If you'd like Chris' help with knocking down debt — or just talking through your future financial goals and how best to start reaching them now — you can throw your name in the hat by clicking on the words "post a comment" at the bottom of this post and answering the question, "What would you do if you were suddenly gifted with a large amount of money?"
HOW TO INCREASE YOUR ODDS OF WINNING: If you'd like to increase your odds of winning this financial planning package, just share! Email friends and family about the giveaway and CC us so we'll be sure to give you credit. The email is giveaways@nwaMotherlode.com.
BE SOCIAL: You can also earn extra chances to win by commenting on our Facebook page, following us on Twitter or following us on Pinterest. If you do any of those, just mention it in your comment or email so we can give you proper credit.
For more information about Chris and Freedom 5:one Ministries, click here. Or call Chris at 479-713-0070.