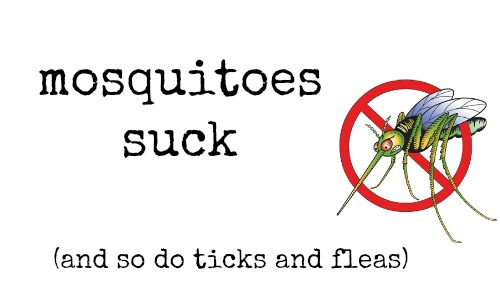 We love a good tip here at nwaMotherlode.com. So we were thrilled when our friend Angela Hopkins told us that she had just tried a new barrier mosquito treatment for her woodsy backyard and it actually worked! (Insert Hallelujah chorus here.)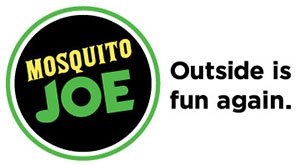 The service is called Mosquito Joe and Brad and Stephanie Simon own and operate the location here in Northwest Arkansas. Here are Angela's exact words from the email she just sent me:
"They came and treated my yard yesterday and it really worked. I watered my plants outside and did not get eaten alive by mosquitoes like I usually do. AWESOMENESS."
She told me about it because she knows that my backyard backs up to the woods, too, so we have more than our share of those nasty bloodsuckers flying around here in the summer. Those annoying little buggers have no idea what's about to hit them. (Insert evil, maniacal laugh here.)
What they do: A technician from Mosquito Joe will first give you a free quote over the phone once you tell them your address. (They don't have to come to your house first because they can estimate the size of your property using computer mapping software.) Once you give them the green light, you'll schedule the application but you don't have to be home when they do it.
In fact, people and pets shouldn't be outside during the application process but everybody can get out in the yard and party about 30 minutes after the application is done. And here's a nice little bonus — the application also helps get rid of and repel fleas, ticks and some flies, too. It lasts for THREE WEEKS.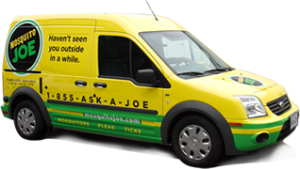 How it works: Armed with a backpack-style applicator, the technician will target bushes, shrubs, under the deck, and in any damp, shady areas of your yard. They won't just treat your grass because mosquitoes don't tend to hang around in the grass, especially if it's kept short. Mosquitoes like to hang out on the underneath side of leaves of dense shrubs and plants. The technician will also search the yard for any "hot spots" and any larvae populations and treat those as well.
The treatment will kill mosquitoes on contact but it also adheres to leaves and foliage and acts as a barrier and repellent for the weeks to come. (Technicians come back every 3 weeks to retreat the yard.)
What about the chemicals? As you know, we mama types are leery of too many chemicals. But we were happy to find out that, with this mosquito treatment service, the chemicals are all EPA approved and are very similar to those found in household insecticides that can be found at the store and also in pet shampoos and sprays and even lice shampoo — which is designed to be used directly on the scalp.
The main ingredient is a synthetic form of pyrethrins called pyrethroids. Pyrethins are insecticides that are derived from a naturally occurring compound called pyrethrum found in the chrysanthemum flower. Because the treatments are plant derivatives, they won't hurt your vegetable gardens, flowering plants or any pond life.
If you're still worried about chemicals, you should ask about their "all natural" option. It doesn't work as long as the standard treatment, but it's available and they stand behind it as well.
Mosquito health risks: For me personally, I'm much more concerned about the health threat that mosquitoes pose. Nothing bothers me quite like seeing my kids chewed up with itchy mosquito bites, and I hate having to douse them with insect repellant every time they want to play outside.
And yes I know I'm paranoid, but every time my kids get a mosquito bite, the thought of West Nile Virus goes through my head. Mosquitoes can also carry Eastern Equine Encephalitis (EEE) as well as heartworm larvae that can infect pets. Ticks (also controlled by this spraying service) can carry Lyme Disease as well as Rocky Mountain Spotted Fever.
What if it doesn't work? Excellent question. That's the first thing I thought about, too, when Angela first mentioned that she was going to have this done at her house. The company offers a 100 percent satisfaction guarantee. So if you're still swatting mosquitoes after the service is done, they'll come back and retreat your yard. If you're still not happy after that, you get ALL of your money back. (Hard to argue with that, right?)
How much does it cost? You'll really need a quote on your particular yard, but you'll definitely want to snag the coupon code that is on the Mosquito Joe website right now. The coupon is for a $39 first treatment for new customers.
NOTE: This company does treat yards prior to events, parties, backyard barbecues, etc., so if you're having one of those at your house on July 4th, you still have time to contact them about treating the yard before your party. Also, be sure to swing by the company's local Facebook page so you can stay in the loop on any special offers. Click HERE to go to Facebook.

For more info, call Mosquito Joe of NWA at 479-202-9960 or click HERE to see their website. (We'd appreciate it if you'd let them know you read about it here on nwaMotherlode.com.)
Happy Summer! Hope you can spend it mosquito free!
Disclosure of Material Connection: This is a "sponsored post." The company who sponsored it is an advertiser on this website. However, no one on staff received free mosquito treatments, and we ONLY recommend products or services we use personally and believe will be good for our readers. We are disclosing this in accordance with the Federal Trade Commission's 16 CFR, Part 255: "Guides Concerning the Use of Endorsements and Testimonials in Advertising."
Save