The latest crazy — yet tasty — recipes come from two nwaMotherlode readers. The first one is chocolate cake in a mug from Fayetteville mom of two, Shannon Jones (who got it from her neighbor, Tricia Moore, who got it from a friend in Canda). It is seriously made in a mug in five minutes — two minutes to throw together and three minutes in the microwave!
The second recipe, Perfect and Foolproof Frozen Pie, is from Vi Gross and it's not so much crazy as it is crazy-easy. Vi said she shares this recipe with all her friends (male and female) who say they're helpless in the kitchen. She says you can use low-calorie ingredients to shave off some caolories.
5-Minute Chocolate Mug Cake: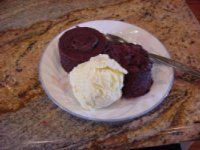 4 tablespoons flour
4 tablespoons sugar
2 tablespoons cocoa
1 egg
3 tablespoons milk
3 tablespoons oil
3 tablespoons chocolate chips (optional)
a small splash of vanilla extract
1 large coffee mug
Add dry ingredients to mug, and mix well. Add the egg and mix thoroughly.
Pour in the milk and oil and mix well. Add the chocolate chips (if using)
and vanilla extract, and mix again.
Put your mug in the microwave and cook for 3 minutes at 1000 watts (high).
The cake will rise over the top of the mug, but don't be alarmed! Allow to
cool a little, and tip out onto a plate if desired.
EAT! (this can serve 2 if you want to feel slightly more virtuous).
Shannon Jones' notes: "And why is this the most dangerous cake recipe in the world? Because now we are all only 5 minutes away from chocolate cake at any time of the day or night!
It is wonderful even without icing. It doesn't have to be a super large mug, the size you would normally use works fine — and although it rises above the rim, don't be alarmed, it doesn't run over and mess up the microwave." *Pic is of the mug cake cut in half.
Perfect and Foolproof Frozen Pie:
1 store-bought graham cracker crust
2 tubs of your favorite flavored yogurt (prestirred not fruit on the bottom, strawberry is always a big hit)
1 regular sized tub of whipped topping
Remove plastic cover from crust.
Place whipped topping into a large bowl
Add the yogurt
Gently stir until all is mixed
Dump into crust. Flip plastic cover and place on pie to form a dome
Freeze for 3 to 4 hours
Vi says: "It won't last long!"