Editors' note: Congrats to The New School, one of our website sponsors who recently earned a Mom-Approved Award in the "Best Private School" category. Get to know this local private school a little better with today's featured profile.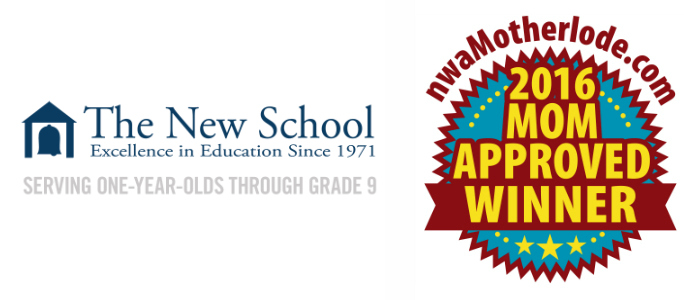 Voted as a 2016 Mom-Approved Award Winner in the
"Best NWA Private School" category
Winner: The New School
Location: 2514 New School Place, Fayetteville, AR 72703
Phone: 479-521-7037
Hours: 7:30 a.m. to 5:30 p.m.
Operating since: 1971
The New School is known for: The New School, a co-educational independent school, has offered excellence in education in Northwest Arkansas since 1971.
Situated on a 26-acre wooded campus in Fayetteville, the school continues to grow to provide the best education to young people in Northwest Arkansas.
This past fall, TheBestSchools.org (TBS) awarded The New School first ranking on the prestigious 50 Best Private Elementary Schools national list. The school was named the top school for its academic excellence, extracurricular richness, geographical and demographical diversity and reputation. The New School was also awarded The Very Best Middle School for 2015 from Celebrate Magazine through community voting.
"We are honored to be recognized both regionally and nationally," said Dennis Chapman, President and Head of School. "To be in the company of such fine independent schools is a validation of the good work our faculty are doing each day for our students."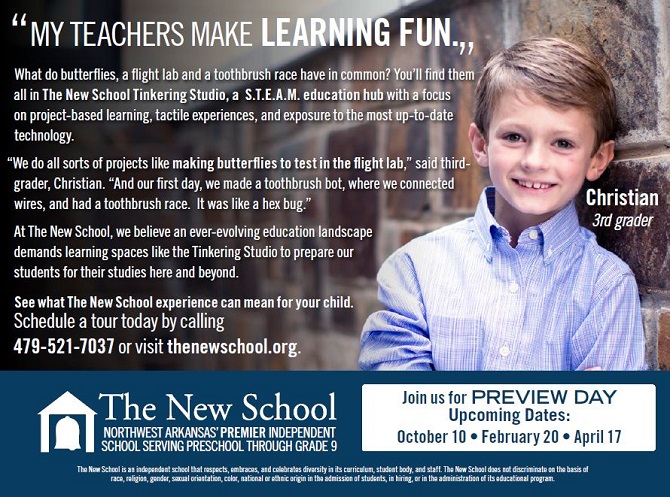 Tell us about the new high school addition: The latest development, announced to the public in January, is that the school is adding an upper school, grades 9-12, beginning with ninth grade this August 2016 and adding a grade each year.
Lead gifts from the J.B. Hunt family and Todd and Shelley Simmons will enable the school to begin Phase I of the Campus Master Plan. The J.B Hunt family has pledged $10 million and Todd and Shelley Simmons have pledged $3 million. These donations represent their single largest philanthropic gifts to any organization.
"Both families support the mission and philosophy of the school and understand how this benefits children in Northwest Arkansas," said Chapman.
The commitment of the two lead gifts provided the springboard to start Phase I of the New School Forever campaign.
The school is breaking ground this fall on three new buildings which support the school's college prep, STEAM-based, whole child approach to education. Chapman said the school is committed to a small student-to-teacher ratio and a surge in enrollment necessitates campus expansion to accommodate this.
"We think overall a small student-to-teacher ratio is important to the growth of our students at every grade level, in every subject, " Chapman said. "This is why we're so excited about our campus expansion. It allows us to deliver this dynamic learning environment to even more students in Northwest Arkansas."
What will the different buildings house? The first building is a three-story, 36,000-square foot academic center, featuring science labs and collaborative spaces. Fifth and sixth graders will be housed on the first floor, seventh and eighth graders on the second and ninth through twelfth on the third floor.
The second facility is a 9,000-square foot innovation center, which will feature the school's tinkering studio, with spaces for robotics, wood shop and a cybercafe common space for the students.
The third building is an 18,000-square foot gymnasium featuring a full-court gym and mezzanine level with strength and conditioning opportunities for student athletes.
"As we continue to grow with the addition of high school students, our new facilities can accommodate more, which is important for social and athletic reasons," said Chapman.
Can you tell us about the new scholarship opportunities? Beyond new facilities, the school has also made a commitment to providing financial aid and scholarships to students through an increase in financial aid offerings and with the new Whitaker Family Scholarship Program. Made possible by the generosity of the Don and Pauline Whitaker family, the scholarship fund will provide the school the ability to award four $5,000 scholarships to new incoming 9th grade students, renewed annually and totaling $20,000 per student over his or her upper school career.
"We really see the need in Northwest Arkansas and we are providing families with an incredible option. There are so many students who want to be challenged academically, compete athletically and also pursue creative interests and hobbies such as theatre, dance or painting. The New School's addition of a high school gives students the chance to discover and pursue all their passions, which is important not only for college, but for life," Chapman said. "I think families are seeking this for their children and we'll undoubtedly see continued growth throughout the school."
What a local mom says about The New School: The New School lives up to its mission to foster a love of learning in students. My children are thriving here academically and socially. Thank you teachers, staff and administration!
Congrats to the staff at The New School!
Click here to visit their website.