Mamas, have you been in this situation before?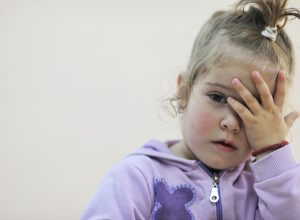 What you have: a sick kid
What you don't have: an appointment at the pediatric clinic
Shannon and I have definitely been in this situation before and have worried that we wouldn't be able to get an appointment or that the only appointment time that's available will be at a time when we just can't get there.
Thankfully, Mercy has come up with a solution to this common problem, and it's called the "Come On In Clinic."
From Monday through Friday — from 7:30 a.m. to 10 a.m. and then again from 3 p.m. to 4:30 p.m. — parents will be able to walk into the Mercy Pediatric Clinic on Highway 102 in Bentonville, even if they don't have an appointment.
During these specific clinic hours, Mercy's providers will take care of "minor illnesses of short duration." That includes conditions like these:
pink eye
flu
cough
diarrhea
earache
fever
foreign body removal
wart removal
minor injuries
nasal congestion
rashes
sore throat
urinary tract infections
vomiting
(The clinic will also offer physicals during these hours.)
Please note: There are a few things the Mercy providers won't be doing during the "Come On In Clinic" hours because certain conditions and illnesses take longer to diagnose and treat. So if your child has abdominal pain, chest pain, a chronic condition, a behavioral concern or needs a medication refill, please call the clinic at 479-636-9234 to schedule a regular appointment.
The Mercy clinic featuring "Come On In" clinic hours is located at 3101 SE 14th Street in Bentonville, Arkansas. Click here for driving directions.