Recipes by Jen Lewis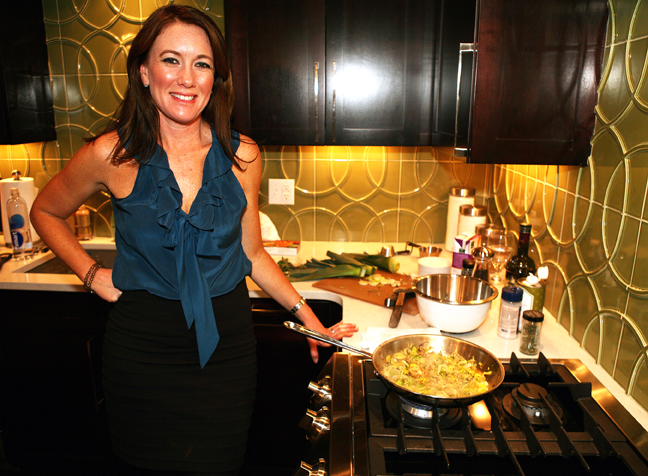 Jen Lewis teaches cooking/entertaining classes at the design studio Whiteline Designs. She teaches cocktail/appetizer demonstration classes, 3-course meal classes with wine pairings and private parties.
We've seen Jen in action and she's a natural in the kitchen and as a hostess extraordinaire. She loves teaching groups and her classes would be a perfect Girls' Night Out activity. "Like" Jen on Facebook at "Jen's Art of Cooking" Or call 871-4139 for more info.
Feta & Herb Stuffed Shrimp
4 ozs crumbled feta cheese
4 ozs cream cheese, softened
1 Tablespoon finely chopped fresh parsley
1 Tablespoon finely chopped chives or green onions
1 large garlic clove
¼ teaspoon kosher salt
¼ t ground black pepper
24 raw shrimp, peeled and deveined with tails on
12 slices of prosciutto – cut in half
½ head red cabbage, shredded
4 cups spinach leaves
2 T balsamic vinegar or balsamic glaze (for garnish)
Makes 24 Stuffed Shrimp
Preparation: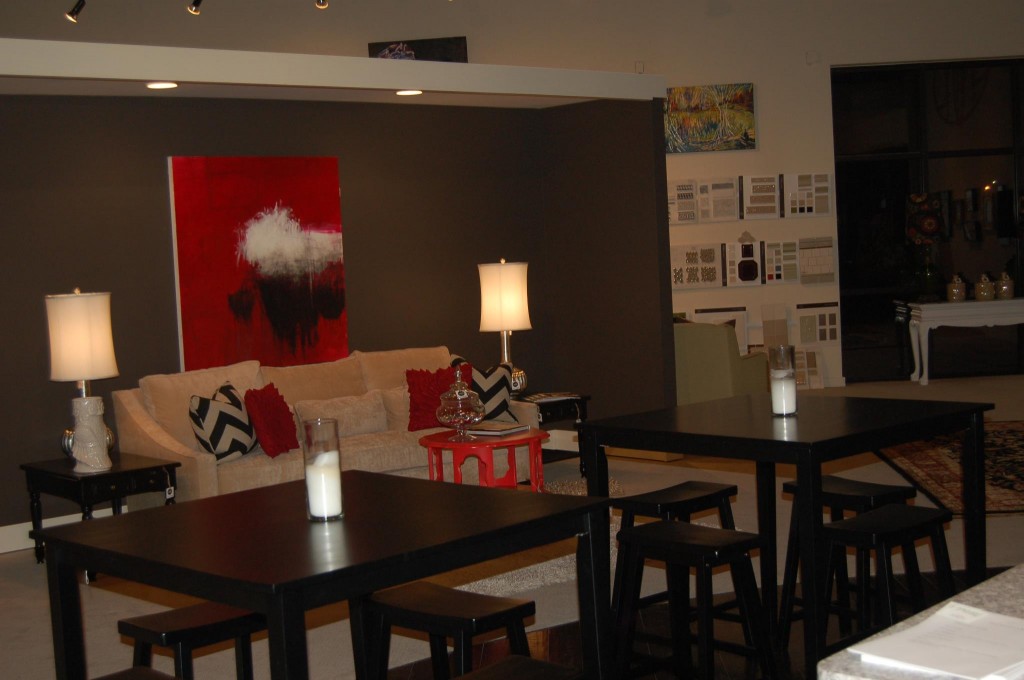 In a small bowl combine the feta cheese, cream cheese, parsley, chives or green onions, garlic, salt, and pepper. Mix well, using your hands to combine thoroughly.
Cut the shrimp along the back to "butterfly", cutting about ½ inch deep. Spread the shrimp open and stuff 1 teaspoon of the filling into each shrimp.  Wrap shrimp with the proscuitto.  Place on a broiler pan or cookie sheet.  This recipe can be made several hours ahead up to this point.  Just place in refrigerator until ready to cook.
Preheat broiler and broil the shrimp 6 inches from the heat source until the shrimp is cooked through.  About 5 minutes.  Remove from oven.
Place shredded cabbage and spinach leaves on a serving platter to make a bed of greens for the shrimp.  Place cooked shrimp on the greens, cheese side up, and drizzle with balsamic.
Rack of Lamb with Fresh Mint, Golden Raisin & Pine Nut Relish
1 cup fresh mint leaves, coarsely chopped
1/2 cup golden raisins, plumped in hot water for at least 10 minutes and drained
1/2 cup pine nuts, toasted
2 to 3 cloves garlic, minced (about 2 tsp.)
Finely grated zest of 1 lemon
1-1/2 tsp. fresh lemon juice
1/4 cup plus 2 Tbs. extra-virgin olive oil
Kosher salt and freshly ground black pepper
3 racks of lamb (8 ribs and 1 to 1-1/2 lb. each), frenched and at room temperature
Preparation:
In a small bowl, combine the mint, raisins, pine nuts, garlic, lemon zest, and lemon juice. Stir in 1/4 cup of the olive oil and season to taste with salt and pepper.
Heat the oven to 350°F. Season the lamb well on all sides with salt and pepper. Heat the remaining 2 Tbs. of olive oil in a large, heavy skillet over medium-high heat until very hot. Working in batches if necessary, sear the lamb racks on all sides until well browned, about 5 minutes per batch. Put the browned racks bone side down on a heavy-duty rimmed baking sheet and roast until an instant-read thermometer inserted in the thickest part of the meat reads 125° to 130°F for rare to medium rare, 20 to 25 minutes, or 135° to 140°F for medium rare to medium, 25 to 30 minutes. Let the lamb rest for 10 to 15 minutes before slicing it into chops.
Serve the chops on the same plate as the cucumber, fennel and roasted potato salad with some of the mint relish spooned around the meat.
*Adapted from a recipe on FineCooking.com
Carmelized Banana Tartlets with Bittersweet Chocolate Port Sauce
Crust
1/2 cup (1 stick) unsalted butter, room temperature
1/2 cup powdered sugar
1/2 cup hazelnuts, lightly toasted, ground
1 teaspoon finely grated orange peel
1/2 teaspoon vanilla extract
1/2 teaspoon salt
1 cup all purpose flour
Filling
4 tablespoons (1/2 stick) unsalted butter, divided
6 medium-size slightly under-ripe bananas, peeled, each cut on diagonal into 1/2-inch-thick slices, divided
1/2 cup sugar, divided
6 tablespoons warm water, divided
1 pint premium vanilla ice cream
Bittersweet Chocoloate-Port Sauce (see below)
Preparation
For crust:
 Using electric mixer, beat first 6 ingredients in medium bowl to blend. Add flour; beat until moist clumps form. Gather dough into ball; flatten into disk. Wrap in plastic; chill 30 minutes.
Preheat oven to 350°F. Divide dough into 6 equal pieces. Press 1 piece evenly onto bottom and up sides of each of six 4 1/2-inch-diameter tartlet pans with removable bottoms. Bake crusts until deep golden brown and cooked through, about 25 minutes. Cool crusts completely in pans on rack. (Can be prepared 1 day ahead. Cover and store at room temperature.)
For filling:
 Melt 2 tablespoons butter in large nonstick skillet over medium-high heat until beginning to brown. Add half of bananas to skillet in single layer; cook until bananas brown on bottom, about 45 seconds. Using thin spatula, turn slices over; sprinkle 1/4 cup sugar evenly over bananas. Cook until sugar dissolves and turns golden, occasionally swirling pan, about 3 minutes. Turn banana slices over; add 3 tablespoons warm water and continue cooking until caramel thickens slightly, swirling pan, about 2 minutes. Arrange banana slices in each of 3 tartlet crusts; spoon any caramel from skillet over. Clean skillet, then repeat procedure with remaining butter, bananas, sugar, and water. (Can be prepared 2 hours ahead. Let stand uncovered at room temperature. Warm in 350°F oven 10 minutes before continuing recipe.)
Top each tartlet with scoop of vanilla ice cream. Drizzle each tartlet with Bittersweet Chocolate-Port Sauce and serve.
Chocolate Port Sauce
Port Sauce
3/4 cup whipping cream
1/4 cup whole milk
1/4 cup (1/2 stick) unsalted butter
8 ounces bittersweet or semisweet chocolate, chopped
1/4 cup tawny Port
Preparation
Bring whipping cream, whole milk, and unsalted butter to simmer in small heavy saucepan. Remove saucepan from heat and add chopped chocolate. Whisk mixture until smooth. Stir in tawny Port. (Sauce can be made 2 days ahead. Cover and chill. Warm over medium-low heat.)
Mealtime Mama is sponsored by Ozark Natural Foods, Northwest Arkansas' natural-foods co-op. ONF is owned by a community of more than 8,000 investors.  Click here to purchase  your part of the community. The co-op offers natural and organic products plus they have a large deli with a wide range of healthy ideas for lunch and dinner. Catering is available and they also have vegan options.
We love that ONF has all kinds of unique products — not just healthy food. For those of us suffering from allergies right now, they have this — Emerald Laboratories Allergy Health. It can be found in the Wellness department in the Specific Conditions section. It is vegan as well as 100 percent additive and irradiation free. It is also free of: gluten, corn, milk, soy, salt, sugar, wheat, yeast, and artificial colors and preservatives.
Call 479-521-7558 or click here to visit the ONF website.