Pumpkin Spice lattes. Pumpkin Pie Pop Tarts. Pumpkin-flavored marshmallows.
There are a LOT of pumpkin products out there right now.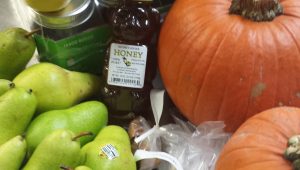 While some of them sound pretty nasty to us,  homemade pumpkin butter (made with real pumpkin! GASP!) sounds pretty delicious. We found this recipe on the Ozark Natural Foods blog.
Here's what you'll need to make jars of Pumpkin Butter:
6 pounds pie pumpkins
2 lemons
2 cups turbinado or brown sugar
1/4th tsp each of Cinnamon, nutmeg, ginger
1 case half pint mason jars
How to make it:
Half or slice pumpkins and remove seeds. Roast in oven at 350 degrees until soft, about 40 minutes. Let cool and scoop flesh out from rind. Puree in food processor or by hand. Mix in remaining ingredients and leave in crock pot on the low setting for 1-3 hours until dark brown. Place in jars while hot and close lids. To seal the jars, place a wire rack at the bottom of a large pot with about ½ inch water and bring to boil. Gently place jars in the water for 10 minutes, remove and let cool. As jars cool off the lids will seal shut with a popping sound.
Pie pumpkins are on sale at ONF right now, so pop over and grab some. CLICK HERE to see what other produce is on sale.