Hi Mamas! Did you know that October is Breast Cancer Awareness Month? Most of us know someone (or perhaps you are that person) who has been touched by this scary disease.
Here are a few of the Breast Cancer Awareness events that Mercy is hosting this month.
Any of these events would be a great way for you to help support the movement to make more women aware of how important screening and early detection is in the fight against breast cancer.
Wednesday, October 18, 2017: If your bras are old, tired and not-so-pretty anymore, mark your calendar for this event. Dillard's is doing a "Fit for the Cure" event this Wednesday, October 18, 2017 from 7 a.m. to 7 p.m at Mercy in Rogers (Classroom #2). There will be professional bra fitters there to make sure you get the right bra. For every Wacoal brand or b.tempt'd brand bra that is purchased, Wacoal will donate $2 in your name to the Susan G. Komen Breast Cancer Foundation for every Wacoal bra purchased.
You'll also get light refreshments and be in the drawing for some fun door prizes if you shop at the Mercy event on October 18, 2017. For a purchase of $80 or more, you'll also get a free 3-piece facial brush. Bonus!
Monday, October 23, 2017: Mercy is hosting a "Pink Pumpkin Contest." Just bring your decorated, pink pumpkin to the hospital information desk anytime between 8 a.m. and 4 p.m. on Monday, Oct. 23, 2017. They will be on display in the hospital lobby, and a winning pumpkin will be chosen by Friday, Oct. 27, 2017. The creator of the winning pink pumpkin will get movie passes and dinner for two!
Friday, October 27, 2017: Come to the Mercy hospital lobby on Friday, Oct. 27, 2017 and get some free pink cotton candy! (While you're there, check out the display of decorated pink pumpkins.) The Hospital Auxiliary members will be there handing out pink cotton candy between 1-3 p.m.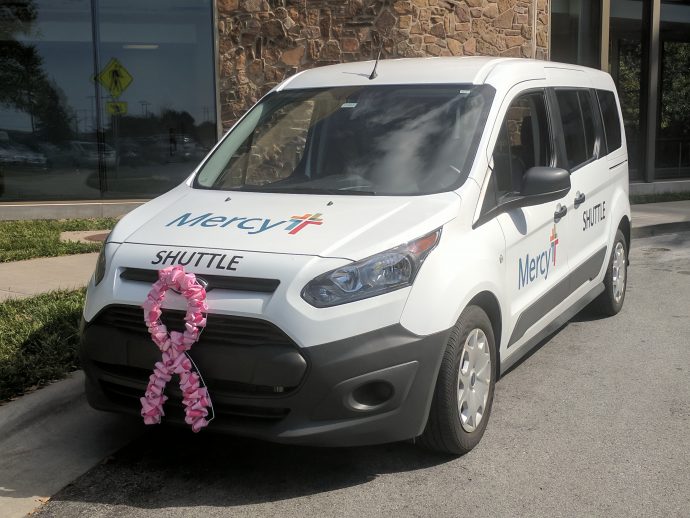 One of Mercy's staff members who works in mammography, Michelle Shone, made this giant pink ribbon, which is being worn by the Mercy Shuttle during the month of October. So cute! 
Save
Save
Save
Save
Save