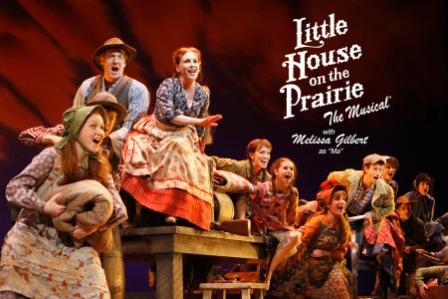 This is one of those giveaways that's going to bring your childhood rushing back to you — particularly if you were a HUGE fan of Little House on the Prairie, like I was. We're giving away two tickets to the opening night performance of Little House on the Prairie, The Musical at Walton Arts Center on Tuesday, January 5, 2010. We're pairing the theater tickets with a free dinner at nearby Flying Burrito, too. And get this! Melissa Gilbert, the actress who played Laura Ingalls in the famous television series, is starring in this production as "Ma"!
When this musical first opened in Minneapolis last year, it shattered all the box-office records and sold out for 12 straight weeks. It's directed by the same director as Disney's The Little Mermaid.
ABOUT THE SHOW: Just in case you're not a child of the 70s or haven't read the books that this musical is based on, we'll fill you in on the basic story line of Little House on the Prairie. It's about an

American family living in America's newly settled heartland and about all the challenges, heartbreaks and joys they experience there. It's also a love story that tells us how young Laura Ingalls grows up and begins her life as a young woman, finding purpose and finding love.
I read the entire Little House series and couldn't race through the books fast enough to find out what would happen next. My small hometown didn't have a bookstore, so my mother would drive me 45 minutes to the nearest larger town that did. She'd get so frustrated on the way home because I was already reading as fast as I could through the next book in the series, so she knew it wouldn't be long until I was begging to go back to the bookstore and get another one.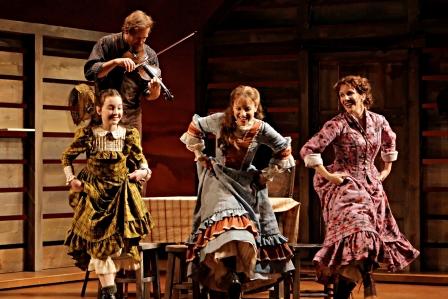 There are so many scenes from the books I still remember so vividly — the blizzards, Pa playing his violin while the girls dance, the Christmas holidays, Mary's scarlet fever, the grasshopper plague, Laura getting her first teaching job, and Laura falling in love with Almanzo — I could go on and on.
This is one of the Walton Arts Center's biggest shows this season, and tickets range in price from $30.50 to $58.50 each. When you add in the free dinner at Flying Burrito, this package is about a $150 value! Even better, it will be one of those nights at the theater you'll always remember.
Melissa Gilbert, who plays Ma in the musical, has starred in more than 40 movies for television and has appeared in more than a dozen television series, including "Nip/Tuck" and "Sweet Justice." She is also a best-selling author who recently published her autobiography called Prairie Tale — A Memoir.
Show dates begin Tuesday, January 5th and run through the Sunday, January 10th. Click here or call 479-443-5600 for more info on tickets and specific show times.
ABOUT THE FOOD: If you haven't been to Flying Burrito yet, well…. why not? The food is awesome,

and it's fun to watch it being made just the way you want it. Even if you're a super picky eater or a total control freak, you'll LOVE this place because you basically get to dictate exactly how your burrito is put together and what goes into it. Your kids will also love getting to call the shots at this burrito bar that specializes in large, California-style burritos made to order. (Yum. I'm hungry just writing about it.) Also, kids eat FREE all day on Mondays through Wednesdays!
The Flying Burrito Company began in Fayetteville in a little storefront close to the Walton Arts Center parking lot, a block off Dickson Street. It has been so popular that it has grown into new locations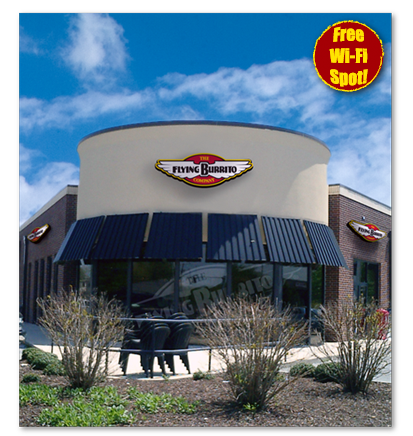 and new cities, including locations on North College Avenue in Fayetteville, one in Springdale, one in Little Rock and its most recent addition in Bentonville. This is a locally-grown, locally-owned restaurant chain with great food and a cool, fun atmosphere. Try it once, and we bet you'll be hooked, just like we were.
HOW TO ENTER: To throw your name in the hat for the theater tickets and dinner at Flying Burrito, click the "comment" button below and tell us about one of your favorite books you read as a child. If you read the Little House series or watched the television show, tell us what you remember most about it.
You can also e-mail your entry to us at giveaways@nwaMotherlode.com. Enter by 10 a.m. on Friday!
As always, you can increase your odds of winning by helping us spread the word about the giveaway. Simply send an e-mail to your friends/family about it and be sure to put us in the CC line of your note so we can give you proper credit. We'll enter your name in the drawing again for every friend you tell. (10 friends means 10 extra chances to win.)
Good luck, and thanks to Walton Arts Center and Flying Burrito for the great giveaway!