By Shannon Magsam, Ladybug's mama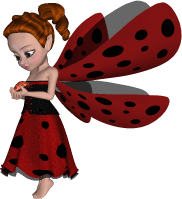 When it's been a few weeks since I've written about life with Ladybug, I just want to shove all my thoughts into one post. I wrote one last Wednesday night, but the computer ate it before I could hit the 'publish' button. I was already exhausted from the power outages and my nerves were so shot from all the trees slamming into my house that I just couldn't summon the energy to re-write the dang thing. Did I mention it was poetic? Something about a large tree resting its icy head on my roof or some such. Well, the tree's still there and it's not icy anymore. It's just a dull brown.
All that to say, hello! Yes, I'm still writing here! But I'm going to try and focus on one thing instead of the 50 swirling around in my head. How about let's talk about Ladybug's seventh birthday? She had a surprise party Saturday at the Walton Arts Center play, Stellaluna.
When I showed up early at WAC to gather up party guests so we could all yell surprise, people still seemed shell-shocked after the week they'd had. Everyone had a unique story, yet all were very similar. It seemed that the best thing about the whole situation was that we were all in it together.
Their main question: "Do you have power yet?"
Although most people still had a yard full of limbs and/or a car with a window busted out from a large branch, they'd decided to bring the kids out to see a play. After all, they'd bought tickets weeks before we knew that Northwest Arkansas would be declared a disaster area. Definitely a bright spot at the end of a surreal, stressful week.
Ladybug's friends (the ones who could make it) plus her grandparents and the "A" team (her cousins) from Central Arkansas, were there waiting with a big "Happy Birthday" sign when her dad walked her into the arts center. The look on her face was so adorable I was kicking myself the rest of the day for not having the camera raised in anticipation. After hugs and squeals all around, my mother, sister and I ushered the girls into our "O" seats and waited for the show to begin. When it did, they were mesmerized. Ladybug came and sat in my lap at one point and I was reminded of all the times she snuggled up to me in the same theatre as a toddler and preschooler.
Seven seems really BIG.
After the show, we walked across the street to Hog Haus (my apologies to those knocking down drinks at noon) and then the girls had a quick run in the rose garden next to the cool Dickson Street Bookshop. A good time was had by all.
Next week perhaps we could discuss Ladybug's photography prowess and how taking pictures of her mother in the shower got her into really hot water.