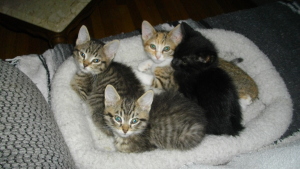 By Shannon Magsam
It was a red-letter day.
"Today was great," Ladybug gushed recently. "I got extra chocolate and a job!"
We had been to Target (where my treats were popcorn and a Dr. Pepper) and Ladybug requested we stop by next door at PetsMart. She loves to visit the cats who are being adopted out from the Fayetteville Animal Shelter and Forever Friends.
We were glad to see Marcia, who fosters cats and is a volunteer. Marcia let Ladybug take some of the kittens out of their cages for a little play time while we chatted. We hung out for quite a while and eventually got to a conversation about the volunteers who help show the cats to potential families.
Ladybug immediately spoke up: "I'll be a volunteer!"
Marcia nicely said that would be great, but didn't put this mama on the spot. Then, before I could think, I was asking about the duties of a volunteer and when we could sign up.
When I got home, it hit me that I'd said yes to yet another job. I blame it on those sweet little sea-glass green eyes and that pleading stare. The kittens were also adorable.
We went for our volunteer training last week and our first shift – alone – is coming up. I'm all worried I'll adopt one of the cats out to a nut job or that I'll flub up some of the paperwork.
And the litter boxes. Let me tell you, there are some little stinkers in there.
But there are far more perks. For example:
Getting to see my daughter knee-deep in kittens and knowing those little homeless cuties are being loved on.
Knowing we could help these felines find forever homes.
Petting lots of kitty fur. Research says petting animals lowers your heart attack risk.
Giving my daughter a chance to do something she already has a heart for: helping the helpless.
Working with my daughter has been a bonding experience. We've shared lots of giggles already since taking on this venture together. Kittens just have a way of making people smile.
I'm a little concerned that I might be tempted to take in more kitties. We got our kitten from the Fayetteville Animal Shelter (actually from a great foster "mom" named Ruth) and Asia's been a great addition to our family.
Ladybug's already asked if we can be foster parents. But for now, she's content to cuddle them at her new "job".
Shannon Magsam is mom to 8-year-old Ladybug, married to Ladybug's dad, John, and co-creator of nwaMotherlode.com. To read previously published installments of Life With Ladybug, click here. Leave a comment if you're so inclined. I'd love to hear your thoughts.