By Shannon Magsam, Ladybug's mama
This Friday, Saturday and Sunday (Sept. 14-16) is the PetSmart National Adoption Weekend.
I know for a fact there are some sweet cats and kittens at the Fayetteville PetSmart store and they are in need of forever homes. See these faces?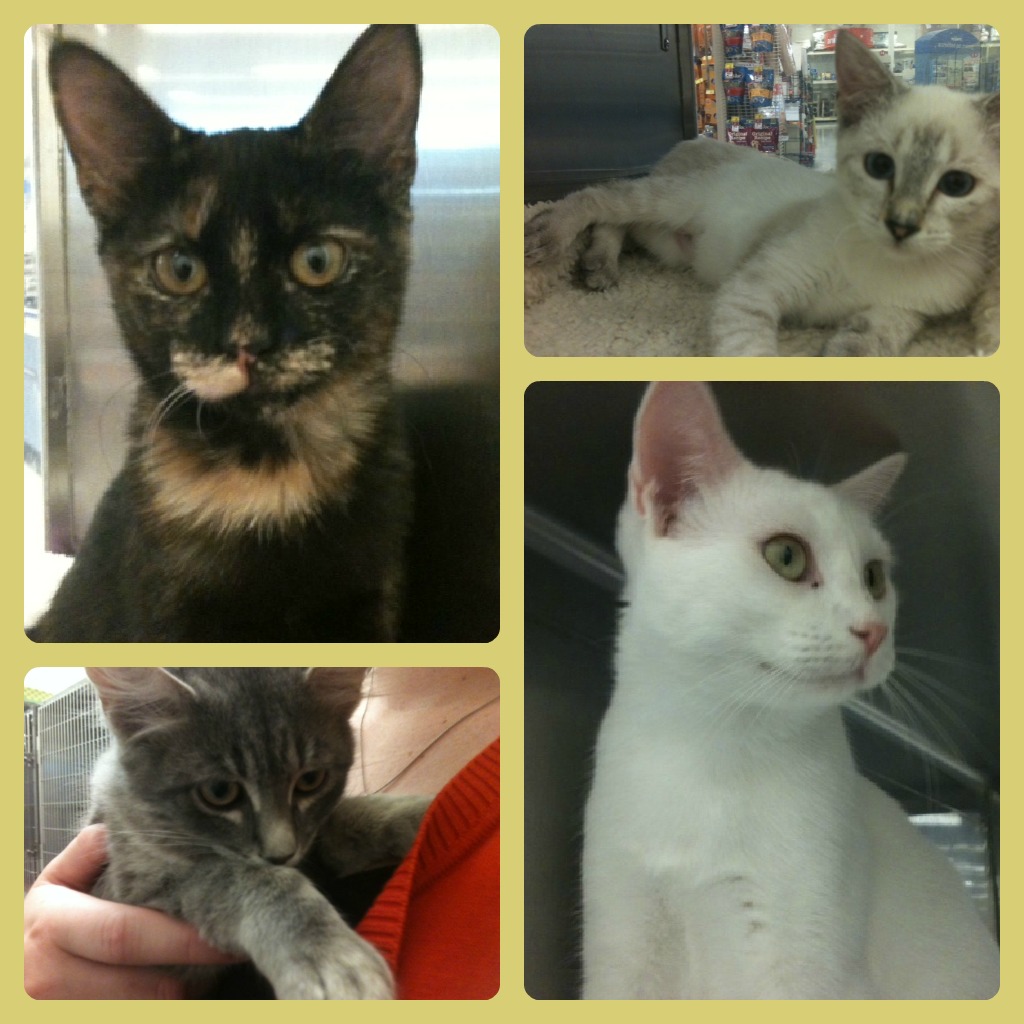 I know all about these cuties because I just got home from cleaning out their litter boxes, teasing them with toy mice and talking to people about the kitty adoption process. Ladybug and I are volunteers. Or, as we say when we go to PetSmart: "It's time to go take care of kitties". 
Ladybug desperately wants to foster some of he homeless cats or kittens, but we're at max capacity (according to this mama) with two cats and one dog who all live with us in the house. Instead, I tell her, we do what we can by showing the kitties affection — helping to socialize them and love on them at PetSmart — and to help find them find forever homes.
Sometimes I feel too tired or busy to sign up for a shift. But Ladybug has made a commitment and I want her to know what it looks like to keep your promises. And after I get there, I'm always glad we went. It's good mother-daughter time, especially when the mother and daughter both love animals. We have to work together to make sure everyone has food and water, clean cages and to sell potential adoptees on a particular cat.
Ladybug is particularly skilled at sharing a cats' finer points with the "customer". She might end up in sales. She's cute, too.
Another bonus? They say your blood pressure decreases when you're petting an animal. Mostly that happens with these kitties. Sometimes, I admit, my blood pressure goes up a little when I think about what might happen if they don't find a home. That's when I talk extra long to the people who stop by to see the cats. And we always say a prayer for each cat before we turn out the lights and leave for the night.
If you've ever thought about becoming a cat/kitten owner, or want to add to your current family, consider going to PetSmart this weekend (or today). We bet you'll find somebody special to fall in love with 🙂