A few weeks ago, I took my tweeny-bopper to her first concert with a few friends — one of mine and  one of hers (plus a little sister).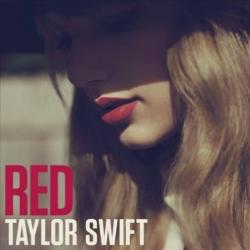 Taylor Swift rocked the BOK in Tulsa and Ladybug and I had fun belting out some of our favorite songs: Mean, 22, and We are Never Ever Getting Back Together.
Well, I belted and she smiled a lot and tentatively sang a few lyrics. Not that we could hear ourselves. The crowd was GINORMOUS and there were more cowgirl boots than you could shake a stick at.
Ladybug wore my boots and one large glow-in-the-dark hoop earring that bounced happily along with the music.
The moms wore glowy bracelets and necklaces.
Ladybug's friend, Addie (and her little sister) had lots of glow stick jewelry between them.
Even with 20 glow sticks among us, we were way out of our league. Some of the other concert goers put TONS more thought into their wardrobe, accessories and signs intended  to grab Taylor's attention.
A few rows down, five girls each held huge flashing letters that spelled out SWIFT. I guess this meant we were definitely NOT going to get invited to the T-party after the show!
That was OK; we had pizza delivered to the hotel room after we got back to the room and flopped down on the beds and it was my birthday and my kid was happy and I was happy.
Oh! And my friend, Christy, had treated me to lunch – and dessert — at The Cheesecake Factory earlier in the day, so I had a yummy food day. Unfortunately, they did not carry any Big Bang Theory merchandise, but I got over it (fairly) quickly.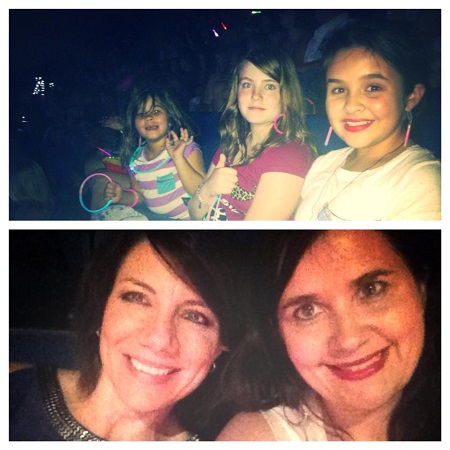 Not to give you emotional whiplash, but can I change the subject for a minute? (If you know me IRL, I do this constantly, often without proper notification that I want to switch topics).
So. Can we talk about sixth grade right now?
Every time I remember that my not-so-little Ladybug is officially a middle-schooler it makes my heart race a little. Sixth grade sounds so GROWN UP. It's the year I remember so many changes, not just physically — but mentally and emotionally, too. As I told a friend, I think of sixth grade as the "awareness year".
Fifth grade was puppies, rainbows, my favorite teacher Mrs. Carter and the occasional C on a math test.
Sixth grade was puppies, hearing some girls talk about "dating" boys and classmates passing around a book that automatically flopped open to all the "bad parts" since the spine was broken on those well-read pages.
When people ask and I tell them Ladybug is now in sixth grade, they have been offering dire warnings and reminders that it can all go south in middle school. Bullying, sexting and lots of other (th)ings!
To top it off, she only has one good friend in her advisory group. Then, when we went to the back-to-school night, she found out the one friend doesn't have ANY classes with her.
She took the disappointment like a trooper (better than her dad and I, though we didn't let it show). We had wanted her to be surrounded by the insulation of good friends in what could potentially be a stressful year. I wanted her to be cocooned by the girls I knew would "have her back".
"Sixth grade" just sounds like I'm practically finished raising her. I know that's overly dramatic and untrue. While there are not the same physical requirements her younger self needed, it's still very "hands-on". She still leans on me and lets me put my arms around her. She still needs the assurance that physically touching my body can bring, just like when she was small and playing at the indoor mall playground. She would occasionally run over, touch me for a count of about six, and then go off again, happy in the certainty that I was still there.
Some people might tell me to cut the umbilical cord already, but I'm just following cues from my daughter. When she doesn't want to snuggle anymore, I'll do what my mom did to keep the relationship physical without any eye rolls: scratch her back.
Who doesn't want to have their back scratched?
So far, so good this first week, though. She seems to love sixth grade. My shoulders have dropped down below my ears.
I'll just keep the lines of communication open, just in case.
And at night, after she's asleep, I'll go crawl into the bottom bunk and lift up prayers for her, my words whispered up past the top bunk where she's sleeping — even higher.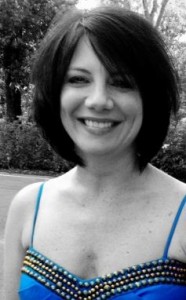 Shannon Magsam is mom to 11-year-old Ladybug, married to Ladybug's dad, John, and co-founder of nwaMotherlode.com. To read previously published installments of Life With Ladybug, click here.