By Shannon Magsam
Well, some of you probably heard my big talk on Magic 107.9 last week about getting into couponing. Well, the truth is, so far I suck.
Maybe that's too strong a word, but I'm not exactly walking up to the checkout counter with $248 worth of groceries and paying only – gasp! – $26.48 after redeeming all my coupons!
Of course, I realize I'm not going to be racking up deals like the chicks on TLC's Extreme Couponing, but still. I'm having trouble finding a manufacturer's coupon to "stack" with a store coupon (which is one of the best ways, according to the experts, to get products at rock-bottom prices).
My first real trip to the store with a folder full of coupons didn't go as planned last weekend. I know that planning is a key component so I made sure to separate out the coupons I'd been collecting into the appropriate categories: pet stuff, groceries, household items and personal items (I really wanted some cheap razors).
Then I made sure the coupons (gathered from websites, FB pages and the newspaper) were clipped and assembled in my folder. Then I drove to the store, by myself, so I could really focus while shopping.
Note to self: Do NOT go to the store on a Sunday. Bad idea. Standing around in the aisle trying to figure out if your coupon is for the 12-count sausage biscuits or the 24-pack tends to make fellow shoppers crazy when the store is packed.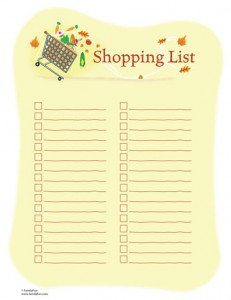 And the other thing? I.forgot.my.shopping.list. One of the whole strategies of couponing is to get EVERYTHING you need in one shopping trip so it will last a long while. That's because when you stop by the store for one little product you never leave with just that product. So if you cut down on the shopping trips, you cut down on your grocery bill for the month.
So while I was racking my brain, trying to remember everything on my list, I apparently caught the attention of another mom who was shopping next to me in the dairy aisle. She saw my little folder and the multiple products in my cart that apparently screamed COUPONER.
"Are you into couponing?" she asked. "Well, I just started so I'm not sure what I'm doing yet," I admitted. We commiserated that we didn't need to add another part-time job, which is what it had sorta started to feel like.
I  handed her a Motherlode business card and told her to look at the radio post from last week to see a few of the sites I'm learning from and about the book I'm reading, BeCentsable.
Then I went in search of the $3 off cat food brand that apparently didn't make it on this store's "must-have" list. I grumbled when I put the full-price cat food into my cart. That's one thing about couponing – it feels wrong when you have to pay full price. Seriously.
I finally made it up to the checkout counter after spending nearly two hours at the store. Sigh. As I stood in line, my eyes rested on the humongous bag of dog food in the cart behind me. I literally screamed. And scared the heck out of the shopper behind me AND the checkout lady. After apologizing for my outburst, I told them the source of my distress: I had forgotten to grab the dog food that I had a coupon for. And that my hungry dog at home was expecting. So I had to get out of line and go find the dog food. Luckily my sanity was saved when the store did indeed have that particular brand of dog food.
In the end, I saved $10. Ahem. Well, that's a start.
Then I went home and started a new list: "Things I forgot at the store".
So, a question: How much do you spend on groceries per month? I'm trying to spend under $500, but I'd love to hear what other people shell out — and how I compare.

Shannon Magsam is mom to 9-year-old Ladybug, married to Ladybug's dad, John, and co-creator of nwaMotherlode.com. To read previously published installments of Life With Ladybug, click here. Leave a comment!