By Shannon Magsam
My allergies are going a little crazy and Ladybug is following suit.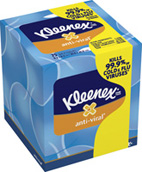 Yesterday morning she woke up and said her throat was on fire and she had a tummy ache. I debated about whether to send her to school, my mind swirling with a million questions as I tried to wake up enough to make this mommy call (and doesn't motherhood often feel like a series of tough calls sometimes?).
Is strep throat going around? Will I need to take her to the doctor? Oh man, I'll have to cancel those outside work appointments. But she doesn't have a fever. It can't be strep throat if she doesn't have a fever, can it? She won't be able to have that friend over after school now.
"You know if you don't go to school today you can't have your friend over, right?" I asked. She didn't hesitate before shaking her head yes. Heck, I thought, if it's worth missing this play date, she probably does feel pretty bad.
"Ah, ah, ah CHOOOOO!!!!" she sneezed.
So I made the call. "Go back to bed and I'll tell your school."
We (as in Motherlode) get updates on pollen counts from Hedberg Allergy and Asthma Center every day, so when I checked my email later I looked to see what might be making us feel icky. Apparently trees are in the "high" category. On Tuesday we spent hours at the park after school. Ladybug even fashioned a fairy house at the park — right underneath a tree. Of course.
I have a headache, am sneezing and my throat has a consistently scratchy feeling. Not enough to make me stay home instead of keeping appointments, but when you have a sick kid, that's what you do. By the afternoon, I was secretly glad to have been forced to rest.
In other news, I love poodle art. Since I have a standard poodle, I'm always fascinated with what groomers can do with all that hair (it grows and grows like human hair until you cut it — or it sorta starts to look like dreadlocks).
Anyway, I was on the Arkansas Times blog and saw some info about a Little Rock dog groomer Angela Kumpe who recently won an Intergroom contest. They linked to The New York Times article. It's great that an Arkansas native won, but I was especially moved by her motivation. After Angela's mother died on Feb. 24, she changed her grooming idea (she'd been working on the other one for six months). Instead, she sculpted "a grieving angel for my mom". Look closely at the below picture and you'll see the wings, hands, etc… — the detail is amazing:
Photo by Suzy Allman for The New York Times
Shannon Magsam is mom to 8-year-old Ladybug, married to Ladybug's dashing dad, John, and co-creator of nwaMotherlode.com. To read previously published installments of Life With Ladybug, click here. Leave a comment if you wish!