This year we kicked off a new series (and a new category) here on nwaMotherlode.com called Kids @ Play. It's sponsored by the Amazeum and it's designed to give all of us new ideas for creating fun (and educational) play experiences for kids and parents. (To see a collection of all the videos, click here to see them now.)
This month's video was made just for parents. Click the play arrow below to get some easy, practical ideas for ways you can help reduce your child's anxiety when you're in a tense situation — like waiting on a doctor's appointment or going into any situation that makes your kid nervous.
For more hands-on parenting tips, register for tomorrow's workshop called "Parent Cafe." It will be held from 6 to 7:30 p.m., Wednesday, March 15, 2017 at the Amazeum. Registration and payment are required for this adults-only workshop. Click here for more info.
Coming up next week! Remember that the Amazeum is hosting a Spring Break program next week called "Imagination Staycation." There will be a giant giraffe in the lobby (made of pool noodles), a huge cardboard maze and some fun learning activities, like how elephants brush their teeth! The activities will be different each day, so plan to make multiple trips throughout Spring Break to get in on the fun.
Click HERE for more info on Spring Break at the Amazeum.
If you're looking for fun summer camps, the Amazeum is hosting several of those, too. There are camps for different age groups, ranging from age 6 up to age 16. Click HERE for info about the Amazeum's Summer Camp program.
The Scott Family Amazeum is a hands-on, interactive museum for children and families located in Bentonville, Ark. A science-based museum, the Amazeum encourages creativity, curiosity and community through exhibits, educational collaboration, and programs, workshops and camps. Amazeum experiences include a climbable tree canopy, indoor cave, tinkering hub, nearly one acre of outdoor space, and ever-evolving daily pop-up activities.

Click here to find out more about the Amazeum's first Mini Camp on January 16th

. For more information, visit

amazeum.org

.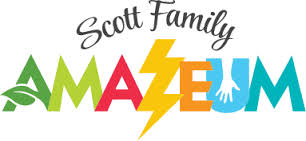 Save
Save
Save
Save
Save
Save
Save
Save
Save
Save
Save
Save
Save
Save
Save
Save
Save