Northwest Arkansas Calendar of Events: June 2022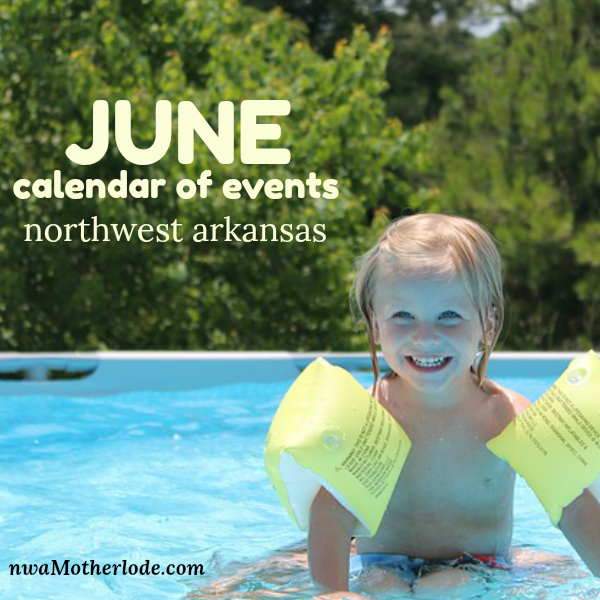 Welcome to June, mamas! It's time to plan some summer fun in Northwest Arkansas! There's LOTS to choose from this month.
Click on the name of the event for more details:
This new hands-on, minds-on touring exhibition in the heart of downtown Springdale offers a unique kind of interactive experience for children and families. The Worst-Case Scenario Survival Experience is a bilingual, STEM-based exhibition that engages all ages and abilities in active problem solving and hilarious, full-body play. Need to land a plane, escape quicksand, or outsmart a mountain lion? The Worst-Case Scenario Survival Experience lets guests put their real-world survival skills to the test, with plenty of laughter and excitement along the way. Presented in English and Spanish, the experience spans 5,000+ square feet of exhibition space.
The exhibition provides essential instructions with everything guests need to know to conquer the challenges. Guests rely on their tinkering and decision-making skills to approach extreme situations with ingenuity and test their knowledge in fun, creative ways.  The Worst-Case Scenario Survival Experience has toured major cities across the U.S. and is based on the internationally best-selling "The Worst-Case Scenario Survival Handbook."
Summer Fun Discount: The Jones Center is offering a Summer Fun Membership with discounted access to the exhibition, along with the aquatic center and ice arena. For more information, contact the Guest and Member Services team at (479) 756-8090.
Date: Tickets go on sale June 1. The exhibition opens Friday, June 10 and runs through Friday, Oct. 14. Single ticket prices (sales tax not included) are $6 for children 12 and under who are members of The Jones Center, and $8 for children 12 and under who aren't members; $10 for adults who are members of The Jones Center, $12 for adults who are nonmembers; and children 3 and under are admitted for free. Tickets can be purchased in advance or at the door during exhibition hours.
Time: Exhibition hours are Tuesday and Wednesday from noon to 6 p.m.; Thursday, Friday, and Saturday from noon to 8 p.m.; and Sunday from noon to 6 p.m. 
Location: The JTL Shop, 614 E. Emma Avenue, Springdale. Home to the Center for Nonprofits, The JTL Shop is part of The Jones Center campus, located west of the Center on East Emma Avenue, Springdale.
First Thursday on the square, an annual event series produced by Experience Fayetteville, is a free, community-centered event that features a combination of music, food, art, and fun.
Date: Thursday, June 2
Time: 5:30-9 p.m.
Location: Fayetteville Square
Springdale Parks and Recreation Splashpad Summer Movies series has returned. Admission is free, and movies begin at dark. The summer series includes four summer movie nights at two different parks.
Dates: On June 3th and July 8th the Splashpad series will be at C.L. 'Charlie' and Willie George Park; On June 17th and July 29th the Splashpad series heads to Shaw Family Park
The full list of movies being show this summer is below:
June 3: Encanto
June 17: Jungle Cruise
July 8: Luca
July 29: Sing 2
First Friday is a monthly festival series featuring live music, food trucks, multiple family-friendly activities, and local vendors. The free community event welcomes all members of the community and is produced by the non-profit Downtown Bentonville Incorporated.
Date: Friday, June 3
Time: 11 a.m. to 9 p.m.
Location: Bentonville Square
In celebration of Trike Theatre's bilingual production 'Mariposa/Butterfly,' enjoy an afternoon of family fun at CACHE Studios.
'Mariposa/Butterfly' is the story of two neighbors who live side-by-side in Texas. A low fence separates their gardens, but much more divides them from one another. One neighbor grows flowers; the other raises vegetables. One was born in the United States; the other, in Mexico. One speaks English; the other; Spanish. Their differences have kept them so far apart that if one predicts a sunny day, the other is certain of rain. Even the arrival of a caterpillar causes disagreement — until the resulting mariposa/butterfly and its eventual departure unites them in wonder, in sadness, and in a new understanding of the beautiful world they share.
This event is free to the public, no registration or tickets required.
Date: June 4
Time: 10 a.m. to 2 p.m.
Location: 1004 SE 5th St, Bentonville
Celebrate the beginning of summer at The FPL Summer Reading Kickoff. The Sugar Free Allstars will start things off with a family friendly musical performance at 10 a.m. in the Event Center. Bounce houses, face painting, stilt walkers, juggling, bubbles, games and food will be available on the Gathering Glade. The Pacific Island Dancers will perform at 11 a.m. in the Art and Movement Room, followed by the Ozark Ballet Theater at noon. Fayetteville's Fire Department will be on hand with a firetruck and their fire dog, Ember. Check out cool things in the Center for Innovation. Face painting, airbrush tattoos, and arcade games will be on hand, too. The Story Time Room will be set up as a play area for young children. 
Date: June 4
Time: 10 a.m. to 1 p.m.
Location: Fayetteville Public Library
Every participant will receive a registration goodie bag, available at the kickoff event in Murphy Park in Springdale.
Date: June 4
Time: 10 a.m. to noon
Location: Springdale Public Library
Outdoor activities will include fishing, BB gun shooting, archery, canoeing, fish cleaning and cooking demonstration. Sponsored by the Arkansas Game and Fish Commission. Free health and wellness screenings also will be offered. Lunch provided. Free admission. Registration. 
Date: June 4
Time: 10 a.m. to 1 p.m.
Location: Shaw Family Park, Springdale
Enjoy live music at Crystal Bridges during the return of our Forest Concert Series. This set of outdoor concerts merges national and local musicians in the beautiful North Forest, surrounded by art and nature. Bring your lawn chair or a blanket to enjoy live music under the forest trees. A food truck and cash bar will be available throughout the night, as well as artmaking activities. $12 ($10 for members, Free for youth ages 18/under) Register online or by calling Guest Services at (479) 657-2335. Though tickets for youth ages 18 and under are free, a ticket is required for entry. Reserve these tickets online or with Guest Services.
Date: June 4
Time: 7-9:30 p.m.
Location: Crystal Bridges Museum
The Botanical Garden of the Ozarks is offering Terrific Tuesday Nights again this summer. From June through August, the botanical garden will be open and free to the public from 5-8 pm on Tuesdays. Opera in the Ozarks will be performing Pinocchio to kick off the series on June 7. Additional programming details to come.
This family-friendly series allows the Northwest Arkansas community and beyond to experience the garden on beautiful summer evenings. Guests are invited to make a donation to support garden programs. Picnics, blankets and lawn chairs are welcome. No pets. Glass, smoking, e-cigarettes, tents, weapons and firearms are prohibited.
Dates: June 7, Pinocchio. Tuesday nights, June through August
Time: 5-8 p.m.
Location: Botanical Garden of the Ozarks, Fayetteville
Enjoy a long-standing tradition of outdoor live music with a food truck rally on six different occasions this summer. Family friendly music brings all walks of life together, and spectators are encouraged to bring their "furry" friends as well. 
Date: 2022 Concert dates: June 9, June 16, June 23, June 30, July 7 and July 14.
Time: Thursday evenings 7-9 p.m.
Location: Gulley Park Gazebo.
Galleries, museums, makers' spaces and boutiques will open their doors. Enjoy the perks of the Outdoor Dining District while you take in the art. Pick up your Art Walk map at R McClintock Fine Woodworking Shoppe located at 105 Spring Street.
Date: June 11
Time: 2-7 p.m.
Location: Historic Downtown Springdale
Touch-a-Truck will feature crowd favorites– dozens of vehicles that kids (and kids-at-heart) can explore. Expect construction equipment, safety and transportation vehicles, motorcycles, tractors and more. There will also be special appearances and activities including mascots, costumed characters, fingernail painters, face painters, and building projects. 9am to 10am will be quiet hour for children with sensory needs. 10am to 2pm will be general admission. Tickets are $5 each or $20 per family (max 5 guests per family ticket). Children under 2 are free. Guests may purchase their tickets on the JLNWA website, or at the event gate. Cash or card.
Date: June 11
Time: 10 a.m. to 2 p.m.
Location: Pinnacle Hills Promenade, Rogers
Bring a lawn chair or picnic blanket to relax and listen to live music from local artists, support local businesses by grabbing dinner from a food truck, or pick a gallon of fresh organic blueberries. $25 admission fee for adults, a $10 fee for youth under 18, and free for children under 5. If you wish to pick berries, they are $20/gallon and a bucket will be provided for you. You can save $2 if you bring your basket back from last year to use.
All ticket proceeds will be donated to support Help One Now's community care efforts in Zimbabwe and Belize. Tickets can be purchased HERE.
Date: June 17 or 18
Time: 4-7 p.m.
Location: The Berry Farm, Bentonville 
Date: June 22-25
Time: 11:30 a.m.
Location: Parsons Stadium, Springdale
The popular Dive-In Movie series is back at Wilson Park Pool in Fayetteville. Movies begin at dusk, (around 8:45 p.m.). Gates open at 7:15, and concessions are available at the pool. Admission is $1 advance, $2 at the door. Free for kids under age 5.  Advance Ticket Sales available at www.fayetteville-ar.gov/recreation
2022 Dive-In Movies: June 24: Encanto; July 15: The Mitchells vs. the Machines; August 5: Luca
Presented in partnership with the Arkansas Cinema Society, enjoy a "puppet-palooza" of family-friendly fun on Walker Landing as Crystal Bridges celebrates the art of puppetry and movie magic pioneered by artists like Jim Henson. Start your night off with Muppet Movie-inspired show tunes presented by the Northwest Arkansas Jazz Society, create your own cast of characters with puppet-themed artmaking, then catch live performances by Trike Theatre right by the water.
Date: June 17
Time: 6-8 p.m.
Location: Crystal Bridges Museum of American Art
If you've wanted to try kayaking with kids, but didn't know where to start, this is a good opportunity. Get out on the water together and discover a new way to explore. They'll cover safety and paddling techniques, and you'll be able to try out new skills with a floating game.
Date: June 26
Time: 3-5 p.m.
Location: Osage Park, Bentonville
Want to find a splash pad or a swim spot? We've got you covered with our big 2022 list. Did we miss your event? Email submissions to mamas@nwaMotherlode.com.