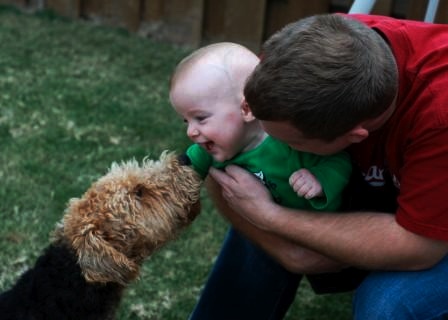 The judges have spoken! Here are the three very cute photos they selected as finalists for the nwaMotherlode Snapshot Contest.Congrats to the moms who submitted the photos you see here! (The one above is a great shot of a baby boy saying hello to a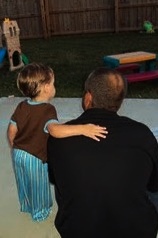 furry friend, with a little help from his dad.)
Remember that the photo finalists go on to compete for the grand prize, which will be awarded at the end of April.
(The little guy pictured at right puts an arm around his daddy. How sweet is that?)
The grand prize is a free photo session with photographer Melinda Worthington of MJW Photography. Click here to see her website and examples of her work. She is amazing with babies and kids!
The grand prize winner will also receive a free 16×20 inch wall print of her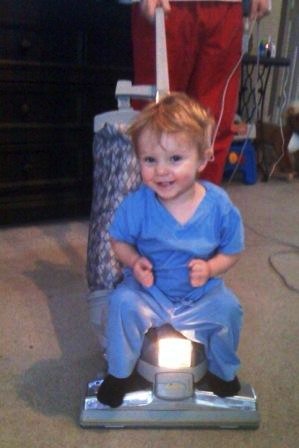 favorite shot from the photo session. The entire package is worth hundreds! Very cool prize.
(Don't you wish you could get the men in your life to help out the way these two guys pictured on the right do? One pushes the vacuum cleaner and the other catches a ride.)
If you'd like to submit photos, you still have plenty of time. You can submit up to 5 photos per month between now and the end of April. Send your photos to us at gwen@nwaMotherlode.com. We'll show them off for you in our photo gallery which is located at the bottom of this page.