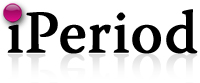 We were out walking and got to talking about that time of the month. I asked my friend when she was supposed to start. That's when she pulled out her iPhone and started punching. Then she told me the date.
What the … ?
"I just checked iPeriod to see when I'm supposed to start," she said.
Seriously, there's an app for that. And it's on sale for $1.99 at iTunes right now.
If you're trying to get pregnant (or not!) this is a cool tool. Among other things, it remembers your last period dates, predicts your future 12 periods (vacation planning made easier) and predicts ovulation and fertility.
Of course, in the Frequently-Asked-Questions section, they make the point that you shouldn't become too dependent on your phone for pregnancy prevention. Amazing that they have to say that, but they do. Check out #3:
Why can't I use iPeriod to prevent pregnancy?
iPeriod calculates statistics based on averages, and only offers estimates of fertility and ovulation. Always use proper protection when trying to prevent pregnancy. Ya think?