sponsored post
Have your kids been talking about "virtual reality" games yet? If not, they will be soon. Virtual Reality (or VR) is the latest technology that's transforming the world of gaming. Individual VR headsets for private home use are still super pricey. (My kid asked for one for Christmas, but that was NOT happening at that price.)

But the good news is that kids can still have their VR fun without owning one of the expensive headsets at home. A few months ago, Shannon and I battled it out in a virtual reality game while we were at Fast Lane Entertainment. Have you seen their "Hologate" arena where you can choose the VR game you want to play?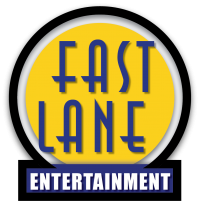 A website sponsor, Fast Lane installed their new virtual reality arena off to the right of the main entrance. An attendant there helps you get suited up with the headset and VR gun, and then you choose which game you want to play. (Shannon and I chose "Cold Clash," which is a game where you get to throw snowballs at each other, collect coins and navigate around a frozen lake. It was SO FUN!) There are other games where players can fight robots, dragons and zombies, or try to escape a sinking submarine.
You can either choose to do "player versus player" as we did, or you can play as a team. Each game session lasts anywhere from 5 to 10 minutes. Here's a demo video of what it's like to be in one of the virtual reality games.
We were amazed at how quickly we forgot we were wearing a headset. The experience is so all-encompassing that it makes the game feel real. We never saw any video lagging, buffering, and we were very relieved to discover that we didn't feel the least bit of motion sickness either.
There are different games to choose from, but Fast Lane also updates the Hologate system frequently with new content.
Not only will this Hologate arena be fun for your kids when you're on a trip to Fast Lane, we also love this idea for any birthday party, date night, double-date, girls' night out or any adult get-together when you want to do something different from the same old "dinner and drinks" idea. Not only is it fun for the people who are playing, it's also fun for the people who are watching them play because you get to see them dodge, duck, and move around as if they really were fighting off a robot.
Cost is $7 plus tax to play Hologate at Fast Lane. (Be sure to check out the pricing specials they post regularly to save a little money!) For info on all the other things to do while you're there (including bowling, arcade games, an indoor roller coaster, giant play structure, laser tag and more), click here to visit the Fast Lane website.
If you're new to Northwest Arkansas, here's how to find Fast Lane:
If you're traveling north on Interstate 49: Take Exit 78. Turn right onto Monroe. Turn on the first left onto Dixieland. In 1.2 miles, Fast Lane will be on the right.
If you're traveling south on Interstate 49: Take Exit 81. Turn left onto Pleasant Grove Road. Turn right onto Dixieland. In less than a mile, Fast Lane will be on the left.