Family-friendly events & activities guide for parents in Northwest Arkansas for Halloween 2022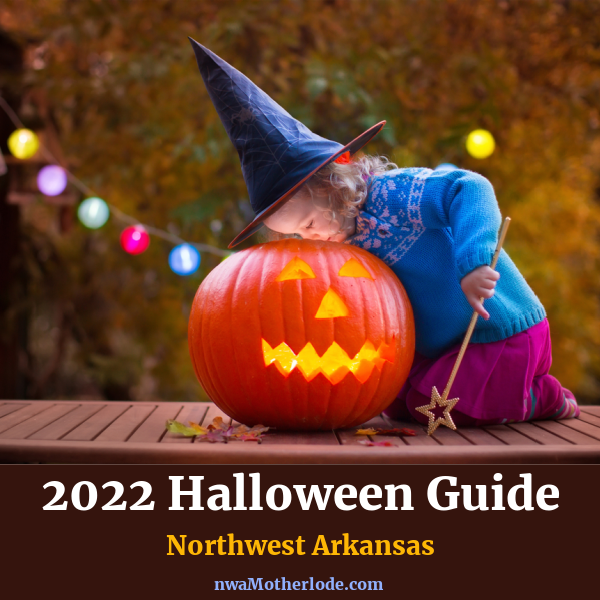 Happy Halloween season, mamas! Enjoy this list of fun events happening around Northwest Arkansas for 2022!
FYI: Also check out our big list of other fall events, which includes NWA pumpkin patches, craft fairs and more! 
There are also lots of non-Halloween events happening this month! Visit the October Calendar of Events.
Just click on the name of the event to find out more about each:
Sept.9-Nov. 5: Farmland Adventures. If you want to pick your own pumpkin, let the kids pet some cute animals, get lost in a corn maze and hang out on a farm for a few hours, visit Farmland Adventures. They are a tradition in Northwest Arkansas! The 2022 Corn Maze theme is "American Heroes." New this year: A hillside tube slide, and Sweet Scoops Blender Bar will have yummy treats available.
Sept. 30-Oct. 31: Haunted Carriage Rides of Chamber Springs. Carriage and wagon rides through the Chambers Springs Woods, Siloam Springs. Family and horse-friendly event with no jump scares or actors. Tour an 18oo's graveyard with historical legends, local ghost stories and lore of the land narrated by the driver.
Sept. 30-Oct. 31: Nightmare on Block Street. Pinpoint Fayetteville, Fayetteville. 21 and above. This Halloween Pop-up bar will feature a new Halloween-themed menu and a complete Halloween sensory overload. On Oct. 31, the bar will be open 5 p.m. to 2 a.m. Events at other venues are also planned.
Sept. 30-Oct. 31: Asylum Haunted House , Cave Springs. 2022 season, open 11 nights. Family Night will be October 27th. No actors and the lights will be on. Scary nights: September 30th, October 1, 7-8, 14-15, 21-22, 28-29, 31 from 7pm-midnight. Halloween night, open from 7-10 p.m.
Oct. 8-30: 6th Annual Ozarktober, various venues, downtown Springdale. Ozarktober will be held throughout October in downtown Springdale. Many of the events will take place outdoors and in the Downtown Outdoor Dining District. Events include: Behind the Music, Fall Bonfire, Mountain and Mimosas Train Brunch, Brews & Tunes, Chalk Walk, Live!@Turnbow, Halloween & Haunted Trains.
Oct. 14: Fall Bonfire, Downtown Springdale, Shiloh Square, 106 West Emma Avenue, 6-9 p.m. A free party at Shiloh Square in downtown Springdale. The Fall Bonfire is a family-friendly event that is part of Ozarktober. You can expect food, fire pits for s'mores, live music by DJ Susie Q and Two Story Radio, & festive activities for kids. In the event of inclement weather, Fall Bonfire will be postponed to the Sunday following the event day.
Oct. 21: Night in the Museum Trunk-or-Treat, Arkansas Air and Military Museum, Fayetteville. 6 p.m. Trick or treat local businesses inside the hangar. Each business will receive a military trunk to fill up with candy and free items, If you stick around till 7 PM you might even get to see the museum come to life with historical reenactors.
Oct. 22, 28, 29, 30: Halloween & Haunted Train, downtown Springdale, 7-9:30 p.m. Hop on board a stationary train at the Emma Avenue station of the Arkansas Missouri Railroad. Two trains will be all decked out for Ozarktober. The Halloween train is for kids of all ages. It's light on the spooky & heavy on the festive. The Haunted train is for kids & adults who don't mind a fright. The Halloween train is $5/person. The Haunted train is $10/person. Kids 2 & under get onto the Halloween train for free. Tickets are not for a specific date. You can attend on any of the days that the train cars are offered.
Oct. 22: Steam Ahead Fall Festival, Bentonville, noon to 5 p.m. Games, face painting, candy. Regular admission rates. Free to members.
Oct. 21-22 & 28-29: Zombie Adventure, Modern Mission. Zombies have overrun the facility. Let the kids (12 and up) have some laser tag fun while battling zombies and trying to find a cure. Space is extremely limited.
Oct. 26: Halloween Costume Parade, Botanical Garden of the Ozarks, 9-11 a.m. This drop-in event will feature live music with Shaky Bugs, goodies, and games. All ages are welcome but the program is geared towards preschoolers. Free for garden members with a Family Membership. For non-members, there is no admission charge for children 4 and under. Admission for children 5 and older is $5, and $10 for adults accompanying the children. You can join or renew online here. All costume parade guests are asked to pre-register.
Oct. 29: Trick or Treat at the Bentonville Farmers Market. 7:30 a.m. to 1 p.m., Bentonville Square.
Oct. 29: Springdale Halloween Fest, 4-7 p.m., downtown Springdale/Shiloh Square. The Springdale Police Department and Springdale Parks and Recreation are joining forces. Free candy giveaways for the kids, touch-a-truck, carnival games, a pumpkin drop, trunk or treats, bounce houses and more.
Oct. 28: Costumes, Candy & Cops Carnival (Drive-thru!.) 6-8 p.m. Benton County Fairgrounds, 7640 SW Regional Airport Road in Bentonville. Hosted by the Benton County Sheriff's Office. Free Trunk or Treating family fun event, with the admission of 1 non- perishable food item per person. Food, games, activities and trunk or treats. Don't forget your costume.
Oct. 28: HallowZing, a special night for children with special needs at the Amazeum. 6-8 p.m. A special night for children with special needs, their siblings and grown ups to have the Amazeum to themselves. Explore the Amazeum's twist on Halloween themed activities and play in your favorite exhibit areas. Be sure to wear your family friendly costume so you can show it off during the glowing dance party and red carpet costume parade. HallowZing partners: Arkansas Support network, Autism Involves Me, Down Syndrome Connection, Play with Passion, Sunshine School, Pathfinders, Ability Tree and Thrive Autism. Adults and children, $2 each. Free for children under 2.
Oct. 29: Be(A)ware Allergy-Friendly Halloween Event, 10 a.m. to noon. Fayetteville Public Library. FPL is partnering with Hedberg Allergy, Big Box Karaoke and KUAF to bring the Be(A)ware Allergy-Friendly Halloween event to the library for the second year in a row. The event will begin with special Halloween show by Mömandpöp at 10 a.m. with a repeat performance at 11 a.m. in the Event Center. The first 200 attendees at both shows will receive a goody bag. After the show, kids are invited to visit various allergy-friendly trick-or-treat stations around the library and enjoy games and bouncy houses on the Gathering Glade. It is Be(A)ware's second year at the library, but the fourth year overall. This event creates a fun, inclusive and safe space for all children, those who suffer from food allergies and those who don't. Wear your favorite costume.
Oct. 29: Goblin Run 5k and Kids' Fun Run, 7:30 a.m., downtown Bentonville. Calling all ghosts, pirates, divas, ballerinas, and all kinds of characters to participate in the 2022 Goblin Run in Downtown Bentonville. This annual 5K run is a fun and festive race for the entire family.
Oct. 30: Hocus Pocus film at Walton Arts Center, Fayetteville. 4 p.m. "Come, we fly!" Costumes encouraged. The Sanderson sisters return from the dead once more to put a spell on you at this Halloween celebration. Perfect for families. Relive the magic or introduce your kids to this 1993 Disney® favorite on the big screen at Walton Arts Center. 
Oct. 30: Trick or Treating Through the Hallowed Hallways, Peace Lutheran Church, Rogers. 2-4 p.m. Journey through the Hallowed Hallways of Peace Lutheran Church to receive treats galore as well as take in the exciting Halloween decor. 
Oct. 31. Rocky Horror Picture Show Halloween Party at Walton Arts Center on Oct. 31 at 8 p.m.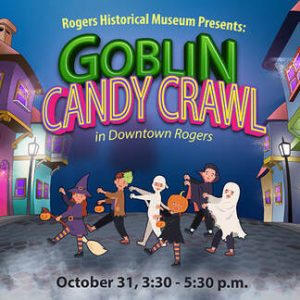 Oct. 31: Goblin Candy Crawl, 3:30-5:30 p.m., downtown Rogers. Pick up a trick-or-treat bag and map from the Rogers Historical Museum booth (in Railyard Park) and start your "candy crawl" around downtown. Local businesses will be open and handing out candy to all kiddos in costume – so bring your sweet tooth.
Oct. 31: Trick Art Treat at Crystal Bridges, 10 a.m. to 3 p.m. Have a ghoulishly good time trick-or-treating, eating candy, and capturing your genius costumes at the photo-BOO-th. There will also be music, live performances, and take-home art kits for everyone—dressed up or not—to enjoy. Free, registration required. Please arrive at your reserved time, as the slots before or after yours may already be full.
Oct. 31: Tontitown's 7th Annual Halloween in the Park, Harry Sbanotto Park, 5:30-7:30 p.m. The City of Tontitown's free annual Trick or Treat in the Park. The park will be packed with candy stops, activities, and a haunted house.
Oct. 31: Costumes & Cops Parking Lot Drive-Thru Event, Pea Ridge Police Department, 6 p.m. This annual event offers a drive-through to collect candy from Pea Ridge officers and their families.
Oct. 31: Siloam Springs Downtown Trick or Treat. 3-5 p.m.
Oct. 31 & Nov. 2: Trick or Treat on the Trail to be held Oct. 31 in the Lower Ramble in Fayetteville; Community Pumpkin Pageant to follow Nov. 2. The Monday, Oct. 31, Halloween-costumed celebration will be held 4-6:30 p.m. Trick-or-treaters and their families are invited into the Fay Jones Woods, where treats will be handed out at stops along the trail between the West Ave. entrance across the Fayetteville Public Library and the Tanglewood Steps. Free parking is available at the surface lot south of the library.
A Community Pumpkin Pageant will be held Wednesday, Nov. 2, from 5 to 6:30 p.m. in the Lower Ramble. Residents are invited to bring carved jack-o-lanterns to build a collaborative community display of pumpkin artistry. After checking in at the Fay Jones Woods entrance across from the library south parking lot, participants will be given an electric tea light to be placed in their pumpkin, which will be placed along the Canopy Walk just inside the woods. All participants and spectators are invited to vote, and ribbons for Best in Show will be presented at 6:30 p.m. Afterward, pumpkins can be left behind for collection by the City's Trash and Recycling Department for composting.
Where to see spooky Halloween lights + unique haunts:
Skeleton Acres (formerly Skeleton House) is offering camping, a four-cabin indoor haunted house, a nighttime haunted float on the Elk, and a hayride.
Sherman Halloween Havoc. Now through . Lights and animatronics are on from 6-9 p.m. each day. Weather permitting, walk-throughs are open during the day (no lights and sounds). 201 Pleasant View Lane, Bentonville.
The Witching Hour Food Trailer, 704 SW A St., downtown Bentonville. Eat scary food, watch scary movies.
We'll keep this list updated, so check back!
Happy Halloween!