"Don't Stop Believing — Hold on to that Feeling."
That's the absolutely perfect motto you'll see at the entrance of Big Box Karaoke, Fayetteville's newest Japanese-style hangout located on Block Street. Those famous lyrics (from the Journey song) give you a sense of possibility and of the fun that's to come. The lyrics also happen to be found in the second most popular song that's belted out at Big Box Karaoke in their private suites.
BBK not only hosts birthday parties (for minors and adults), but they're also a great place for wedding parties (bachelorette party, anyone?!), family gatherings, date nights, double-dates, girls' night out, or maybe a team-building exercise with your work friends? Guests under 21 are welcome until 9 p.m. every day. And FYI, no alcohol is served in suites when minors are in the room. This week we're giving away 2 hours towards a karaoke room for a party of 10 people during non-peak times (a value of $100)! Expires 12/31/19. The winner can bring some friends and check out Big Box Karaoke! 
Even if you're an introvert, the opportunity to hang out with close friends in a private suite makes the whole experience comfortable and intriguing. And if you are/have an extrovert? Well, the rooms are big enough for up to 25 people and you can get loud. They've got padded walls for that!
These local girls recently celebrated their friend's 13th birthday party at BBK: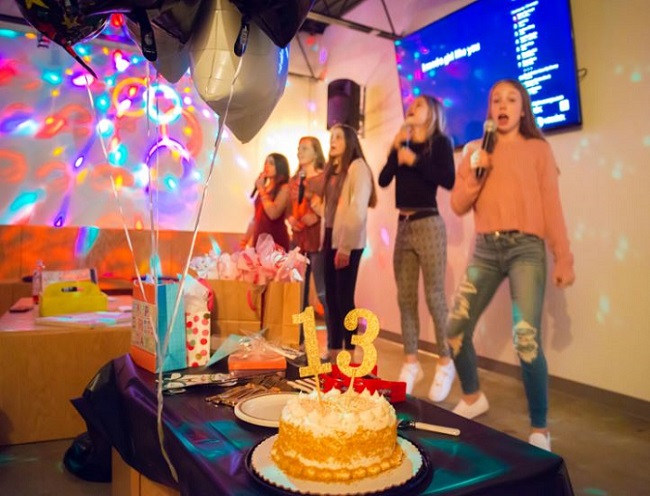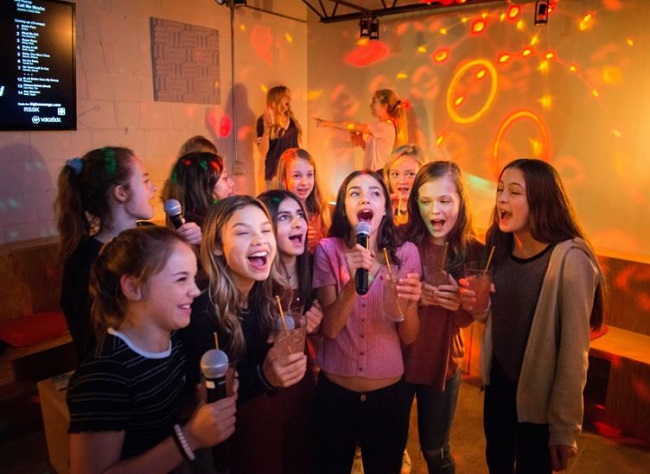 There are 7 total private suites, some smaller, some larger, depending on the number of guests at your event.
Here's an idea, parents: You can totally let the kids have fun while you simultaneously have a date! During our daughter's 17th birthday party, my husband and I let the girls sing their hearts out while we ate dinner and enjoyed some amazing drinks in the dining/bar area. WIN-WIN, mamas.
Note: You can also eat and drink in your karaoke suite. They have great waitstaff who stays on TOP of helping you out. The birthday party girls enjoyed snacks and drinks while they were singing.
May we recommend the kimchi tots: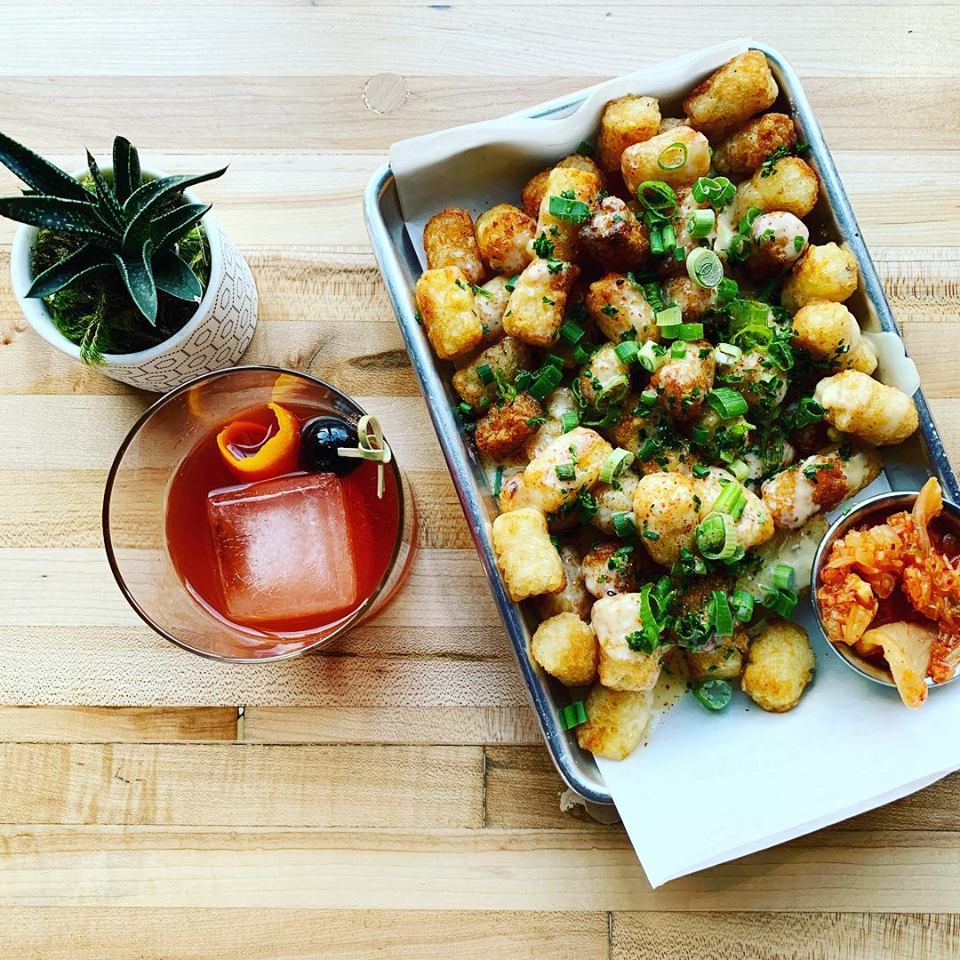 If you don't want to sing, but just want to eat some yummy Asian-fusion food? You can do that, too. Or you can sing with no food purchase. They often have food/drink/karaoke specials going on.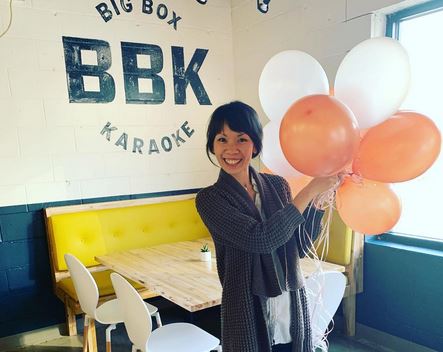 This is a great tip, too: Groups who pay the karaoke fee on one check receive 25% off of the karaoke room fees. And honestly, the rates are great.
Speaking of GREAT RATES, BBK is offering nwaMotherlode readers a discount when booking a room for your next event. Hold on to THAT feeling, mamas! Use code "mamas" for 10% off your next birthday party or group gathering at Big Box Karaoke!
BBK owners, Justin and Mailena, first discovered private suite karaoke while living in Japan years ago. Click here to see a short interview with Mailena for more fun details.
HOW TO ENTER THE GIVEAWAY:
If you'd love to win a gift card for 2 hours in a karaoke room (for a party of 10) at Big Box Karaoke, scroll down to the bottom of this post and then past the comments posted by other moms.
Then write a quick comment telling us your favorite place to sing out loud. (Shower? Or in the car when you're alone? Or in the car when you can annoy your teenagers? Church choir?)
You can also email your answer to us at giveaways@nwaMotherlode.com.
INCREASE YOUR ODDS OF WINNING:
Help us spread the word about this giveaway by emailing your friends and family about the giveaway. We'll give you an extra chance to win for every person you tell. Just be sure to put giveaways@nwaMotherlode.com on the CC line of your note so we can give you proper credit.
Our newsletter subscribers get access to the good stuff, including exclusive giveaways (like this one), information about local events, local mom interviews, recipes and more.
The nwaMotherlode newsletter is delivered straight to your inbox so you don't miss anything awesome. CLICK HERE to sign up. We won't fill your inbox with info, no worries. We only send out newsletters when there's something in it for you — and we know you'll be interested in hearing about it.
BE SOCIAL:
You can also earn extra chances to win by commenting on our Facebook page, following us on Twitter or following us on Instagram. If you do any of those, just mention it in your comment or email so we can give you proper credit.
We'll choose a winner on Friday, mamas, so check your inbox!
CLICK HERE for more info about Big Box Karaoke and click here to follow them on Facebook (which is a very entertaining news feed, for sure!). Visit them here on Instagram to see the best in Big Box news and entertainment.