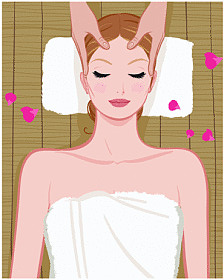 Note from the mamas: Congratulations to Tracy Byrd, winner of the massage at Pilates Plus!
Just thinking about getting a massage makes us relax.
But this giveaway will take one lucky mama past the thinking (dreaming, wishing, hoping) stage. We're giving away a 60-minute Swedish massage from Linda Bryant, the therapist at our favorite workout spot, Pilates Plus.
We have been on Linda's massage table and can tell you from experience that she is GOOD. You will leave refreshed and relaxed.
Linda says, "Your massage can be as gentle or deep as you would like and for whatever time frame works into your schedule."
HOW TO ENTER: What mama doesn't need a massage? We hold tension in our shoulders, have headaches from gritting our teeth and we are constantly working our bodies HARD. To win the much-needed massage, click on the orange comment button at the bottom of this post and just vent. Tell us why you need a massage today, if not sooner. We're guessing that just saying it out loud will help reduce your stress. And, hopefully, you'll win the massage to help get rid of the rest.
ABOUT THE THERAPIST: Linda offers massage therapy in a room just off the Pilates studio floor. She helps soothe tired muscles before or after a butt-kicking Pilates workout or for anyone who walks in the door looking for a great massage. Linda is a licensed massage therapist who also holds accreditation for direct and indirect techniques for head, back, neck and TMJ relief.
Linda was called into this profession following a terrible traffic accident. During her rehabilitation she underwent extensive therapies including massage. It was the healing touch of massage that propelled her to helping others as she had been helped.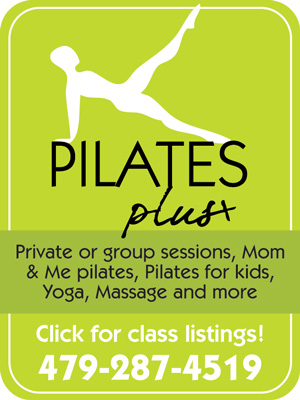 About Pilates Plus: This is a great facility on Main Drive in Johnson that's equipped with certified instructors in dance, personal training, yoga, and Pilates. It has a mat studio as well as a Pilates equipment studio.  Mats, rings, balls, towels and more are available to clients.
Pilates Plus offers group mat classes and private, semi-private, and group instruction in pilates, yoga, and personal training.  Pole dancing classes are also available at Pilates Plus through The Pole Place. CLICK HERE for more info from the mamas about why we love Pilates Plus.
CLICK HERE to see a video of Pilates equipment in action!
If you want to learn more about Pilates Plus, call 479-287-4519. For a massage appointment, call 479-713-0982.