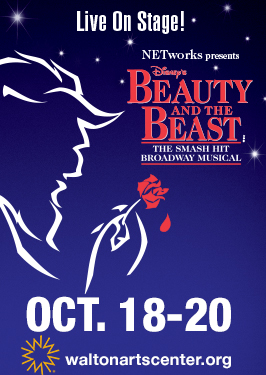 We're so happy the 'tale as old as time' is returning to Walton Arts Center.
We know from the last performance (in 2010) that this live production of Disney's Beauty and the Beast is AMAZING. And we have FOUR opening night tickets to give away so you can experience the romance and enchantment, too! An added bonus: Dinner at Hammontree's Grilled Cheese!
This smash hit Broadway musical is based on the Academy Award-winning animated feature film. A classic musical love story, the show is filled with unforgettable characters, lavish sets and costumes, and dazzling production numbers including "Be Our Guest" and the beloved title song.
If you don't know the backstory, the show is about a young woman named Belle and a "Beast", who is actually a prince trapped in a spell put on him by an enchantress. If the Beast can learn to love and be loved, the spell will end and he will be transformed to his former self. But time is running out, and if he doesn't learn his lesson soon, he and his entire household will be doomed forever.
Here are the performance dates and times:
Friday, October 18 at 7 pm
Saturday, October 19 at 2 pm
Saturday, October 19 at 7:30 pm
Sunday, October 20 at 2 pm
Sunday, October 20 at 7:30 pm
ARTS + LITERACY: In the classic tale of Beauty and the Beast, Belle teaches the Beast to read, highlighting the importance of literacy through the arts. In recognition of Belle's commitment, Walton Arts Center and Ozark Literacy Council are partnering to promote "Arts + Literacy," a campaign designed to raise money and awareness for literacy during National Information Literacy Awareness Month.For every ticket purchased to Disney's Beauty and the Beast from October 1-14, Walton Arts Center will donate $1 toward Ozark Literacy Council. 
ABOUT THE FOOD: Hammontree's is a cheese lover's dream. Seriously, their grilled cheese sandwiches are downright addictive. They have names like Parmageddon, Bries Company, The Scarlet Cheddar and Cheebacca. They actually have 15 different grilled cheese options including build-your-own.
Hammontree's also has gourmet hot dogs, soups, fabulous salads, classic melts — if you don't like all that fancy stuff — and amazing desserts.
The atmosphere at Hammontree's is really fun and they have outside seating. It's on West Avenue, just around the corner from Dickson Street.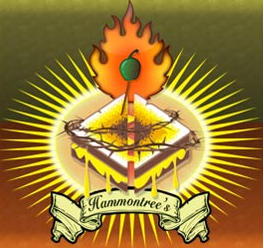 HOW TO ENTER: To throw your name in the hat for the 2 Beauty and the Beast show tickets + dinner at Hammontree's, click on "post a comment" below and tell us which scene in the movie is your favorite. Do you love the library scene, the "Be Our Guest" musical number or perhaps the transformation from beast to prince?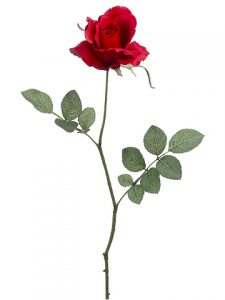 HOW TO INCREASE YOUR ODDS: As always, we reward those mamas who help spread the word about giveaways. Send your friends an e-mail about this giveaway and we'll give you an extra chance to win for every friend you tell. Just be sure to put giveaways@nwaMotherlode.com on the CC line of your note so we can give you proper credit.
TO BUY TICKETS: If you don't want to take a chance on not scoring tickets for this show, we encourage you to buy your tickets asap so you can get the best seats available. Call the box office at 479-443-5600 or click HERE to visit the website. Tell them you read about it here on nwaMotherlode!
Click the comment button below to get started. Good luck in the drawing. It's random, as always, and we'll choose a winner of Friday!