By Laurie Marshall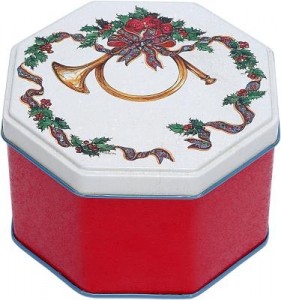 Right about now some of us are getting a little nervous about the holidays. And it has nothing to do with the size of our kids' Christmas lists (or the value… which is often worse than the length).
Instead, we're anticipating the holiday parties, the baked goods hanging around the break room, the neighbors dropping by a tin of treats. It's the food that makes the holiday. And when we're on a diet, it's also the food that breaks it.
If you're like me, the holidays are an easy deadline to shoot for when you're trying to lose weight. They are on the calendar without input from me, and they're coming no matter what I do – there's no putting them off or postponing if I decide to have Shake's every day during the month of August.
So, what's a Mama to do if the goal that was set way back in March to shrink a couple of dress sizes by the date of the Hubster's office party doesn't happen? I admit it, I have an Ann Taylor dress hanging in my closet that I bought two years ago to challenge myself to get back into a size 12. It's going to have to keep hanging there this season. Maybe when I fit into it, it will be vintage and even that much cooler.
For me, the worst thing about holiday food is simply the availability. I am pretty good at keeping the "bad" stuff out of my cart during my weekly forays to the market, but too many people I work with enjoy sharing their desire to bake when it gets cold outside, and if there's something yummy sitting by the hot tea selection at my office I may allow myself to have a second breakfast and a late lunch. So this year, I'm going to keep snacks at my desk that will help me make better choices. Instead of the coffee cake and breakfast casserole that loiter around my office causing trouble, I'll pop a snack size Milky Way or a handful of roasted almonds.
Fruit snacks made from real fruit juice are also a good option (get the individual packages!!). They will give me a sweet or salty fix, but keep the calorie count from getting out of control.
The big meals can also be big trouble. We're going to have a holiday gathering at our house, and we're spending Thanksgiving at my brother's home in Philadelphia. In both cases I plan to offer and choose a lot of veggie and fruit dishes. The traditional fare is usually high in calories and fat and salt, so I'll be looking for recipes that offer the same taste and comfort level with a healthy twist. You can find a lot of inspiration online at sites like Epicurious and the Food Network. There is a great selection of options here to get your started.
But all those good intentions can go right out the window when faced with a tureen full of giblet gravy or a pan of cornbread and mushroom stuffing. And besides, those kinds of meals only come around once a year, right? So if you do over-indulge a little, gather up the family and go see the Lights of the Ozarks in Fayetteville or take a walk around the Bentonville square after your meal. Driving around looking for holiday lights doesn't count!
If you aren't inclined to leave the house, stock up on a couple of new controllers for that Wii that you stood in line for on Black Friday last year and get everyone up on their feet to play something together. We like the Wii Resort for active games… although my husband has learned how to play most of them by simply flicking his wrist. I think he's missing the point.
Bottom line: the holidays are coming whether you like it or not, but you can use the same willpower and creative thinking you've been using all year to make sure you're not derailed from your efforts to get healthy for good. Just plan ahead a little, and maybe use a smaller spoon to ladle that gravy.

Look for Laurie's fitness tips and updates on her personal health-focused journey every other Friday on nwaMotherlode in Mom Blogs. Send questions or input to her at mamas@nwaMotherlode.com. Or click on the comment button below and share your thoughts right now! To see previous installments of Getting Healthy for Good, click HERE.