By Gwen Rockwood, Motherlode mama of 3
We do our best to hand-pick the sponsors for this website. We only invite businesses that we think provide a great service to moms and families. Today's "Friend of Motherlode" definitely fits that description. Scott McGowen and his staff at Scott Frame & Art have been framing my kids' pictures for a couple of years now, and I think they're great. I found out about him through the referral of a fellow mom, and I've been a customer ever since.
One of the things I like best about Scott and his shop is that I can count on getting some professional expertise when I walk in there. I'm not one of those people who can visualize exactly how I want something framed. I have no idea what color mat to choose or what style frame would look best. Thankfully, I don't have to figure it out on my own. Scott is there to help me look at different options and give me his professional opinion on what will look best.
He even has a special camera and computer program that will take a photo of your photo (or artwork) and then show you on a computer screen exactly how that photo will look once it is matted and framed in a variety of different styles. I LOVE this magical machine! It totally takes the guesswork out of framing. If you're unsure how you want to frame a certain photo or piece of art, you have GOT to check out this visualization tool.
Please note that if you go to Scott Frame & Art and mention that you read about him here on Motherlode, you'll get 20 percent off your custom framing order! Cool, huh?
Scott Frame & Art is located in the Tuscany Square shopping plaza on Pleasant Grove Road in Rogers, just a few steps from Mad Pizza and The Little Gym. Here's a little more info on our newest "Friend of Motherlode." Read our interview with store owner Scott McGowen:
What is your background and why did you want to open a framing shop? 
I framed for 6 years in the late 80's and early 90's for two different frame shops. I loved the business and always wanted to have my own Gallery and Custom Framing Business. I worked in the corporate world for 15 years. When I turned 40, I decided to chase my dream!
What special things from your kids have you framed for your own home?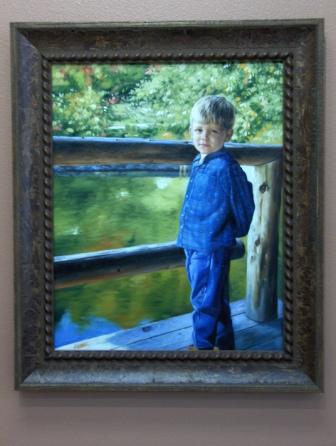 I have a hand-painted oil of each of my kids which we cherish. One of these was painted by Ann Powers who is a local artist. She painted my daughter at an Artist Open House event we held in the Gallery. There are the obvious award, posters, etc. for each of their rooms, but my favorite piece is a collage of photos from a canoeing trip down the buffalo river. This is hanging next to a Bill McNamara print titled 'Floating the Buffalo'. One of the photos of my kids looks like they are in the exact same spot that Bill painted!
What is your favorite piece of artwork in the store? 
My current favorite is a painting of War Eagle Mill by John Bell Jr.  John is a local artist from Fort Smith who has captured the Mill as it would have been in Horse and Buggy Days. This is a very unique twist to a local landmark.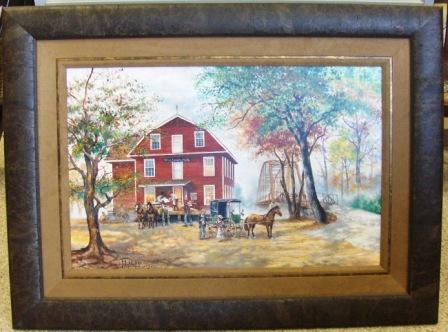 What are the most common mistakes people make when framing photos and artwork? 
The first mistake that comes to mind is not using acid-free matting and conservation glass. There are some shops and online framing options that do not use these conservation materials. It's extremely important to protect the artwork from the effects of acidity and UV light. I cannot tell you how many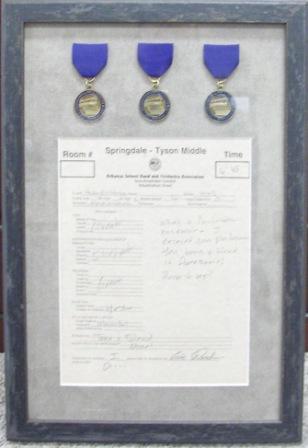 times a month we take in a piece to be re-framed that is either burnt from acidity or faded from UV light. We only use acid-free matting and conservation glass in my shop.
The second mistake we frequently see is trying to 'over frame' the artwork. Our philosophy is to enhance the artwork or photos, not overpower them. When you look at a framed piece, the artwork is what you should see first, not the frame.
What's the most unusual item you've ever framed? 
We framed a gold plated rose about a year and a half ago. The rose itself  is not so unusual, but the customer had a special request. They wanted the rose framed in a vertical plexiglass box with a landscape scene custom manufactured on the base of the box. We constructed the three dimensional scene that included a painted stream, rocks, sand, imitation grass, and moss.
What's the toughest part of your job?
Not being able to be in the Gallery 100% of the time. I sometimes have to be in the studio or on house calls, and I miss interacting with customers when they come in the Gallery.
Which part is the most fun? 
I absolutely love the joy customers get when they see their completed frame job or find the perfect piece of artwork for their home. I have had customers express joy in many ways, but the most touching is when you frame a piece of memorabilia for a customer and they literally cry with joy when they see the completed piece.
Are there any current trends in framing? 
Artwork has been trending towards canvas and away from paper prints over the last 5 to 10 years.  Many of the molding suppliers are now offering a portion of their line that is 'green'. We have several options available that meet that need, including wood from managed forests.
What other types of services in addition to framing does your shop offer? 
We offer fine art sales including art from local artists in both originals and Giclee's. Our art imaging and printing business (Scott Imaging) has been in operation for about a year and a half now. We scan art as well as print on paper and canvas. We are also seeing increased interest in customers having their photos printed on canvas.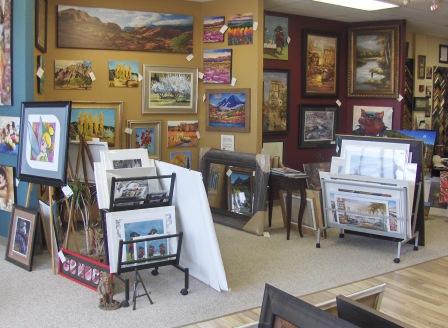 For more info on Scott Frame & Art, click HERE to visit their website or call 479-696-8263 to get directions to the shop.