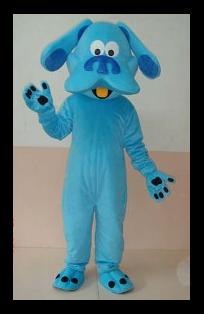 Have you ever considered sending a Razorback to your husband's workplace to deliver a funny anniversary telegram? Wouldn't it be fun to have a certain blue puppy show up and dance with all the little guests at your preschooler's 4th birthday party? There's a new company in town that specializes in costumed appearances and these fluffy characters know how to party!
Impressionable Entertainment Costume Characters and More is locally owned by a father of two, Destin D. Day, and is one of Motherlode's newest sponsors. Destin shared some behind-the-scenes scoop with us below:
Tell us a little about the characters behind Impressionable Entertainment Costume Characters and More: I previously worked as a promotional tour manager and had the unique experience of working as a costume character on more than one occasion. My partner, Kim, has also had the pleasure of working as a costumer character. Combined, we have executed over 10 different costume character events. Plus, we have a combined 10 years of experience executing promotional events for a wide variety of companies locally and nationally.
Do you have a storefront or is everything done through your website? Everything is handled through our website. In the future, we would like to add a storefront. For now, we want everything to be completed over the Internet through the website. Customers can book parties, complete paperwork, pay for services, and address any questions they have at their convenience. This enables our customers to do everything from the comfort of their own home. We've made sure to make everything as easy as a phone call, fax, or e-mail.
We are also in the process of gathering links for our Friend's page to allow our customers to have a one-stop experience. So if our customers are looking for a cake, deejay, flowers, candy, photographers, or a place to hold a party they can find it with just the click of a link.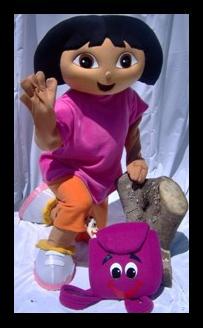 What prompted you to launch Impressionable Entertainment in NWA? Kim and I both have children and loved the idea of bringing costume characters and entertainment to people in their own homes, similar to the excitement we experienced at any one of the costume character events we executed in the past. More than once we heard the comment from event attendees that that they would love to hire a costume character for a birthday party or special event. We thought that this was a way to bring that to anyone and everyone. Plus, there is no service like this in NWA, and I wanted to offer this type of service in the hopes of creating fun, long-lasting memories for children and parents.
Which groups can benefit from hiring your costume characters? Almost anyone can benefit from hiring our costume characters. Costume characters are a great way to bring added excitement to birthday parties, increase interest for families and small children at social functions or special sales. In addition, having a costume character appearance can draw more people to a fundraiser and create an entertaining environment. Not to mention, how cute would it be to have delivered a dozen roses to your sweetheart held by our very own Impressionable Teddy?
What would a typical child's party be like? We have several different packages, so each party will vary. Our most basic party package would consist of one Party Conductor or Costume Handler and the costume character of the person's choice arriving at the party with a balloon bouquet for the birthday boy or girl. To boot, our Costume Character will meet and greet with the guests and then take photos with all of the party guests. We take the pictures and allow guests to pose with our Character. Within 5 business days the party host will receive a CD with all the memorable photos.
Customers can order different packages, which involve more time with the character including dancing with a variety of songs to choose from.
What are some fun add-ons that you provide at parties? Impressionable Entertainment wanted to offer more than just a costume character, so we also offer additional services. Our face painting services include two different types (both involve non-toxic face paints): crayons or airbrush face painting. We also have a variety of games, some for any age like limbo, and others for young children. In addition we also provide goody bags and/or piñatas. Both come with candy and other items that can either be gender specific or gender neutral. Not to mention, we offer a package that includes two Impressionable Employees (no costume characters) that will come out to a party and play music, dance, and play games with the party guests.
What are some of the things you're doing that differs from similar companies or services? For starters, we offer costume characters. In addition we do costume character deliveries, meaning you can have our cute Impressionable Teddy or any one of our characters deliver flowers, candy, or any gift to your loved one, for a special holiday, event, or just to simply say "I love you." We also work with large or small events, not just birthday parties, and are more than willing to adjust to budgets and love the idea of helping our community. We are even sponsoring a local pageant, the Dreams Come True Pageant which will be happening soon in Springdale. The pageant supports education and the winner gets scholarship money for college. So come on out and see us. We are also seeking fundraisers to participate in.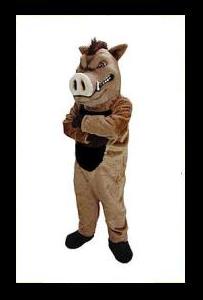 How did you decide which characters to include in your line-up? Some of the costumes were just logical choices, like our Easter Bunny and the Funny Clown costume. The others were selected based on their cuddly and cute factor. We wanted the most huggable characters. Razor Ray was a Natural choice because we are in Razorback country.
We love the Razorback. Do you expect him to be a best seller? We hope all of our costumes do well. I do expect Razor Ray to a get a little more attention than other characters. Personally, I like Razor Ray because he has a certain likable demeanor to him.
Who makes the character costumes? We purchase the costumes from a variety of companies we've made contact with through the internet and other resources. Some of our costumes are even custom made.
Your website says you'll be adding more characters soon. Who do you expect to add? We expect to add many more, including a Lovable Heart, the Impressionable Postman and his stork costume. We are actually open to suggestions from our clients as to what they would be interested in seeing us add as well.
Are there any other events that Impressionable Entertainment would like to participate in, besides birthday parties? Eventually, I would love the chance for Impressionable Entertainment to appear at some athletic events, monster truck rallies, festival or fairs, and church functions. My idea for this would include having a couple of stations, one including pictures with a Costume Character of your choice and one for face painting.
To see more characters or to book a party, call 479-586-3575 or click HERE to jump over to the Impressionable Entertainment website.