Hey, mamas! We LOVE it when businesses offer a free service like this one to local moms. Two local agents from New York Life — Adam Wheeler and Brandon Shumard —  will be giving away free Child Identification Kits this Saturday, January 28th, from 11 a.m. to 3 p.m. at Fun City Pizza in Springdale. (That's located at 5320 West Sunset, in the Center Point shopping plaza.)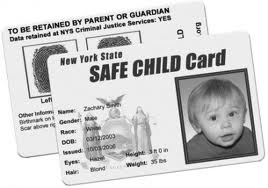 You'll appreciate having this information (including your child's digitally-scanned fingerprints) compiled into one I.D. card, and your kids will REALLY appreciate the trip to Fun City to get it.
Please note that this is NOT a sales pitch of any kind. It's just a service being provided to local families, and New York Life has been doing events like these in communities across the nation for the past 3 years.  As moms, we know there's a certain peace of mind that comes from knowing you have ALL of your child's most important information right at your fingertips, if (God forbid) you should ever need it in a hurry.
The Child Identification Kits include your child's photo, their digitally-scanned fingerprints and emergency contact information. The I.D. is designed to be distributed to members of the family and placed in your wallet or some easy-to-find place in your house so that you can have it in an instant if your child were to suddenly go missing.
Our thanks to New York Life for providing such a useful, free service to families in Northwest Arkansas. We'll see you at Fun City on Saturday where we plan to get our kids their free I.D.'s!
For more information about this event, call Elyse Tarver at 479-251-1077.