Mamas, when Shannon and I founded this website in 2008, our oldest kids were in Kindergarten. Those sweet babies have now morphed into JUNIORS IN HIGH SCHOOL!!! No one is more surprised than we are at how quickly it has happened. In.A.Flash. Seriously.
Take it from a couple of mamas who are here in the pre-college trenches, this phase of motherhood is easier in some respects (as in we're no longer wiping bottoms) but just as stressful in other respects (as in trying to help your kid through the maze of applying to college.)
We didn't realize that things have changed SO MUCH since we went off to college. The entire process is different now, and the competition seems so much more fierce. It can make you (and your teen) a little crazy, just trying to figure out what to do and when to do it.
So if you're in this same phase of motherhood (or you're about to be), may I recommend a book that will decrease your stress level by a zillion? It's titled "Where You Go Is Not Who You'll Be: An Antidote to the College Admissions Mania."
I was so nervous about the application process and whether or not certain schools had enough name recognition, but after reading this book, my whole outlook has changed. Now I'm focused on finding the right college for my specific kid — the place where he can form solid relationships with friends and professors and a place that will nurture him as a human being, not just a student. I now realize that the school's location, size, and its level of "fancy name" status just doesn't matter nearly as much as the college ranking lists would have us believe.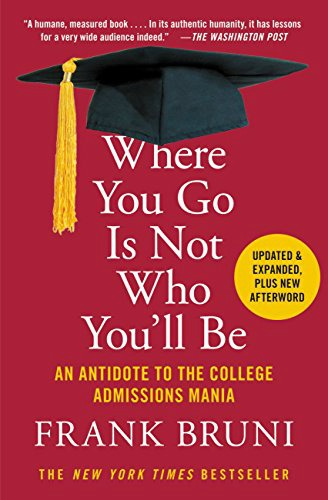 The book was written by Frank Bruni, a New York Times columnist who has previously worked as the paper's bureau chief in Rome, a Sunday magazine staff writer, a White House correspondent and a restaurant critic. He is the author of two previous bestsellers.
The book is packed with tons of research and statistics that calmed me down and made me realize that the college admission process doesn't have to be manic and awful. Here's what fellow mamas Katie Couric and Maria Shriver said about the book:
"Frank Bruni provides the perfect course correction for students and parents who get sucked into the college admissions frenzy. I should know. I was one of them."
-Katie Couric
"Your worth is not determined by the university you went to. Or, in other words, "Where You Go is Not Who You'll Be." Alleluia. That's the exact mantra every student and parent must heed as they navigate the stressful college admissions process. I'm doing it for the fourth time and this excellent writer's new book could not have come at a better time for me. As Frank Bruni brilliantly demonstrates, your worth is your worth and it's yours to make wherever you go." 
-Maria Shriver
Hope this book helps you as much as it did for me!