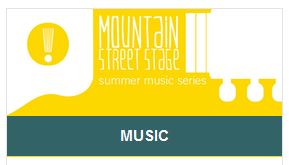 Our award-winning Fayetteville Public Library is hosting tons of events this summer and they just started the ever-popular Sunday Mountain Street Stage Summer Music Series.
From 2-4 p.m. on Sundays in June and July, none of the librarians  at FPL will be saying Shhhhhhhh because the library will be rockin'! All concerts are free and open to the public.
This will be an eclectic mix of music and will include: blues, jazz, folk, bluegrass, r&b, funk, rock'n'roll, Americana, and much more.
You'll get a chance to hear some of the area's most talented musicians as well as a dynamic acoustic trio with roots in Fayetteville who have criss-crossed the country performing, and a high energy r&b group visiting here from the Crescent City.
Dawn Cate & The Rhythm Kings kicked everything off last Sunday.
Upcoming concerts:
June12
Dana Louise & The Glorious Birds – With strong connections to Trout Fishing in America, Dana Louise brings her vibrant melodic vocals and finger picking to a body of complex songs drawing influences from jazz and bluegrass and carrying a contemporary beat.
June 19
Emily Kaitz & Outside The Lines – A talented and seasoned trio perform a variety of styles ranging from swing to jazz, folk to bluegrass, original and classic with a bit of humor thrown into the mix.
June 26
Sad Daddy – A 4-piece band bringing their own unique style to create a southern soul stew of original old time folk, jug band and Americana roots music.
July 3
Tyler Kinchen & The Right Pieces – Hailing from the Crescent City, this band of true southern gentlemen will entertain with their energetic style of r&b and funk that is eclectic and electric, soulful and natural.
July 10
The Vine Brothers – From rootsy folk to gypsy swing to bluegrass and the blues, this acoustic trio uses crafty songwriting, fiery voices and soulful delivery to captivate their audiences.
July 17
Richard Burnett & The Outlaw Hippies – High energy Americana band, perform mostly original songs with a blues and outlaw country feel, and a little soul and funk to stir it up.
July 24
Ben Harris & The 4tet-Dynamic – This new instrumental jazz group plays upbeat, hard swinging, foot stomping music reminiscent of New Orleans, Dixieland and 1940s swing music.
July 31
FlashBack – Inspired by Caribbean-island dance rhythms, this entertaining and talented group of musicians specialize in playing hits from the 60s, 70s, and 80s.
Click here for more information on FPL special events this summer!