By Shannon Magsam
Nancy Firmin's fellow cooking friends like to pilfer her herbs. She grows a wide variety: parsley, sage, rosemary, lemongrass, chives, parsley, mint, basil and cilantro.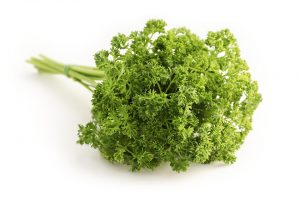 The herb garden is in the front yard, a seamless element of the landscaping.
"That is the easiest kind of garden you can have," Nancy says. "Many of the herbs flower. Bees and hummingbirds like the garden."
Her neighbor and friend, Michelle Kieklak, likes it as well. Often, when she stops by to chat she leaves with array of clippings from the garden (actually with her friend's blessing; she doesn't have to steal them).
Michelle recently stopped by Nancy's 1920s home near Wilson Park with her two young daughters in tow. She wanted to sample the rosemary potatoes and stuffed pork tenderloin that Nancy had prepared. "Mmm, this is good!" Michelle exclaimed, mentioning that all Southern girls seem to love potatoes.
Nancy grew up in Southeast Arkansas surrounded by down-home cooking like fried chicken and mashed potatoes. They never once had stuffed pork tenderloin, though fried pork chops with pan gravy were often on the menu.
Nancy's father actually taught her to make the pan gravy and she still indulges occasionally.
Nancy didn't develop her own cooking style until her last year of college at the University of Arkansas. She finally had her own apartment, with a little kitchen at her disposal. She devoured cookbooks as rapidly as the literature books she studied as an English major.
"I truly started educating myself on a wider type of cooking than what I grew up around," she says.
Nancy and her husband, John, married a decade ago and she has always enjoyed cooking for him. When he is effusive about a meal, it's a wonderful compliment. Lucky for him, he's often able to be complimentary.
"He has marvelous taste in food and really knows quality cooking," Nancy says, reminiscing, "We honeymooned in Ireland and he still says that the best meal we had there was at the Cliffs of Moher when we had a picnic with a great piece of local cheese, local bread and apples that we picked up in the little market that was below our rented room."
Nancy says she and her husband still enjoy trying new foods together. They've been a trio for seven years now, however. Their young daughter, Billie, is learning about good food as well, but she's not as interested in eating as she is in cooking. Billie has a little bar stool in the corner of the kitchen that she drags over to the counter to help her mother cook.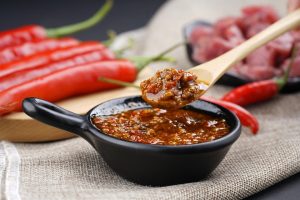 This winter she may get to help Nancy crack the sauce code.
"It's my winter project," she says, "learning how to make sauces."
For example, she really enjoys the stuffing she dreamed up for her pork tenderloin, but she feels it needs a sauce. She plans to find some sauce recipes and go to town.
"I love to research. I just do it kind of trial and error," she says.
She jokingly told her 80-pound dog, Edie, a 2-year-old German shepherd: "You're going to get a lot of sauces dumped on your dog food this winter that were not successful."
Also this winter, she plans to try her hand at homemade pasta and pizza.
"My bread-making is still ongoing and I hope to practice more of that," she adds. "I guess my whole philosophy of cooking is trying to not use pre-made things. If people knew how little time they actually saved with boxes and cans — not to mention the nutritional deficiencies — there would be much more 'from scratch' cooking."
Nutritional benefits aside, Nancy says cooking is a creative outlet for her.
"It's also something, that now, I can do it well and it reinforces my self confidence. I know the language. I'm almost to the point I feel like I can make anything. If I can find a recipe and the ingredients, I can make it."
Nancy and her husband love to have friends over to cook, visit and eat.
"Yes, we all cook together," she clarifies. "We'll have two or three couples over here and we'll all work together and visit."
Nancy says she also loves doing the cooking herself and inviting friends over.
"I don't like to nurse people back to health, but I like to cook for them," she explains. "It's my idea of fun. I love it."