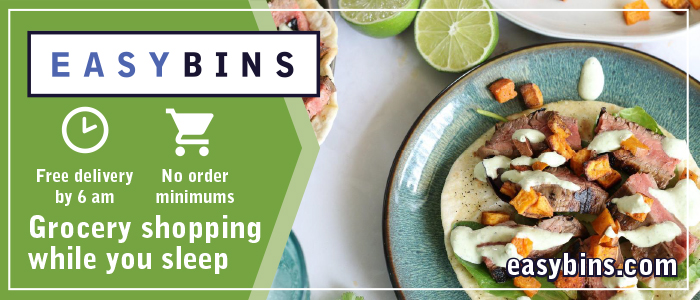 Someone to do the grocery shopping while I sleep? Yes, PLEASE.
If you're like us, you inevitably forget until 9 p.m. that you're out of bacon for breakfast — or you don't actually have on hand that one ingredient you wanted to throw in the crock pot on your way out the door for work.
What's a mama to do?
She gets that bacon or missing ingredient from EasyBins, that's what. We just found out about this company a few weeks ago when we tried the service. They're new advertisers on nwaMotherlode, but we can tell you with full confidence that they rock and we would shop with them anyway. We're hopelessly devoted.
You just order your groceries (or pet food or baby wipes ) by midnight and everything promptly arrives on your doorstep by 6 a.m. There's no minimum and no delivery fees if you live in Fayetteville or Springdale. (You'll pay a little if you live in other cities.)
And you can have EasyBins deliver food/snacks/medicine to other people! Like your college kids here in Northwest Arkansas, for example. Or a family from church that just brought home their newborn. Or your friend who's home sick.
Right now, EasyBins has a Mother's Day brunch menu grouping on the site. You just click on each recipe and all the ingredients pop up. You can "shop the recipe" and add any ingredients you need to your cart. The brunch menu includes baked egg boats, fresh fruit skewers, caprese salad skewers and berry croissant bake: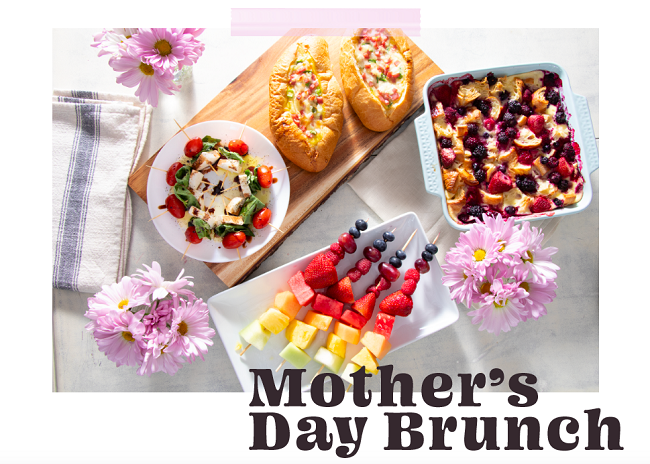 EasyBins is not a franchise. It was started by a local couple who met as students at the University of Arkansas. They now have two kids together. Kristi is a literacy specialist at a Springdale school. Her business-minded husband, James, answered a few of our questions here:
Q: What inspired you to start EasyBins?
I thought most of the venture capital and startup focus in grocery was pointed at making grocery shopping suck less instead innovating capability that makes you love it more. The word "convenience" gets a lot of traction these days in consumer packaged goods  but to us there is a difference between "easy" and "convenient."
At EasyBins we talk a lot about the fast pass at Silver Dollar City. The fast pass is easy and when you make it easy people use it more. I use the fast pass because with it I can ride more rides, get more Silver Dollar City. The inverse to this is the emergency room. I want this to be convenient  — so I get in and out fast.
We want EasyBins to be more like Silver Dollar City — not a chore that has to be done, but an experience that enriches.
Q: We know you have some great stories about being someone's hero by delivering groceries (or maybe baby items?) by 6 a.m. Will you tell us one or two?
Ohh good question. We actually teach our drivers specifically to be batman not superman. Everyone sees and meets Superman, whereas Batman? You never meet him. So while it sounds weird, if everything goes right you never meet us.
One of the biggest surprises of EasyBins is how wide the demographic makeup of our customer base has ended up being. Since we offer a service of acquiring food with zero order minimum and then don't tack on extra delivery fees or service charges, those who are in food insecure environments can find it very useful.
We have a customer who's a retired vet in bad health with virtually no transportation. Tim (name changed) lives in pretty rough apartment. He's elderly and probably the last person you'd think would ever use EasyBins.
But we did an outreach to his apartment complex where we just distributed flyers and sent some emails in connection with the property management company. Tim started using EasyBins and how his food insecurity has dropped dramatically because he's established a reliable way to get food. It's one less stressor in his life.
I like Tim, he's a good customer.
Here is another one … and so good. Because a lot of people don't sell groceries online, our site ends up ranking very high on Google for a lot of grocery items. We had a non-profit purchase 1,425 boxes of Chex cereal from us last month. In total it was 6 pallets of cereal. That was a "fun" order but we got it to them!

Q: Tell us about your family:
My wife Kristi and our two kids, Grayson and Molly Kate, live in Fayetteville. She, a Fort Smith native, and I met at the U of A and have been here ever since. Kristi is an IF (literacy specialist) at Hunt Elementary in Springdale. Our kids go to Holcomb Elementary. We've got 2 cats and a fish.
We are foster parents but we're taking a short break while I get EasyBins going. Our last placement left last fall.
Q: It's so cool that we can gift someone with an Easy Bins delivery. That's AWESOME.
Yep, you can send a bin to a sick friend or a family with a newborn. Our smallest order ever was $0.50 – which we love just as much as the $200 orders.
Q: We love the recipe box! Which one is the most clicked on right now?
Amanda Wilson's Teriyaki Lettuce Wraps and Egg Roll Bowl, hands-down those are two of our oldest but still consistently sell every week. They hit the trifecta of simple, different and good. Amanda Wilson is great at that combo.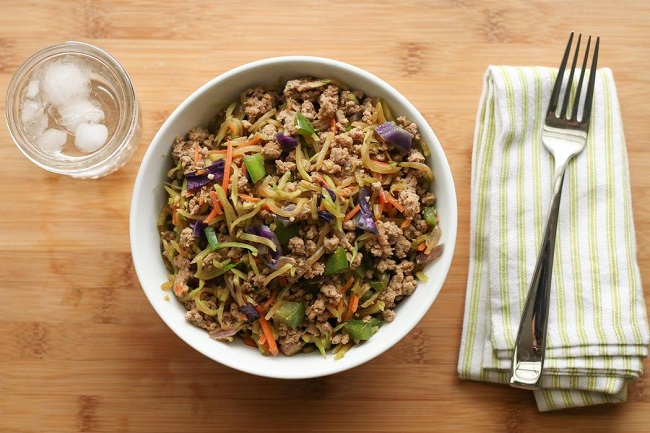 Note from the mamas: They have LOTS of awesome recipes on their website and you can click on any of them to see all the ingredients you'll need (and skip the ones you might already have). Then easy peasy add them to your online cart.
This one — Overnight Oats — is next on our list to order and try: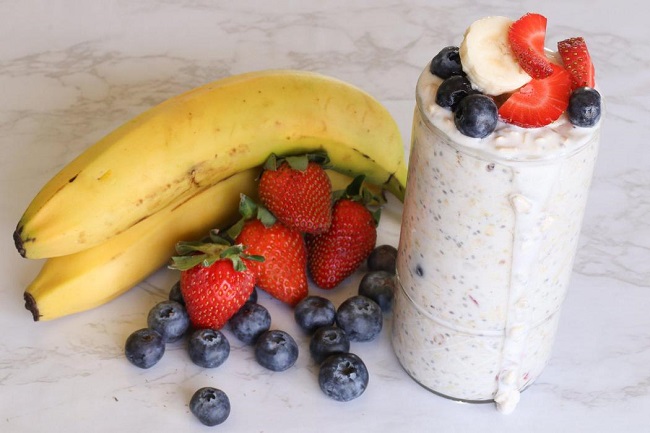 Q: Why did you decide to partner with Potter's House?
While we are not yet certified, our intent is to register and manage EasyBins as a b corp. From the very beginning of EB we've viewed it as a mechanism (one tool among many) to improve food insecurity. Although we have stores full of food everywhere, there is a big distribution problem. Some people can't acquire the transportation they need to get to the store and haul groceries home. Others work multiple jobs and between that and raising kids (sometimes single-handedly), there are a lot of barriers between them and the grocery store.
In distribution, volume matters and nonprofits often struggle because they don't have the volume or client density to keep costs down. Each delivery becomes very expensive. We saw that if we intertwined distributing food with delivering groceries to our everyday clientele, everyone wins. Economically, the incremental cost of adding Potter's House deliveries on top of our other deliveries is very, very small, and we want to do our part in giving back to our neighbors.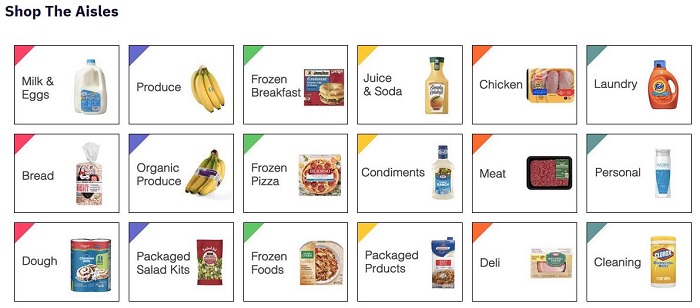 Q: Anything else you'd like to add?
We didn't create EasyBins to compete directly with pickup and/or other delivery services. Rather, we try and compete with the fast food restaurants — those are the customers we're after.
People ask me all the time when they first hear about EasyBins, "How is this different from Walmart delivery or Instacart?" I always give the same answer: "We are open when they are closed."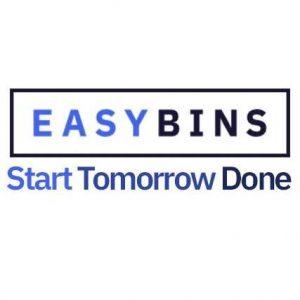 Click here to visit the EasyBins website. Visit their Facebook page here for lots of fun updates, recipes and news about working with local companies (like Mamaka Bowls and Sweet Bite Baking Co).