The Oprah show might not be considered a "drama," but apparently one of her recent episodes stirred up quite a bit of it. Author and marriage counselor Gary Neuman was recently on the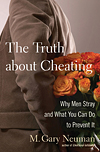 show to talk about his new book "The Truth About Cheating." On Thursday (Sept. 18th), there will be a follow-up show to talk about the emotional reaction many women had to the discussion.
I missed the first show but I'll definitely be setting my DVR to record Thursday's show. I have a friend going through a painful divorce as a result of infidelity. And for every woman who thinks it could never happen to her, there are at least 10 women who thought the same thing and ended up going through it themselves. I haven't read the book yet so I can't give a recommendation, but here are some eye-opening statistics from the book as well as a link to more info about it on the Oprah website. (The article on Oprah.com also lists signs to watch for that might indicate that a husband is cheating or is about to cheat.)
1 in 2.7 men will cheat on their wives, and most wives will never know about it.
88% of cheating men said the other woman was not more attractive or in better shape than his wife.
Only 7% of men who strayed told their wives without being asked. 55% didn't tell or lied about it when confronted.
The No. 1 complaint cheating husbands have about their home sex lives is frequency.
92% of men who cheated said it resulted from an emotional disconnection with their wives, feeling underappreciated and the lack of thoughtful gestures.
Click here for more info about the book on the Oprah website. The next Oprah show discussing this book will air this Thursday on ABC. If you read the book or saw the first show and have a comment to share, please post it below by clicking on the word "comment" in the lower right-hand corner of this post.