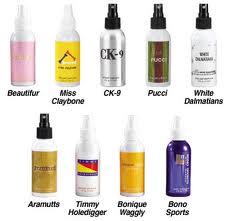 I was at the Faithful Friends Animal Clinic in Rogers a couple of weeks ago to pick up a bag of prescription cat food that our high-maintenance cat Percy has to eat. While I was there, this little sign on the counter caught my eye:
"Strong enough for a man, made for a Chihuahua."
With a tagline like that, how can you not want to know a little more? I love it when a product has a good sense of humor. The tagline was printed above a little display of spray bottles that are colognes and perfumes for dogs. Sprays for dogs are nothing new, but these particular scents are knock-offs of popular perfumes and colognes that everyone will recognize. And the names are HILARIOUS.
For example, the Tommy Hilfilger cologne becomes "Timmy Holedigger" for dogs. The classic Beautiful perfume by Estee Lauder becomes "Beautifur" for pretty pups. And Armani turns into "Arfmani". I would have bought a bottle for the funny name alone. You can also find scents like "White Dalmations", "Pucci", "Bone Envy" and more at the manufacturer's website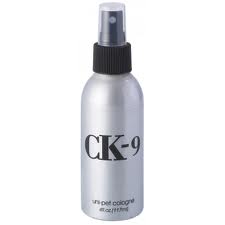 www.gotdog.com.
I decided to go with CK-9 for my new puppy named Charlie, and let me tell you — he smells GOOD now. Sometimes even clean dogs who don't necessarily need a bath can develop a little "doggie funk".  You know how some dogs just have that distinctive doggie smell about them. This would also make a fun gift for a fellow dog lover.
I just hope Charlie doesn't get a big head over this whole designer doggie cologne thing. I don't want him to end up modeling for those sexy Calvin Klein print ads in glossy magazines. He's not that kind of dog.