Gwen saw some info about the online business Pet Picassos at her vet the other day and shared it with her animal lovin' biz partner. I clicked over to the website immediately and started nosing around, looking at all the pet portraits.
Really, I've been wanting to order one of these portraits for my daughter (of her cat and dog) for a long time, but haven't gotten around to it.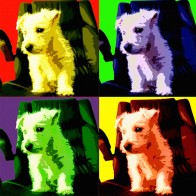 I need to look through our animal pics and see which one would translate into some cool art. I know Ladybug would LOVE to hang one of these on her bedroom wall.
There's one shot of her sleeping with the kitten next to her on the pillow that would probably be perfect. I also have one of the poodle in the snow that would look adorable. Oh! And there's one of the dog wearing sunglasses and a bandanna. That's probably the ONE.
There are three styles to choose from at Pet Picassos: oil painting, pop art (like the one at right and probably the one I'd choose) and just plain ole photo to canvas. Prices range from $99 to $249.
Locally, Scott Frame & Art on Pleasant Grove in Rogers is able to produce all three of these options as well. Just found that out today! And Scott's work is awesome. He recently framed some of Ladybug's art and a newspaper article and they both turned out great.
If  you don't have a subject for your cool pet portraits yet, we can help with that. Here's a kitten named Minnie (can you figure out why they named her that?) from the Fayetteville Animal Shelter  who's in need of a forever home: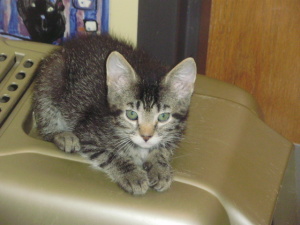 Pick me! Pick me!