7 "And shall God not avenge His own elect who cry out day and night to Him, though He bears long with them?
 8 "I tell you that He will avenge them speedily. Nevertheless, when the Son of Man comes, will He really find faith on the earth?"  (NKJV)  Luke 18:7,8
By Bro. John L. Cash
One way preachers get inspiration for their sermons is by listening to other people's sermons. When I first went into the ministry (way back in the 1980s) I never had enough sermons to listen to.
Back in the Dark Ages, you had to purchase sermons on cassette tape, and they cost $3.50 apiece. I didn't have that kind of money back then, so mostly I just listened to the sermon tapes people gave me. I had a tendency to listen to the same sermons over and over, too.
My, oh my, how things have changed! With the advent of the Internet, I can now download (for free) more mp3s of sermons than I'll ever be able to listen to. Seminaries, Bible study groups, congregations, and pastors now upload their content for everyone to use and enjoy. And the variety available is amazing. This past week I've been listening to a sermon series preached at a church in Australia.
In one of the sermons, the pastor asked the church members to tell him what they considered to be the saddest verse in the Bible. (He pointed out to them that he had an advantage because had had already taken some time to think about it.) Still, the people in the audience made admirable choices. One man said the saddest verse was Genesis 3:6: "She took of the fruit thereof, and did eat; and she gave also unto her husband with her, and he did eat." In my thinking, that's a pretty good choice because it sums up how all of the suffering came into the world. Others suggested it was the verse that tells about when Jesus asked the disciples to pray, but when He came back they were asleep.
But the preacher had a different take on things. He said that the saddest verse in the Scriptures was Judges 2:10: "When all that generation had been gathered to their fathers, another generation arose after them who did not know the LORD nor the work which He had done for Israel." This verse teaches that there was a time when God showed the children of Israel great things; they saw how the Lord delivered His people from Egypt and parted the Red Sea, and how he fed them for 40 years with bread from Heaven.
The preacher said the tragedy was that the people's children never knew about these great deeds. The generation that saw the works of God didn't teach them to their children. Even sadder, the Bible goes on to say that these children grew up to do evil in the sight of the Lord.
I think this can be an inspiring lesson for all of us. I personally love it because it reminds me of my responsibility to be diligent in my teaching of Scripture. We never have to worry about the faith completely dying out in the world; the Book of Revelation teaches us that when Christ returns there will still be faithful people on Earth. But, certainly, in our homes and congregations, the saving faith of the Gospel is never more than one generation away from extinction.
May the Lord embolden us and equip us to do our best to teach our young ones.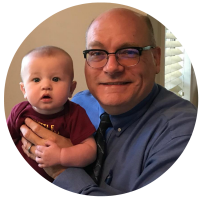 Dr. John L. Cash is the "Country Preacher Dad." He was raised in Stuttgart, Arkansas, and has spent the last 33 years being a country preacher in the piney woods five miles south of the little town of Hickory, Mississippi. He's a retired Mississippi public schoolteacher with grown sons, and is now a stay-at-home-grandpa with his grandson, Landon Cash.  He and his lovely wife, Susan, live in a brick house in town (where it has been a very rainy week this week.)  You can send him a note at brotherjohn@ilovechurchcamp.com.